Diwali is one of the most beautiful festivals of India and also a great time to eat good food! Time to indulge in these 15 mouthwatering desserts this season!
Diwali is one of my favorite Indian festivals. There are so many wonderful memories growing up that it is simply fascinating to reminisce them. The smell of new clothes and clean house would equally tantalize us as much as the aroma for festive food that is sweet and savory. From early morning head bath to drawing rangoli in the afternoon to bursting firecrackers in the evening , we would do it all. The crux being spending this day with loved ones, Everything about this festival is grand. Keep watching my Instagram stories to see how I celebrate this Diwali. It is my niece's first so it got be extra special for us!
Apple Khoya Kheer – A delicious Indian dessert made using only 5 ingredients! This kheer can be made on any festive occasion and is served warm or chilled!
Strawberry Cheesecake Popsicle With Granola – A creamy strawberry cheesecake made into a Popsicle with crushed granola base. They taste just like biting into a real cheesecake minus the calories.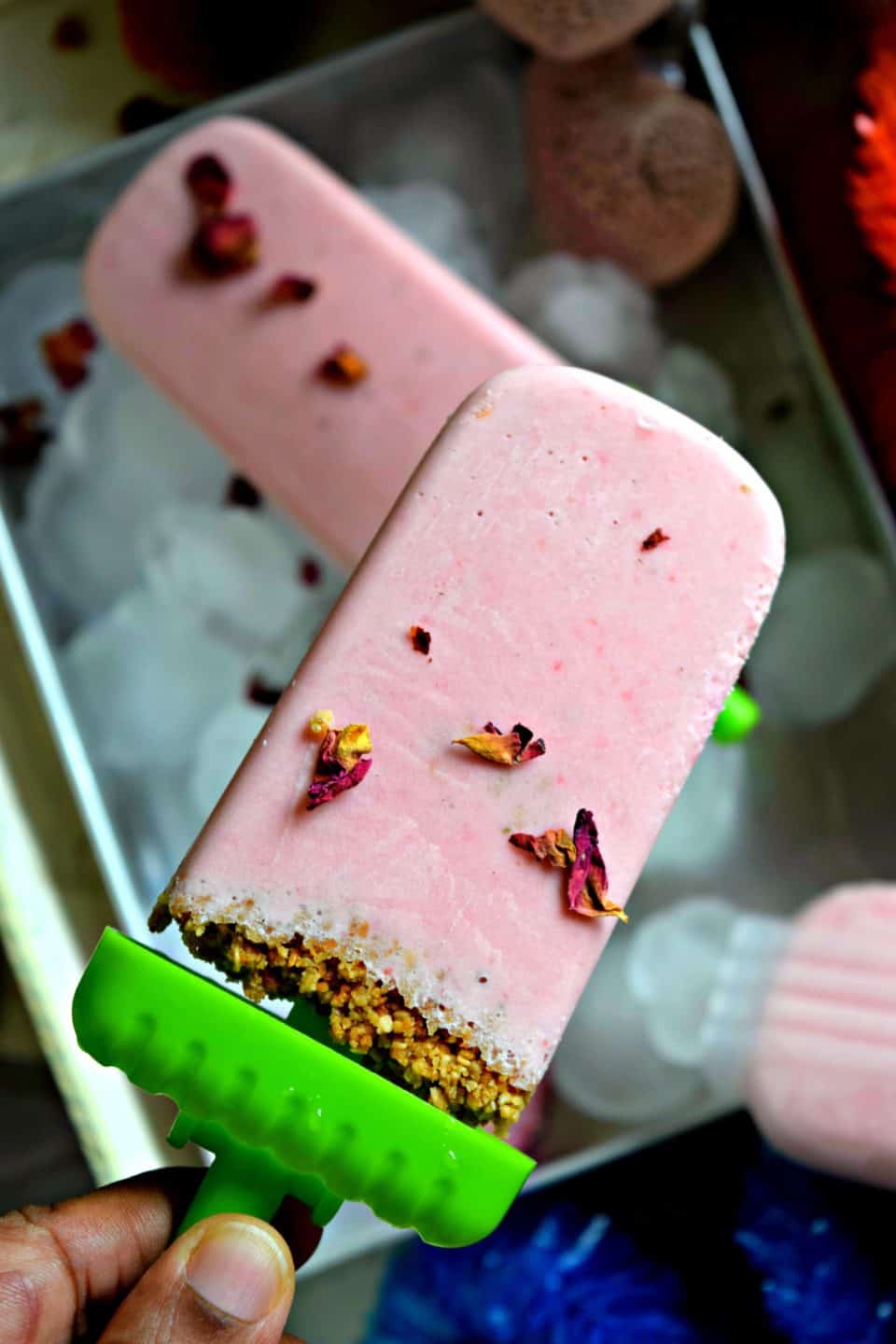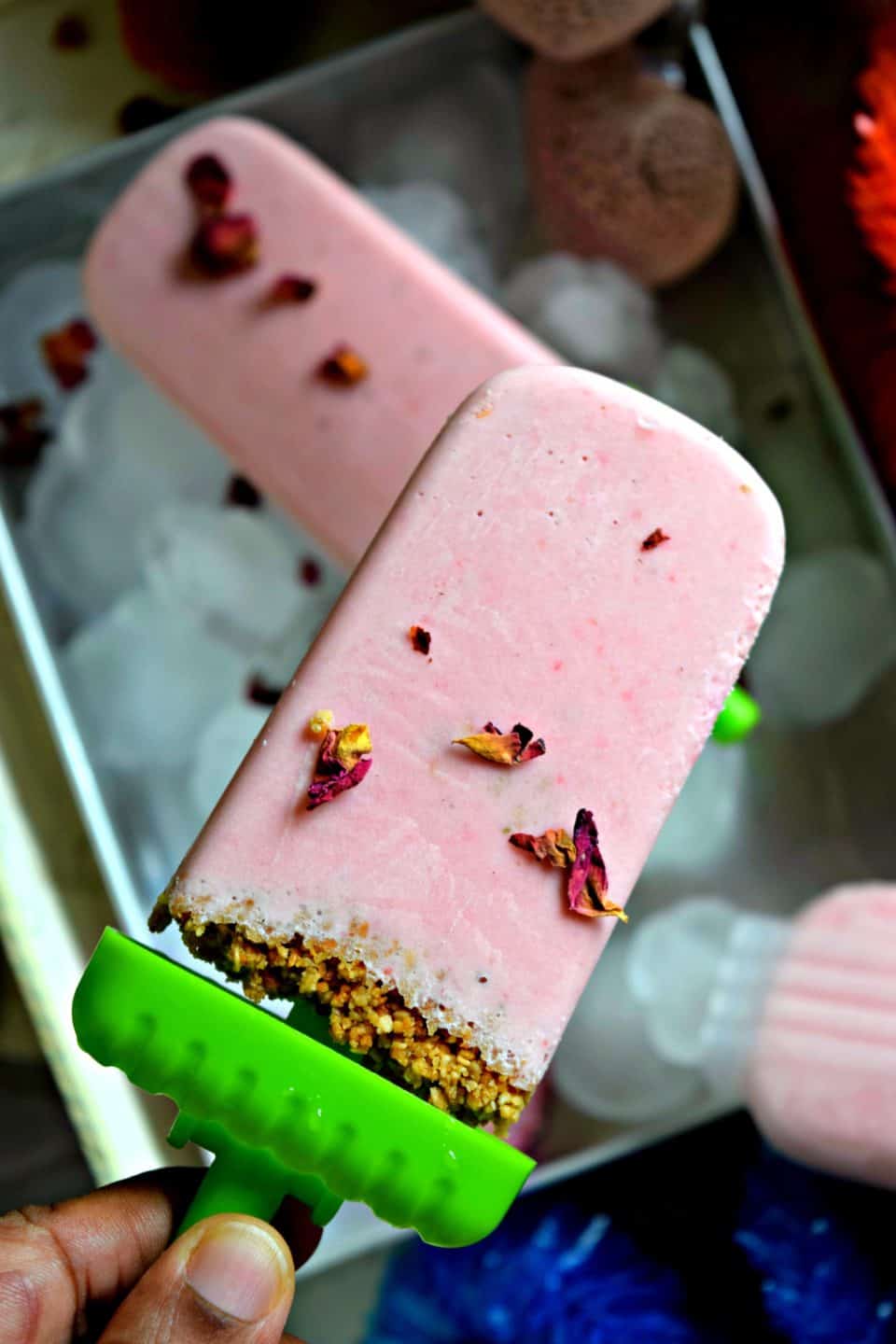 Coconut Macaroons – A dessert that is ready in 20 mins & is made using just 2 ingredients – coconut & condensed milk. Perfect holiday recipe loved by all.
Mango Semolina Cupcakes – An eggless Indian dessert using mango & semolina. No flour used & its vegan too. These cupcakes are soft, moist and delicious. A festive dessert for all!
Almond Butter Oats Cookies – These Cookies are made using few ingredients with a hint of coffee & chocolate flavor. These vegan cookies are soft, chewy & yummy.
Jhajhariya/Sweetcorn Pudding – A Traditional Indian pudding made using just 4 ingredients. The main being sweetcorn. This is a microwave recipe which can be made in a jiffy!
Sweet Potato Paniyaram – A South Indian breakfast or snack recipe. Paniyaram can be sweet or savory, sharing the sweet version made with idli batter, jaggery and sweet potatoes. Yumm.
Granola Oats, Honey & Almonds & Rice Pudding/Kheer – A fusion Indian dessert made during festivals/happy occasions. Granola makes it tastier.
Rose Sandesh – An all-time favorite Bengali Sweet & here's how you can prepare this rose flavored Indian dessert at home with paneer. A no-cook festive recipe!
Rabri Ice Cream with Beetroot and Raspberry Sauce – Another fusion Indian dessert. A rich pudding made with bread & milk served with this delicious beets sauce.
Chocolate Rava Laddu – A no cook dessert made specially during Diwali (Indian festival). It's made using semolina flour, sugar and a hint of white chocolate.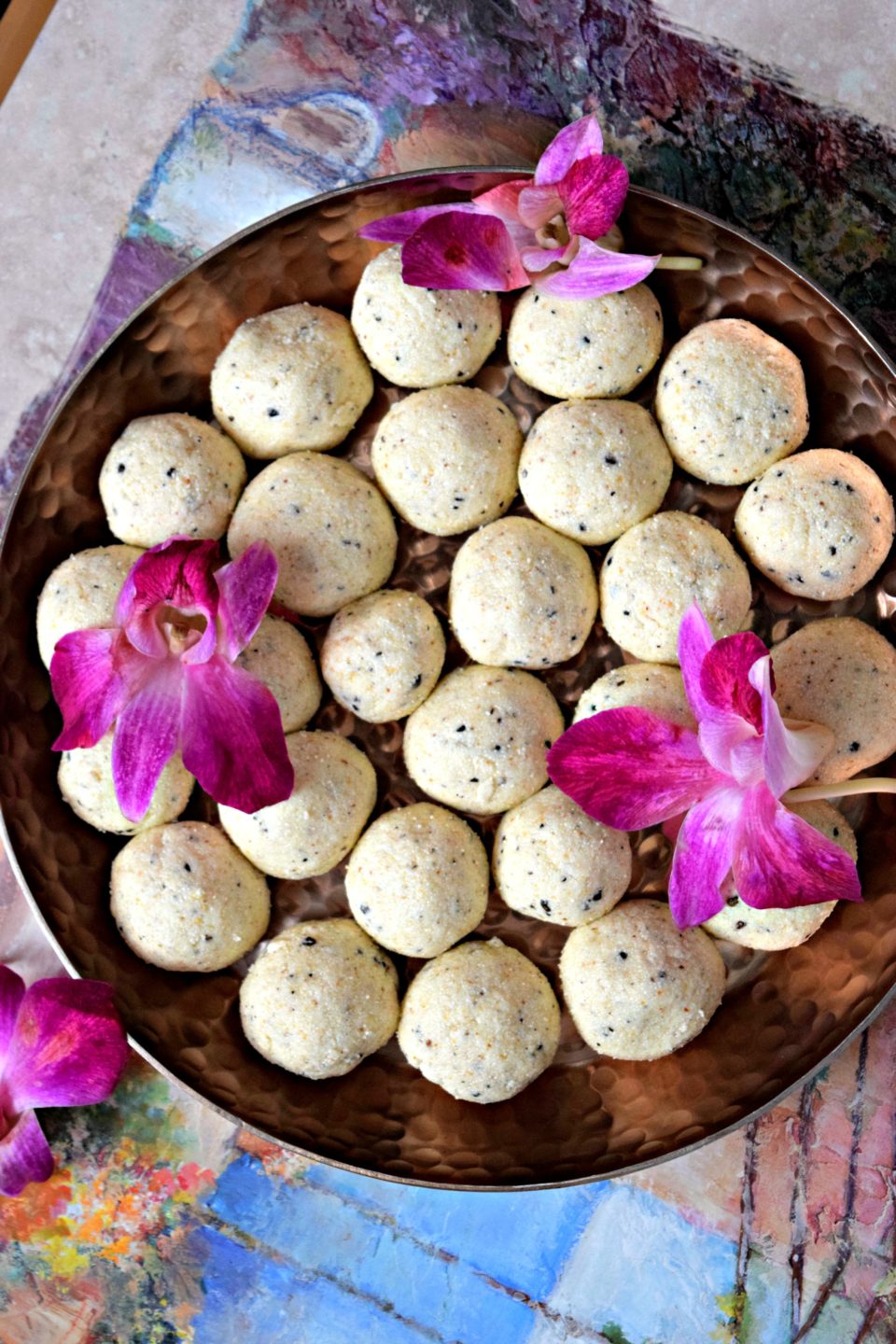 Cashew and Condensed Milk Biscuits – A perfect make ahead holiday recipe. These eggless biscuits are light, crispy & they melt in your mouth, An easy recipe!
Beetroot Halwa – Halwa is a rich and delicious Indian dessert made during festivals and happy occasions. Beetroot gives it a new flavor and is a great alternative to carrot halwa.
Sweet Potato Puran Poli – A festive Indian dessert made using lentils & jaggery. Give it a fresh twist by adding sweet potatoes. Serve these sweet pancakes with ghee.
Avval Kesari/Poha Kesari/Beaten Rice Pudding – An easy to make Indian sweet pudding made using beaten rice flakes. This delicious dessert in ready within minutes.
While all these desserts are my favorite, which one of them is yours? I would like to wish each one of you a very Happy Diwali and may there always be sparkle in your life! If you do try this recipe, please do share it with your friends on Facebook, Twitter and Pinterest. This will keep me motivated to develop more interesting recipes. Click a pic and post it with the hashtag #cookiliciousveg . I would love to see your pictures on Instagram, Facebook and Twitter!
I use the hashtag #cookiliciousveg on all social media platforms (Instagram, Twitter, Facebook) so you can get access to what's cooking in my kitchen. To stay updated, you can either subscribe to our newsletter&nbsp (free gift if you do so!) or follow me on my social media Instagram , Facebook and Twitter! There is even a Pinterest board called Cookilicious Recipes&nbsp from where you can pin the recipes you love.