Onion Pakoda is a famous street food from India! These deep-fried, crispy, crunchy, golden brown bhajiyas are made with onions, chickpea flour, and spices.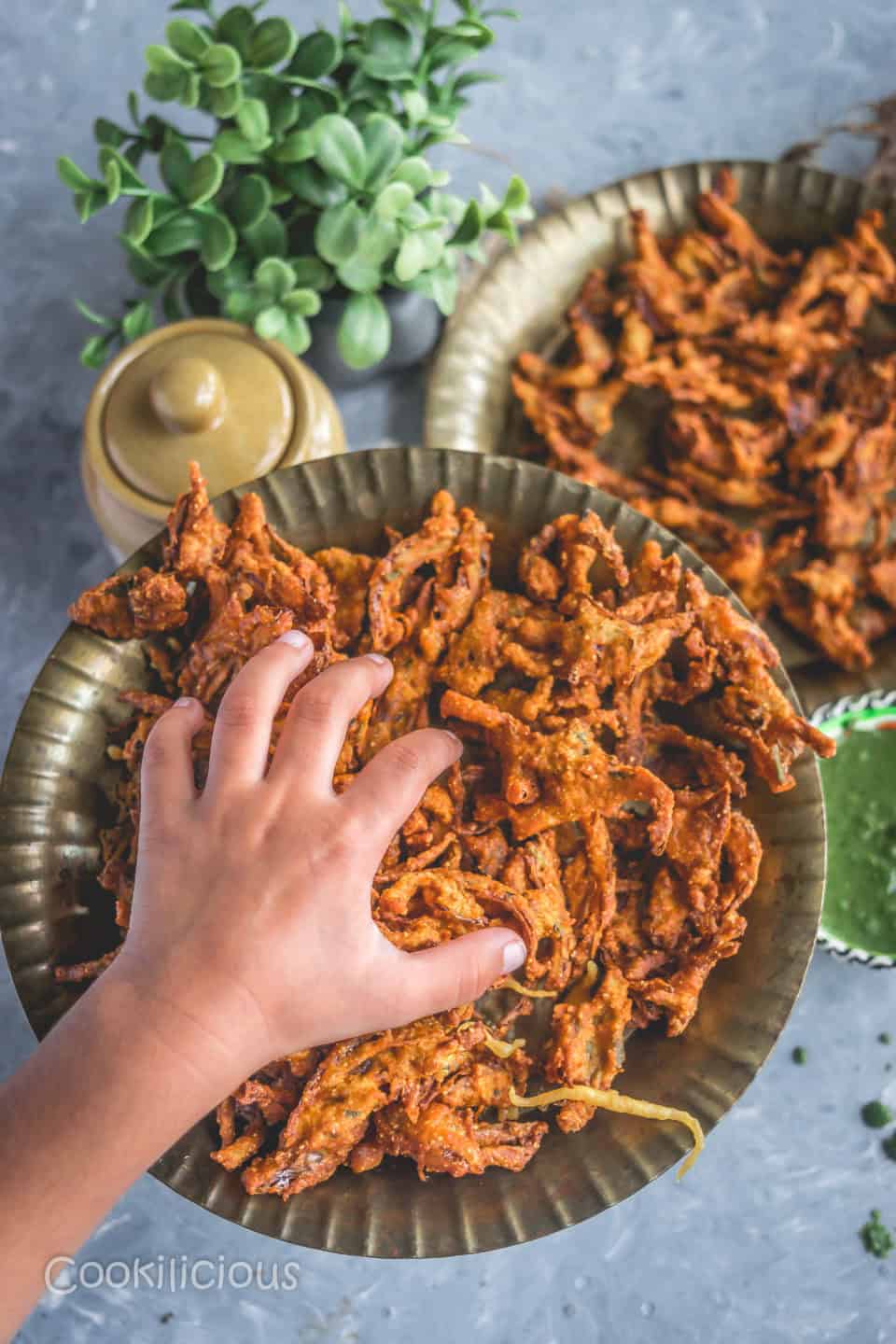 Jump to:
Such A Great Year
I cannot believe that this is my last post for 2018! What a year this has been! Some personal highlights have been - my niece turned one this year, we went on a holiday to Canada which was mesmerizing, 2 of my college friends visited us along with their families (perks of living in the land of Mickey Mouse) plus we did a couple of home improvement projects which was very satisfying.
On the work front, 117 new recipes were published on Cookilicious, we attended 2 blogging conferences which was an enriching experience, we were also featured on the Top 10 Indian food bloggers list and we got an opportunity to work with many new brands who share a vision similar to ours. Overall, 2018 has been abundantly rewarding and fulfilling personally and professionally. I wanted to step into 2019 with a recipe that is close to my heart and my city - Bombay!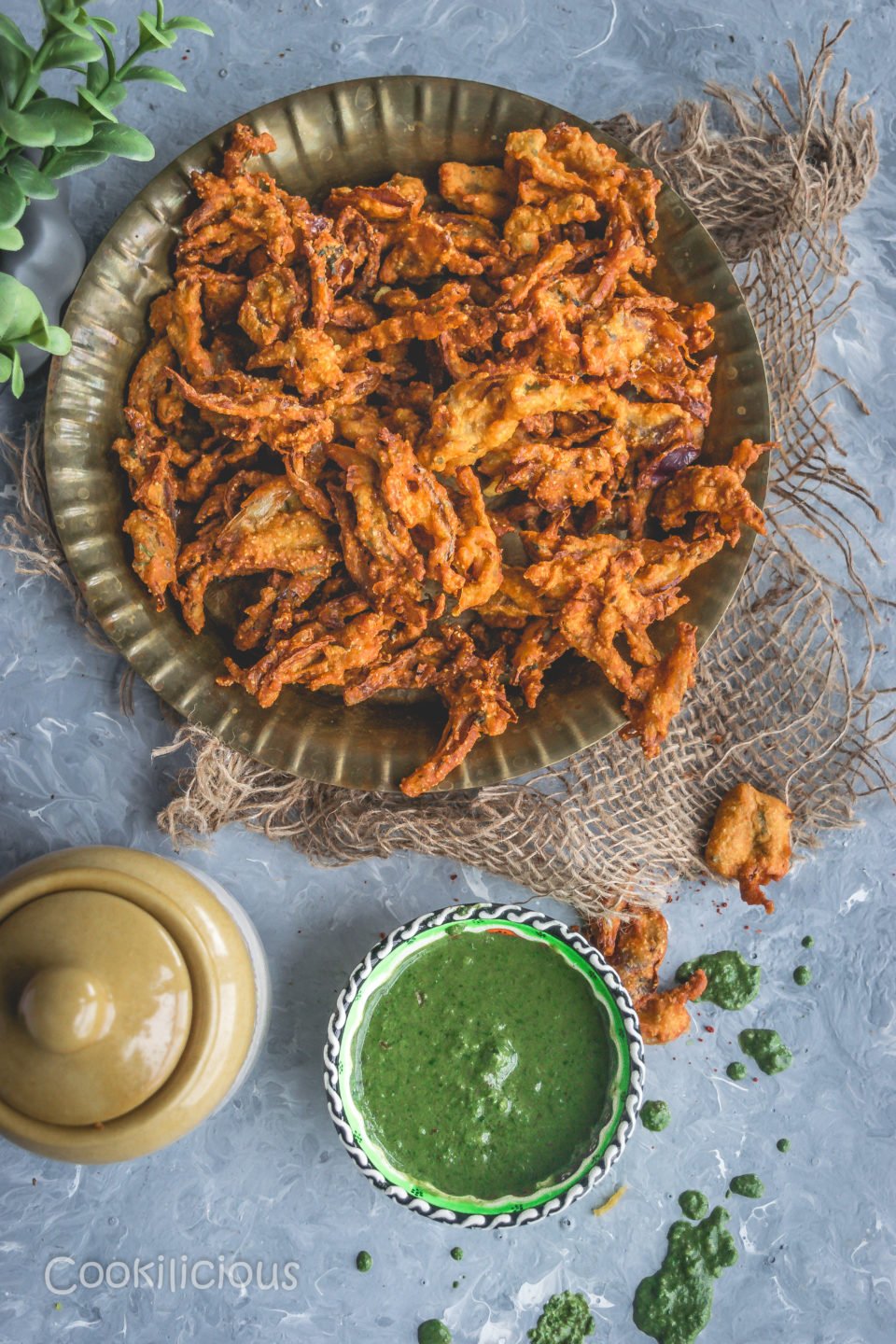 Pakora - The delicious comfort food
These golden brown fritters are known by many different names. Some call it Kekda Bhaji as it resembles a crab, some call it Kanda Bhaji which literally means onion fritters and some call it Onion Pakoda. This is one of the many famous street foods of Bombay. It's like a quick on-the-go snack for us Indians. On the way back from work, a pit stop to one of these food stalls on the street is a common thing that many of us do.
I remember, my dad would get for us freshly made kanda bhaji on most evenings and we would sit and enjoy this together. Also during the monsoon season, this is one of the most made dish in Indian homes. Rains, chai and bhaji is like the world's best combo ever! Even today when it rains heavily here in the US, we crave for a hot plate of onion pakodas and wish someone would make and serve us! But then reality hits and I realize that no one will come and make it, I will have to do it myself! Sigh! See the thing is, these fritters are best enjoyed when someone else makes it for you! 😉 🙂
My college friend visited us along with her family this Thanksgiving. Her daughter had a great time visiting the magical land of Disney and we had a great time reminiscing our college days. We played board games, went midnight shopping, restaurant hopping and of course did lots of cooking. She insisted that she wanted to prepare something for us and on KR's request, decided to make Indian Vada Pav. While we were going about with the prep, it began to rain and our eyes lit up immediately.
We both had the same thought - Kanda Bhaji! KR was in for a double treat and he was not complaining! My friend told me to let do it and I was tempted to see her style of cooking so I obliged. Her way of making kekda bhaji was different to mine and boy I was glad for that! I captured all the process shots and then when I was photographing the final result, her daughter was watching me. That is when I thought of including her in the pictures and asked her to be my hand model. She graciously agreed and I loved the results.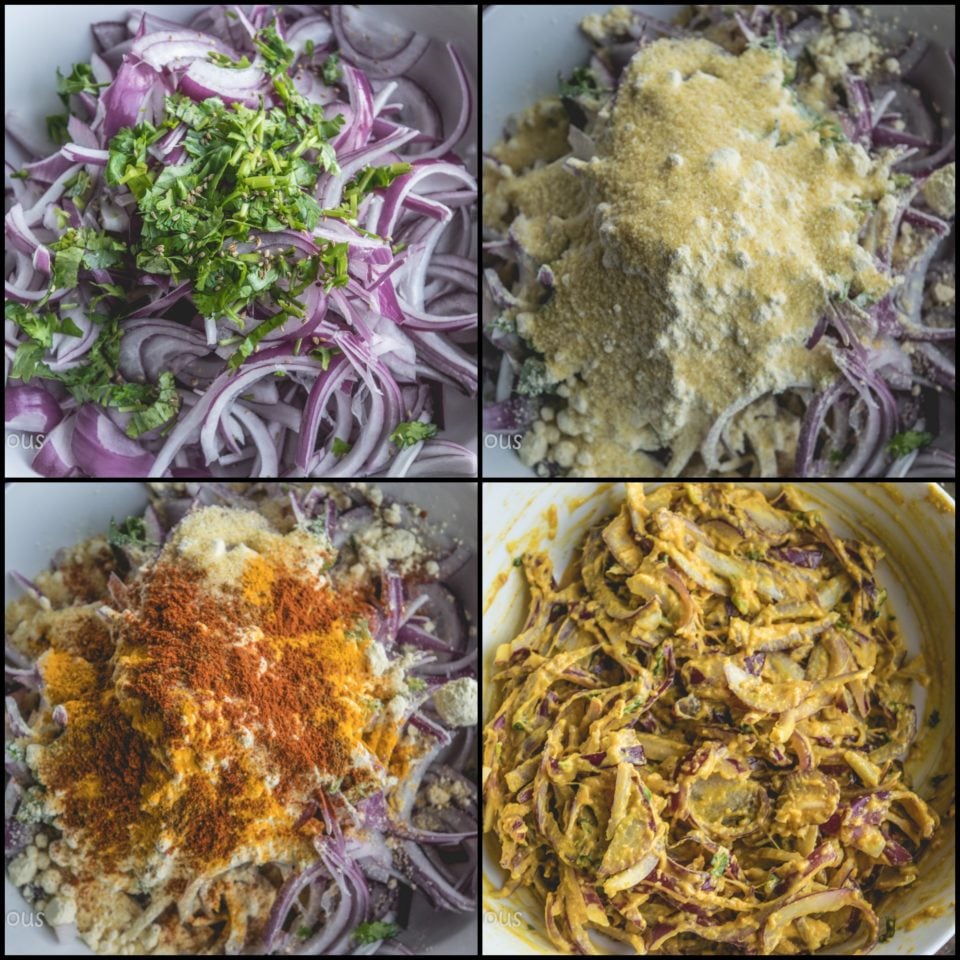 How to Make It
Now let me walk you through the recipe. Slice onions and transfer them to a mixing bowl. Add ajwain seeds
/carom seeds and chopped cilantro to it. Then add besan/chickpea flour
, semolina
, red chilli powder
, turmeric powder and salt. Adding water little by little, give it all a good mix. It should not be too thin. Refer the pic to know the consistency. Heat oil
to fry. Once its hot enough, add spoonfuls of the batter to the hot oil and fry till they turn golden brown. Take them out onto a paper towel to soak off the excess oil. These onion pakodas are best enjoyed hot!
Serve them immediately with some green chutney/red chutney/meetha chutney/ketchup! If you are like me, you will gobble it up as is. I heard from another friend that they use caramelized onions in the recipe to give it more flavor. I plan to try that the next time. If you do, let me know how that turned out. You can also follow the exact same steps to make cabbage bhajiyas instead of onions. Just use shredded cabbage instead of sliced onions. For extra crispiness, mix 1-2 tablespoons of rice flour in the batter along with the chickpea flour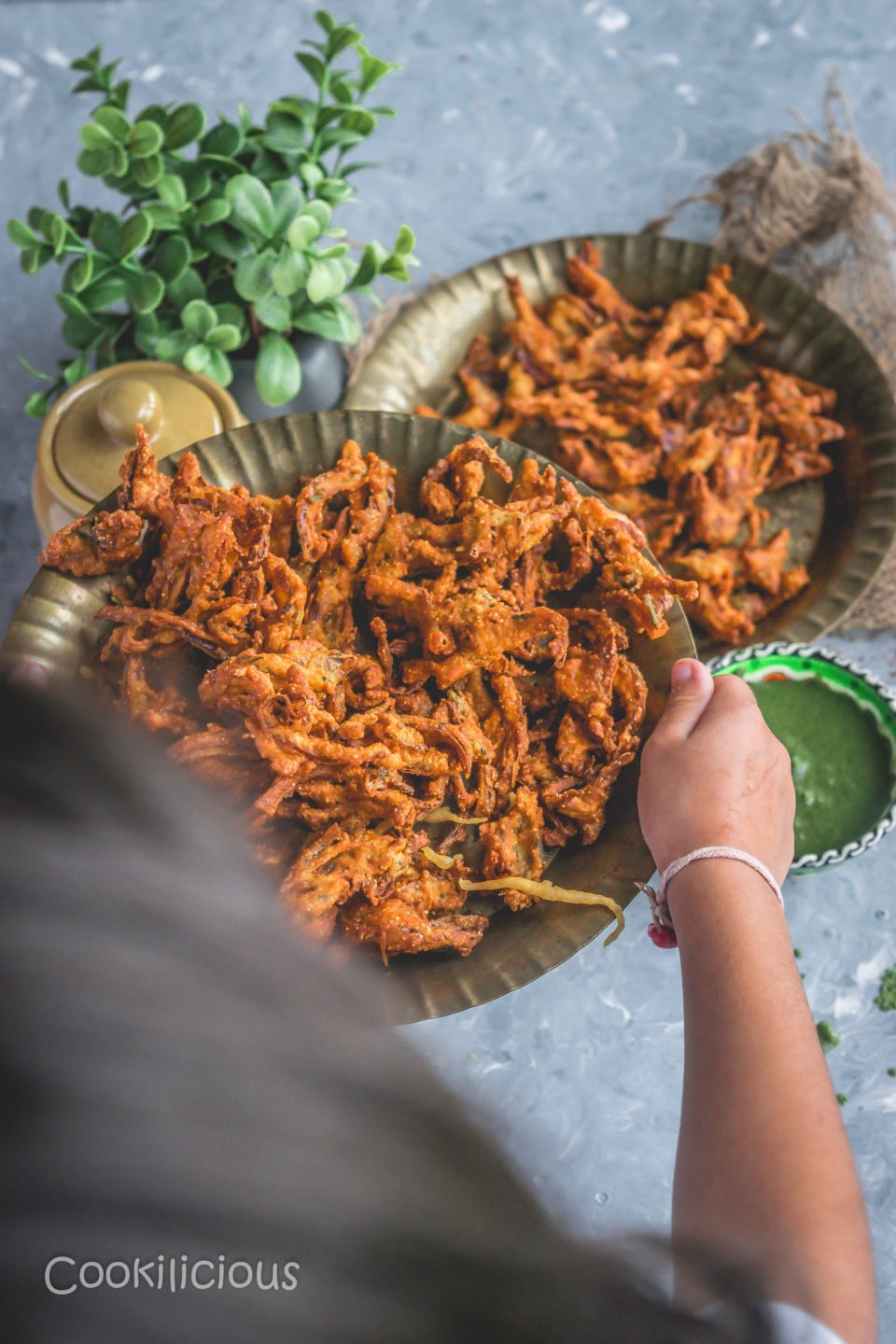 If this post has left you craving for more, I strongly urge you to check out these drool-worthy recipes - Indian Masala Corn, Vada Pav, Bombay Sandwich, Cheeselings Bhel, Moong Dal Pakoda, Ragda Patties, Misal Pav, and Pav Bhaji!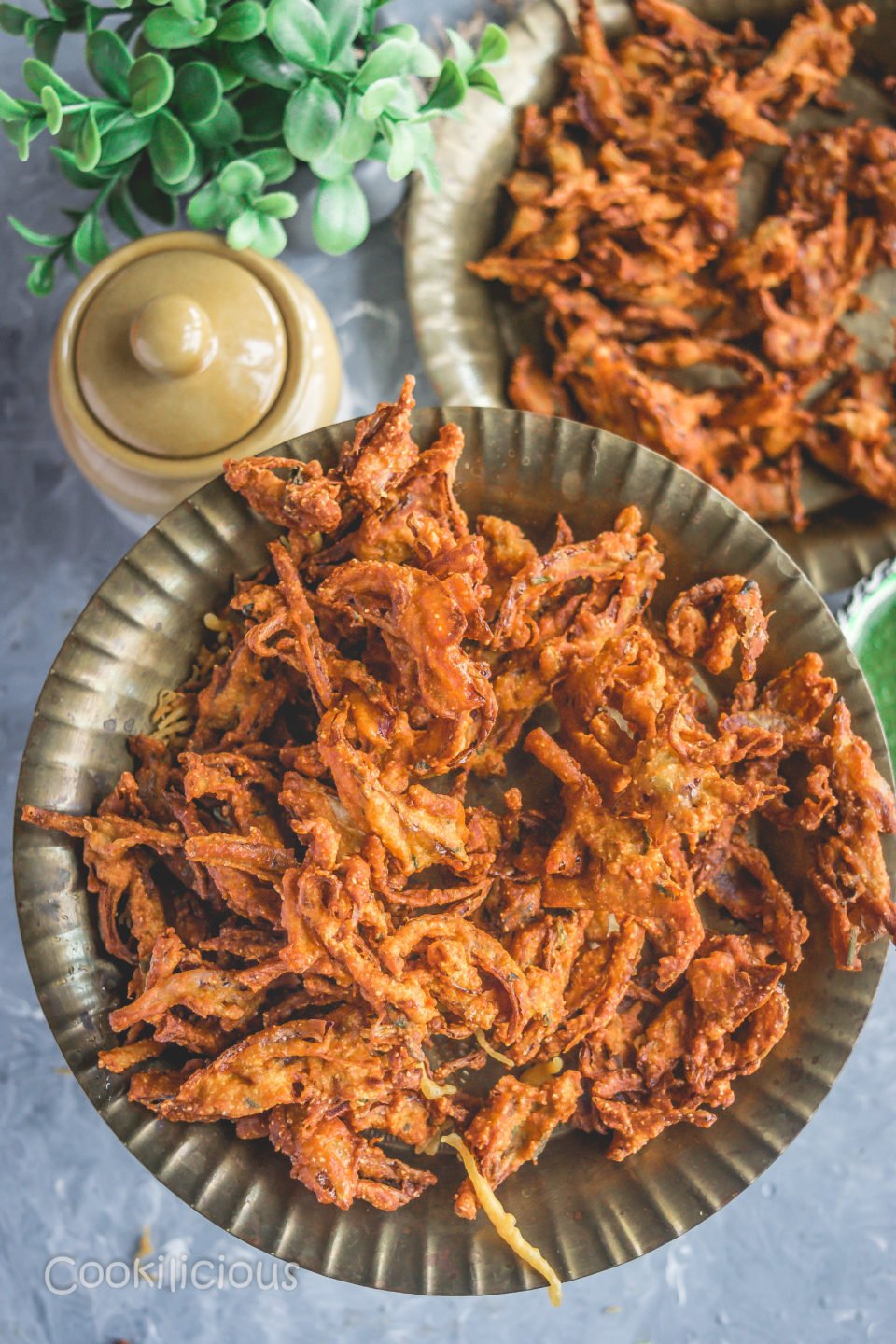 If you like this recipe then please rate it ⭐️⭐️⭐️⭐️⭐️! You can follow me on Facebook, and Instagram to see what's latest in my kitchen and also on YouTube to watch my latest cooking videos.
⭐️ Subscribe to the Cookilicious Newsletter and receive new recipes straight to your inbox! You'll receive my FREE Vegan Beginner's guide as a gift. You can then also participate in the Cookilicious Cooking Club Series to win exciting prizes.
Recipe 📖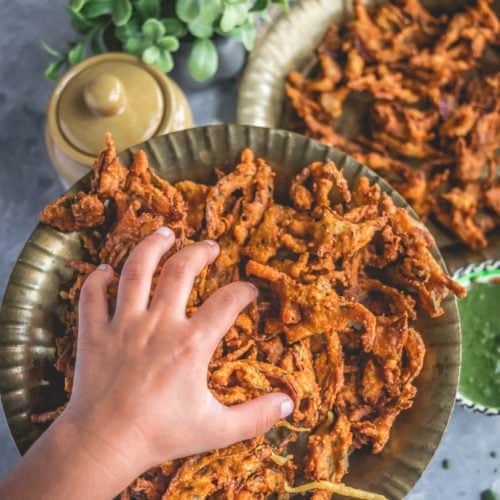 Onion Pakoda is a famous street food from India! These bhajiyas are crispy & crunchy deep fried fritters made with onions mixed in chickpea flour & some spices.
Ingredients
3

onions

1-2

tablespoon

ajwain/carom seeds

¼

cup

chopped cilantro

1

cup

chickpea flour/besan use as needed

3-4

tablespoon

semolina/rawa

1

tablespoon

red chilli powder

½

tablespoon

turmeric powder

salt as required
Instructions
Slice onions and transfer them to a mixing bowl.

Add ajwain seeds/carom seeds and chopped cilantro to it.

Then add besan/chickpea flour, semolina, red chilli powder, turmeric powder and salt.

Adding water little by little, give it all a good mix. It should not be too thin. Refer the pic to know the consistency.

Heat oil to fry. Once its hot enough, add spoonfuls of the batter to the hot oil and fry till they turn golden brown.

Take them out onto a paper towel to soak off the excess oil. These onion pakodas are best enjoyed hot!

Serve them immediately with some green chutney/meetha chutney/ketchup
Notes
I heard from another friend that they use caramelized onions in the recipe to give it more flavor. I plan to try that the next time. If you do, let me know how that turned out.

You can also follow the exact same steps to make cabbage bhajiyas instead of onions. Just use shredded cabbage instead of sliced onions.

For extra crispiness, mix 1-2 tablespoons of rice flour in the batter along with the chickpea flour
Nutrition
Calories:
143.36
kcal
|
Carbohydrates:
24.21
g
|
Protein:
6.66
g
|
Fat:
2.34
g
|
Saturated Fat:
0.23
g
|
Polyunsaturated Fat:
0.76
g
|
Monounsaturated Fat:
0.37
g
|
Sodium:
37.71
mg
|
Potassium:
307.45
mg
|
Fiber:
4.95
g
|
Sugar:
4.62
g
|
Vitamin A:
449.62
IU
|
Vitamin C:
4.41
mg
|
Calcium:
28.82
mg
|
Iron:
1.89
mg