Garam Masala is an Indian spice powder made using ground fragrant spices. It's easy, healthy & authentic! Make it at home & add it to your recipes as needed.
Yes, I finally made it!!! Just the aroma of all the spices being roasted in my kitchen which was so worth the effort. I have never been content with store bought ground masala. I feel they are not authentic as they have added preservatives, artificial color and flavors. So it was just about time that I made it in my own kitchen. Indeed this is one of the easiest dry spice powder I have made considering that I have made a couple of them being from South India - Sambhar powder/ Rasam Powder/ South Indian Curry Powder and Idli Chutney powder also known as Gunpowder. I have recently made Turmeric powder, Dhania Jeera Powder at home as well. You must check them out too. Just to give you some history about Garam Masala. It is a blend of different whole spices. The kind of spices used may differ from region to region, personal taste and sometimes also ingredient availability in the kitchen. 😉 It is a commonly used seasoning in most of the Indian cooking (but doesn't limit to it) and it surely does enhance the flavors when added to any dish. It is a very strong spice powder and usually needs to be used in small quantities in any recipe mainly towards the end of the preparation.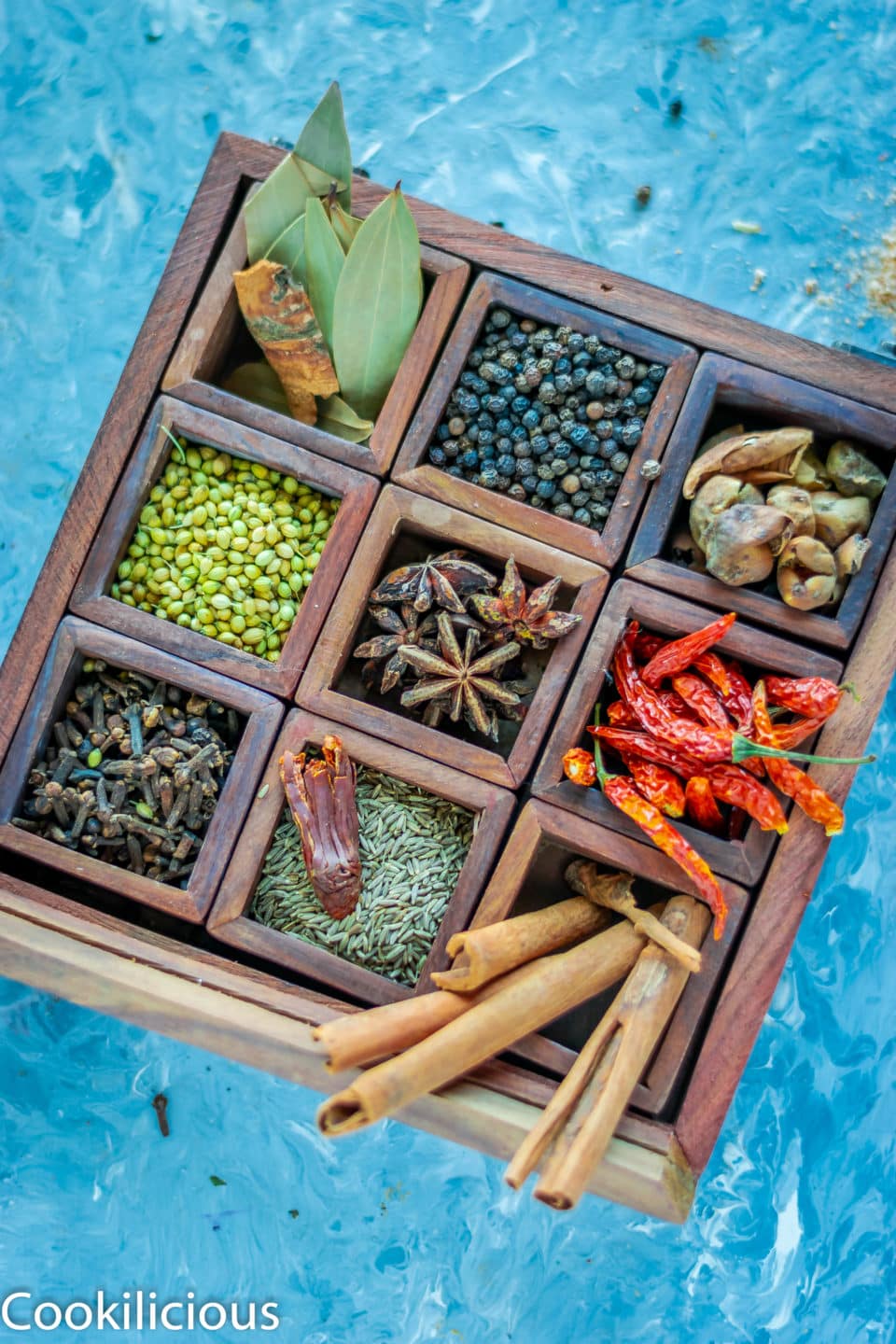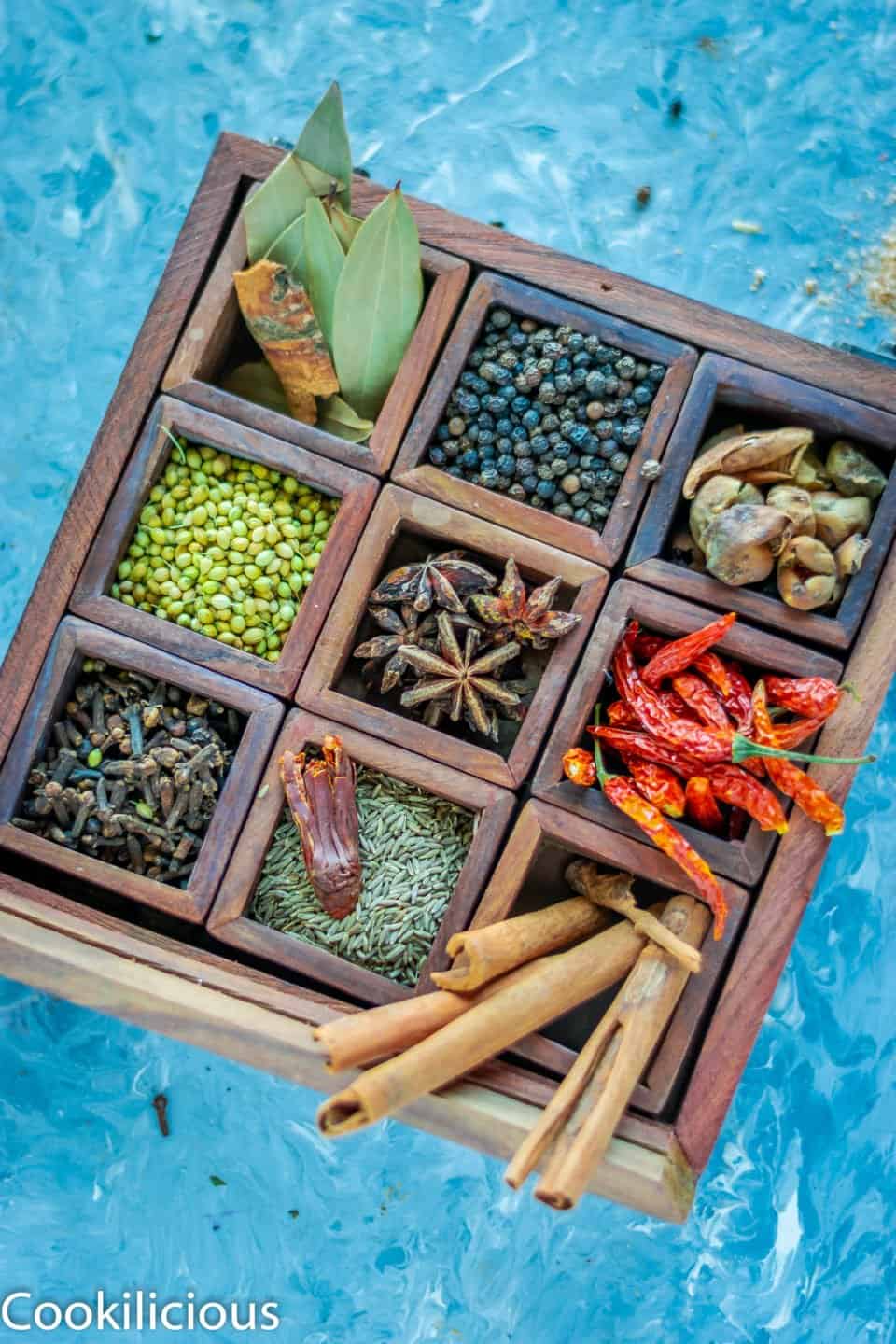 Often people get confused between curry powder and garam masala. But to tell you the truth, curry powder is not even an Indian spice. It was actually invented by the British to help them with Indian cooking. Also if notice, it has a more yellow hue due to the turmeric in comparison to the garam masala which is more brownish due to all the other spices used to make it. Garam Masala is an authentic and traditional spice blend used by every Indian living in any part of the globe! You will never come across an Indian household (provided that they cook Indian food regularly) without this spice mix in their spice cabinet. Garam Masala has a strong and sharp taste and is often used to heighten the flavor of the dish during and at the end of the cooking process. It also has some Ayurvedic properties as well. In Ayurvedic medicine, it is believed that when there is not enough heat in our body, it can become sluggish and may be slow to remove toxins. The word garam means to "heat the body" and these warming spices are actually believed to elevate body temperature. Other healing benefits of this spice mix includes boosting our immunity, promoting weight loss, aiding digestion, lowering blood sugar and lowering inflammation.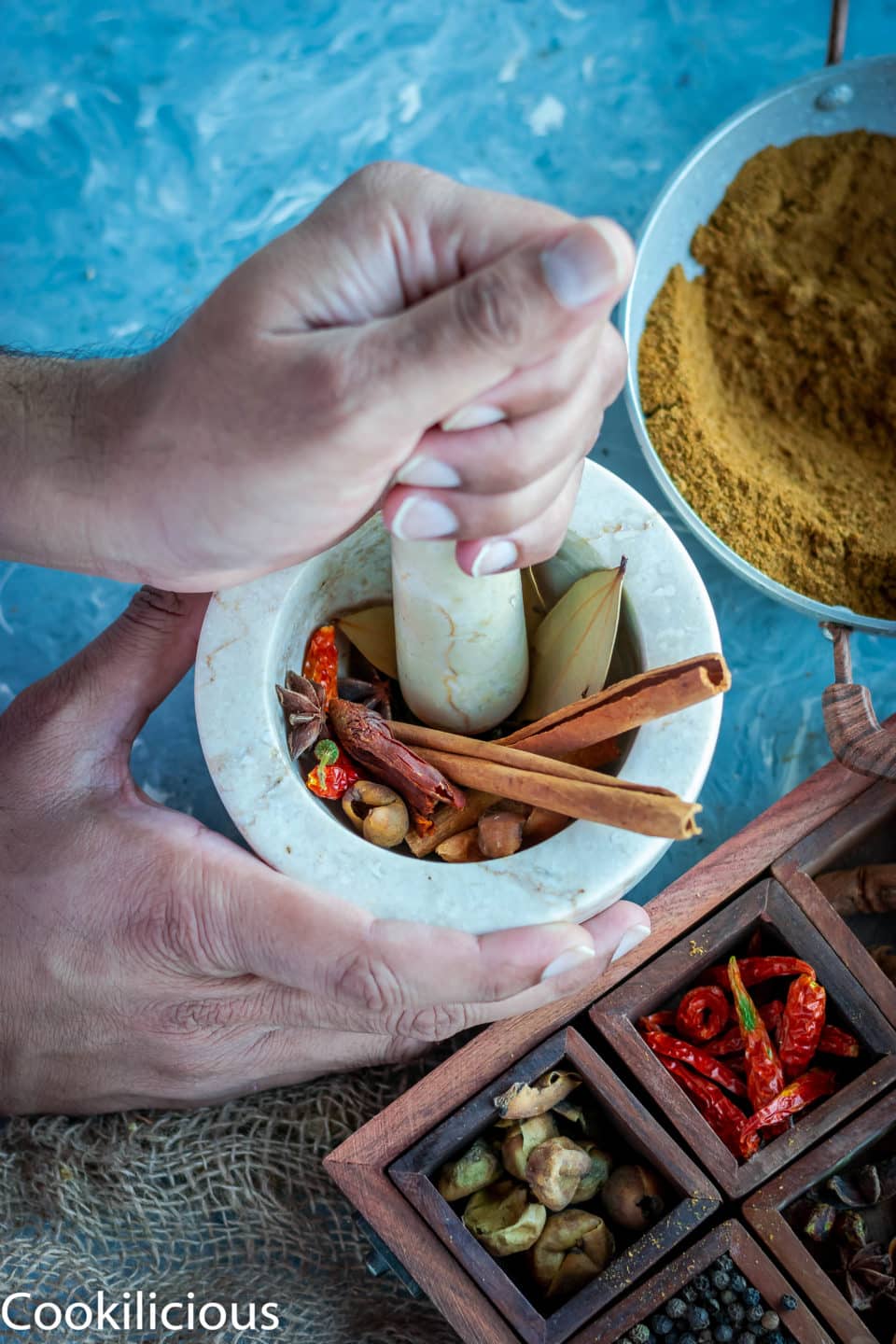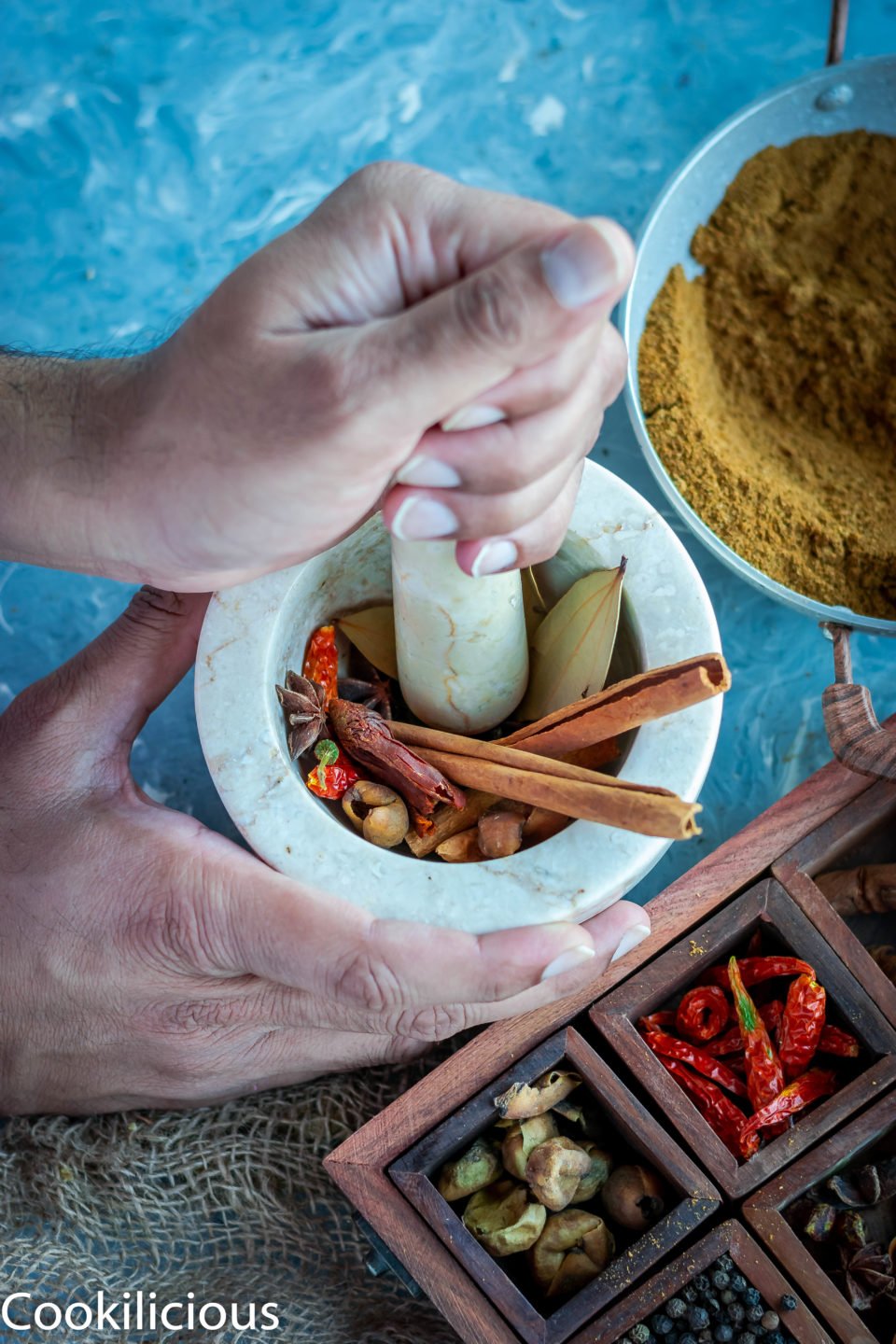 If you've tried this Garam Masala or any other recipe on the blog please let me know how it went by commenting below, I love hearing from you!
You can also FOLLOW ME on FACEBOOK, TWITTER, INSTAGRAM, and PINTEREST to see more delicious vegetarian and vegan recipes and what I'm getting up to.
Some recipes where you can add this are - Indian Style Green Moong Sprouts Dal Fry Recipe!, Vegan White Pattani Kuzhambu | Dry Peas Curry Recipe, Instant Pot Spicy Potato Mint Pulav, Easy Restaurant Style Achari Paneer Masala Recipe, Instant Pot Creamy Potato & Chickpeas Vegan Curry, Mutter Paneer, Baby Corn Mushroom Peas Masala, Oriental Egg Fried Rice, Cilantro Pot Rice, Mutter Dhingri and Egg Biryani. There are many more recipes in my blog. Do not forget to check them as well.
Listen to this recipe on our Podcast Channel!
Cookilicious Kitchen Stories
Ease into Indian vegan/vegetarian cooking and work your way up from simple spice mixes to complex curries.
Instant Potato Dosa -- A South Indian Delicacy
My food blog Cookilicious features a collection of detailed, mouth-watering vegetarian and vegan recipes. 
This is our seventh episode, in which I have shared the recipe for Instant Potato Dosa. This is a delicious breakfast dish from Southern India. 
Dosa is an Indian crepe that is popularly paired with a condiment called a Chutney. The recipe Ithat I'm going to talk about in today's episode is:
This is the Chutney I recommend pairing this Dosa with. I spoke about it in Episode 6:
You will find more chutney recipes on this page:
The traditional Dosa recipe is here:
These are some more delicious Dosa recipes that you may find interesting:
If you try any of these dishes, then I would love to see photos of your dish - my Instagram handle is @cookilicious.
If you have any questions or feedback, please write to us at contactthechef@cookilicious.com. 
If you have been listening to our podcast regularly and like it, then please subscribe so you are aware of new episodes when they come online.
Search Results placeholder
Recipe 📖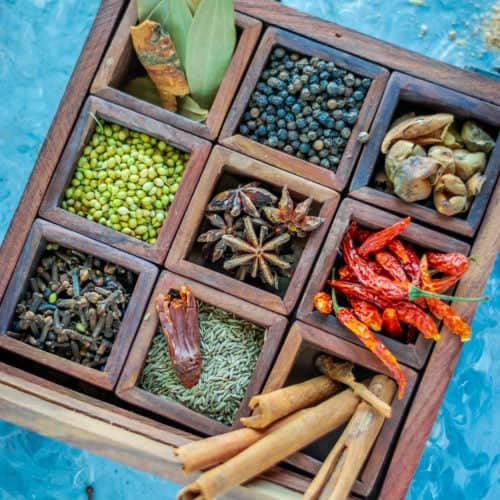 Garam Masala is an Indian spice powder made using ground fragrant spices. It's easy, healthy & authentic! Make it at home & add it to your recipes as needed.
Instructions
Heat the skillet. It should be hot enough to roast the spices but be careful to not burn them. Dry roast all these ingredients individually - Cumin Seeds, Cardamom Seeds, Coriander Seeds, Peppercorns, Cinnamon, Cloves, Bay Leaves and broken Nutmeg. All these spices together give Garam Masala powder a very strong flavour with a slightly warming, sweet, pungent to taste. Keep stirring at regular intervals. Allow them to cool. To remove the Cardamom husk, put the roasted cardamom in between a paper towel. Press it with a rolling pin lightly. Throw away the green skin and use the small cardamon pods. Once all the spices have cooled down, using a grinder, grind it all to a fine powder. Garam Masala is ready to be used. Enjoy its flavors in any dish knowing very well that it is authentic since it is homemade with love! This can be made in advance and stored in a airtight container for months.
Nutrition
Serving:
1
teaspoon
|
Calories:
13.36
kcal
|
Carbohydrates:
2.48
g
|
Protein:
0.51
g
|
Fat:
0.57
g
|
Saturated Fat:
0.08
g
|
Polyunsaturated Fat:
0.09
g
|
Monounsaturated Fat:
0.3
g
|
Trans Fat:
0.001
g
|
Sodium:
3.42
mg
|
Potassium:
54.11
mg
|
Fiber:
1.11
g
|
Sugar:
0.07
g
|
Vitamin A:
36.68
IU
|
Vitamin C:
0.51
mg
|
Calcium:
29.03
mg
|
Iron:
1.27
mg