Tomato Omelette is a popular Indian breakfast. It's healthy, eggless, vegan and gluten-free. This instant Indian frittata is made with chickpea flour and tomato.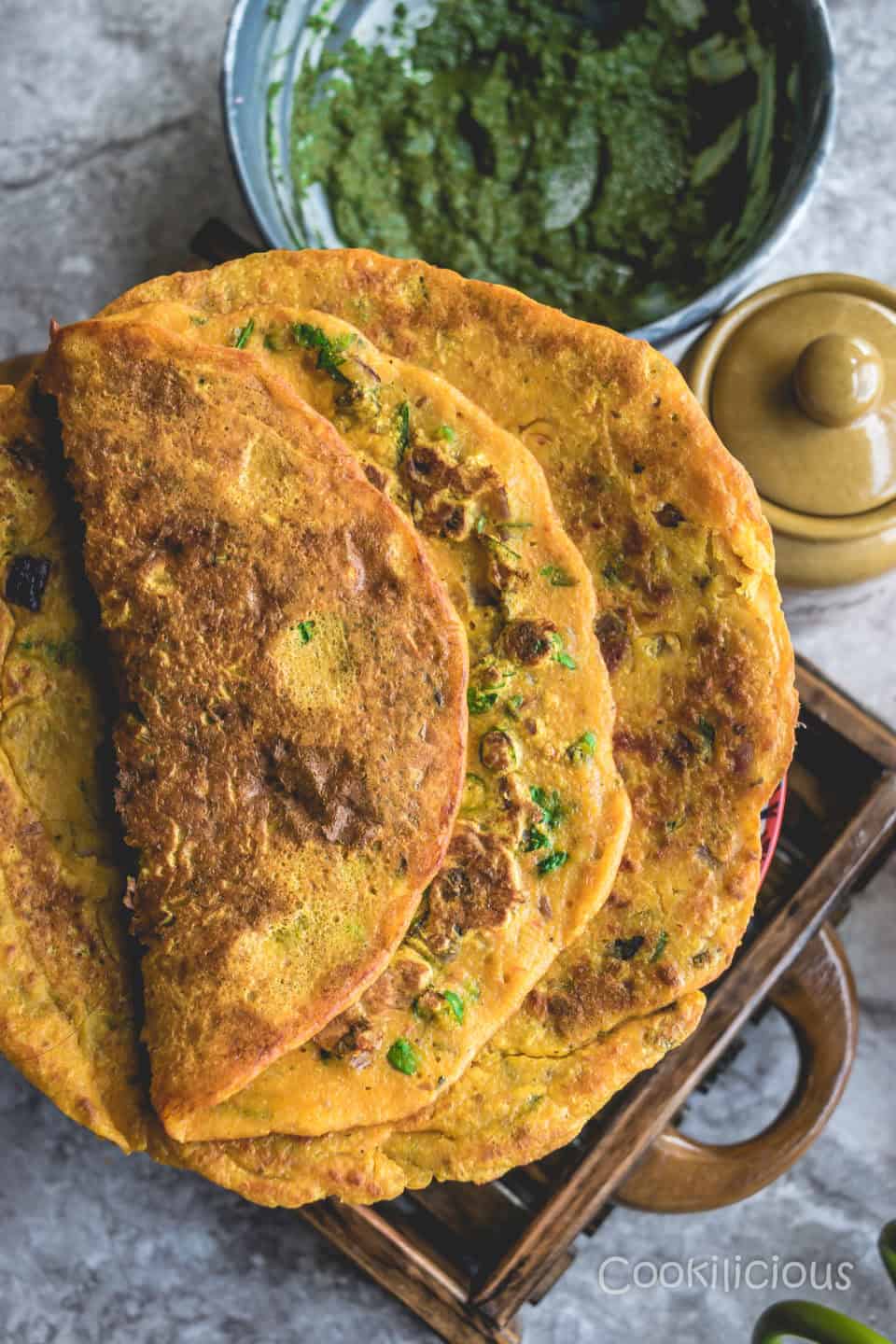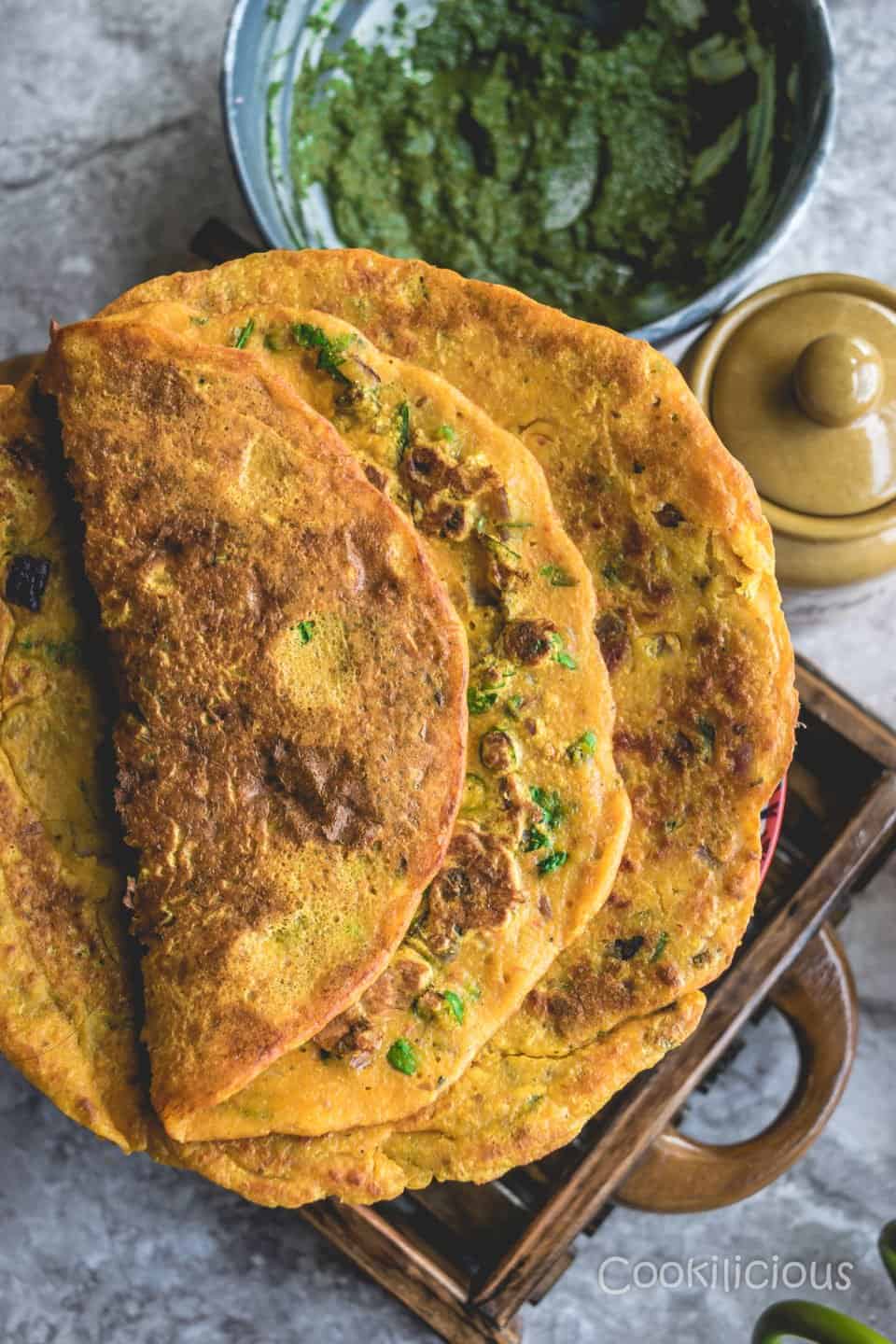 Jump to:
An eggless omelet is possible
Yes, this tomato omelet is made without eggs! They are like pancakes and made with flour along with tomatoes. This lip-smacking snack can be eaten as breakfast, as an evening snack or you can even pack them in your lunchbox.
Tomatoes can easily be added to our daily diet because they can be eaten raw as well. They are rich in vitamins, plus they are so versatile to cook with. Tomato soup, and Tomato rice are some of my favorite dishes to make with tomatoes.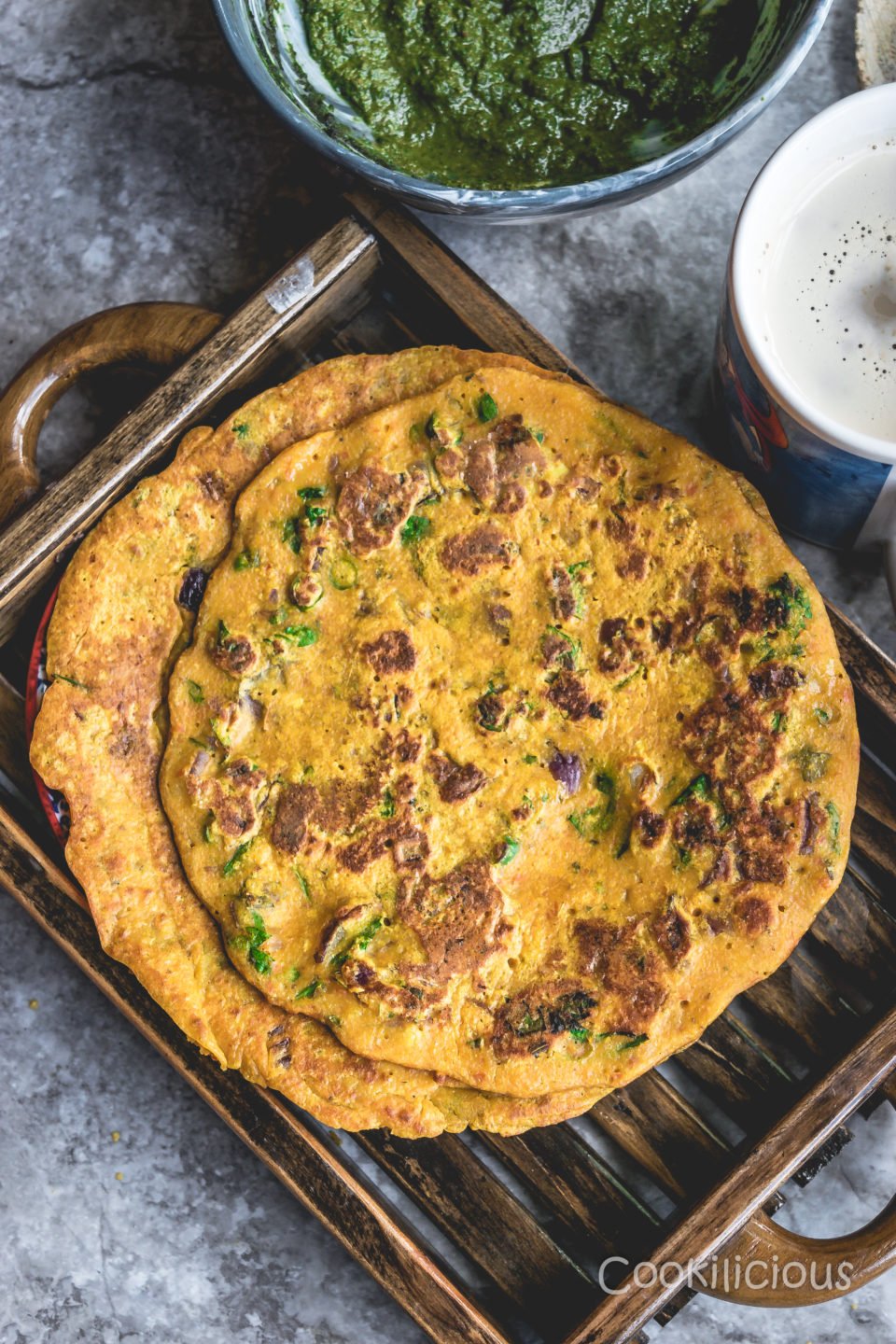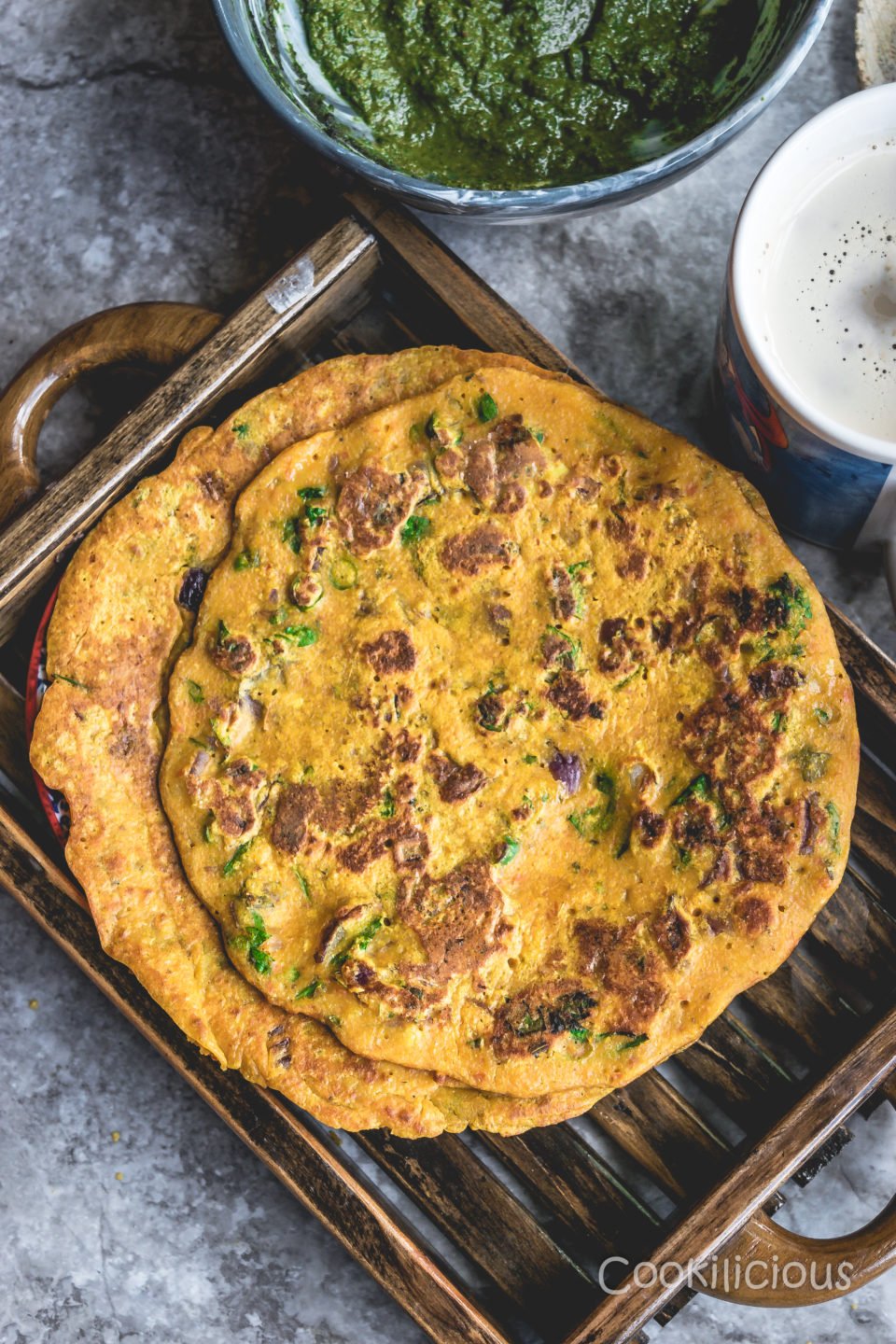 My dad would leave the basic cooking for my mom to do and he would come in kitchen only to prepare something different for us. He was the one who first introduced the Bombay style French Toast to us and of course his most prized creation - the Tomato omelette! We are vegetarians and as a child, never eaten an egg. I would see my neighbor friends eat omelette made of egg and come home and pester my mom to make the same for me. She then explained to me that we being vegetarians, we do not consume eggs. That is when my dad came up with this genius recipe. He would market his dish as a meal for vegetarians and since it had the word 'omelette' in it, I was happy to eat it. However, over the years, we started consuming eggs occasionally and that too because of him. He felt that we needed to include that in our diet and he would make it for us while my mom would not even enter the kitchen when it was being made. She even made him use a different pan and spatula for cooking the eggs! 🙂 Lol!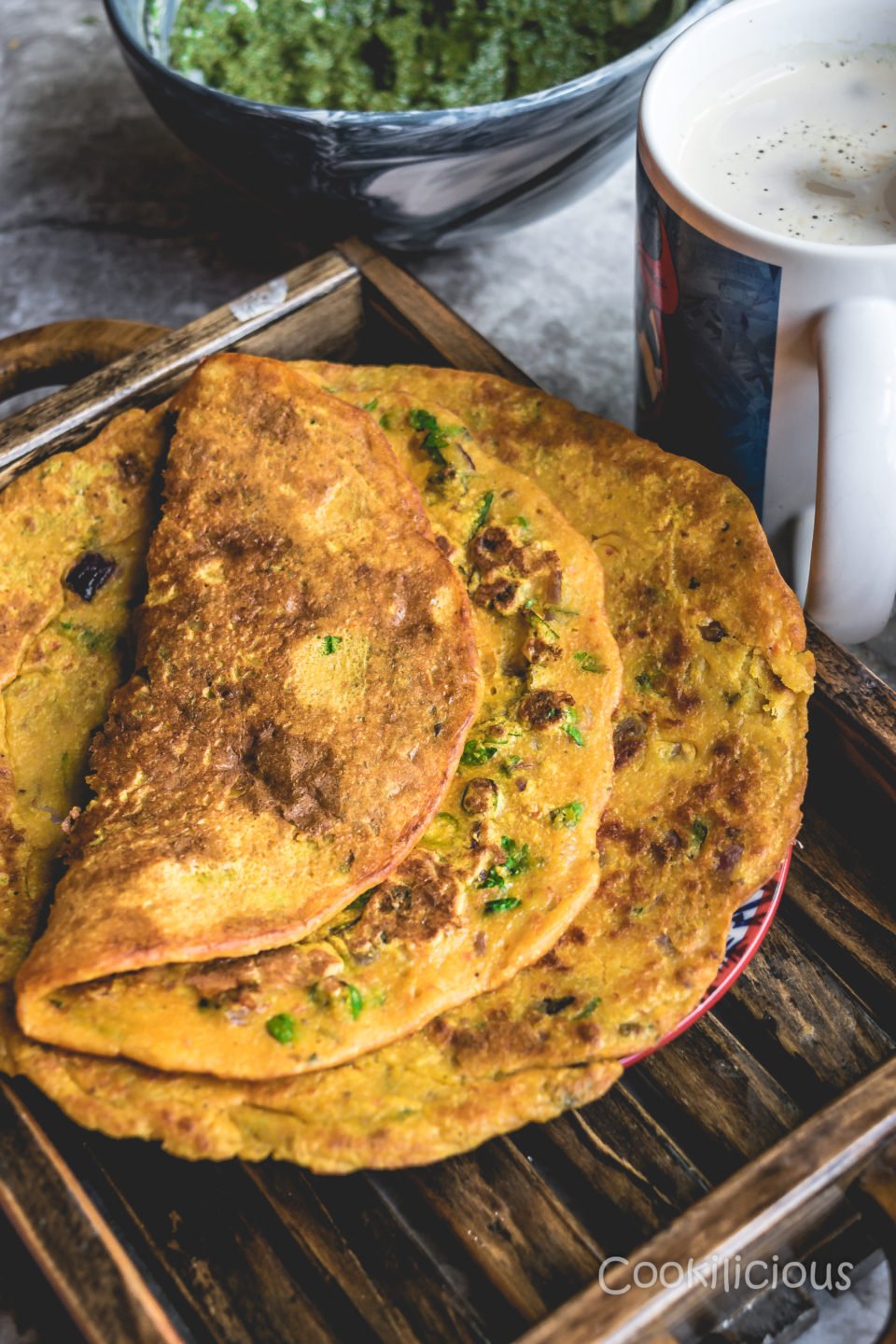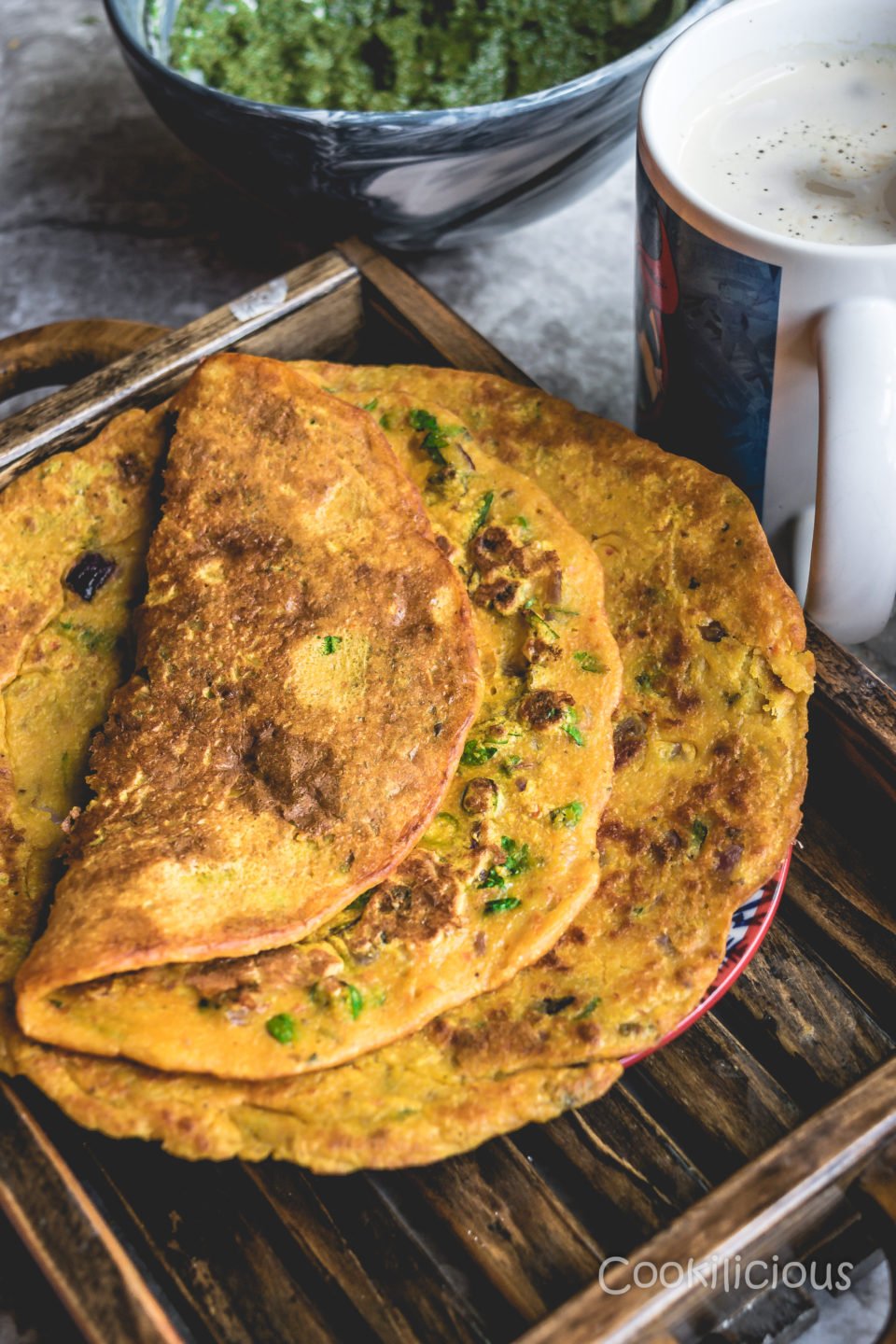 Why make this
it's made restaurant-style
easy and quick to make
is eggless, vegan and gluten-free
batter can be made ahead of time
all the flavors together are delicious
a healthy breakfast or snack option
Ingredients needed 🧾
How to make it 🔪
In a mixing bowl add chickpea flour, all purpose flour and semolina. 
Then add turmeric powder, chilly powder,
Add 2 ladles of batter to the pan. Drizzle oil around it. Top it with chopped onions, bell pepper and tomatoes. Press it slightly. Cook on low to medium flame for 2-3 minutes. Chef Tip - Cover the pan to help cook it faster. Once the edges turn brown, flip them to the other side. Cook it for another 2-3 minutes. Be careful not burn it.
Serve with ketchup and green chutney on the side. Toasted bread butter as well.
In a mixing bowl
add chickpea flour
, all-purpose flour
and semolina
. Then add turmeric powder, coriander cumin powder, chopped onions, minced green chillies, chopped cilantro and salt. Make a puree of tomatoes and add it to this mixing bowl. Mix and give it a pancake batter consistency by adding enough water. Heat a pancake pan
and pour a spoonful of batter over it. Sprinkle grated mozzarella cheese
(this is my addition) and drizzle oil
on all sides. Cook both sides evenly it for 2-3 minutes on medium flame.




Instant tomato omelette is ready. My dad would serve it with toasted bread (similar to how an egg omelette is served) but I prefer to enjoy it with some green chutney or ketchup
. The tomatoes give this dish a certain tanginess that is required and the green chillies lend spice to the dish. Truly a mouth-watering meal that can be enjoyed for breakfast or as a light snack. You can prepare the batter in advance and then prepare the omelette as and when required. It's especially convenient when kids come home hungry from school or you are too busy in the mornings to cook up an elaborate meal or even pack it in lunch boxes. A very versatile dish that's dairy and gluten-free. In India, these are served in a club sandwich which makes it even more delicious. Its served this way at restaurants and as street food and I have enjoyed this club sandwich many times over the years. You must give this recipe a try when you visit Bombay next time.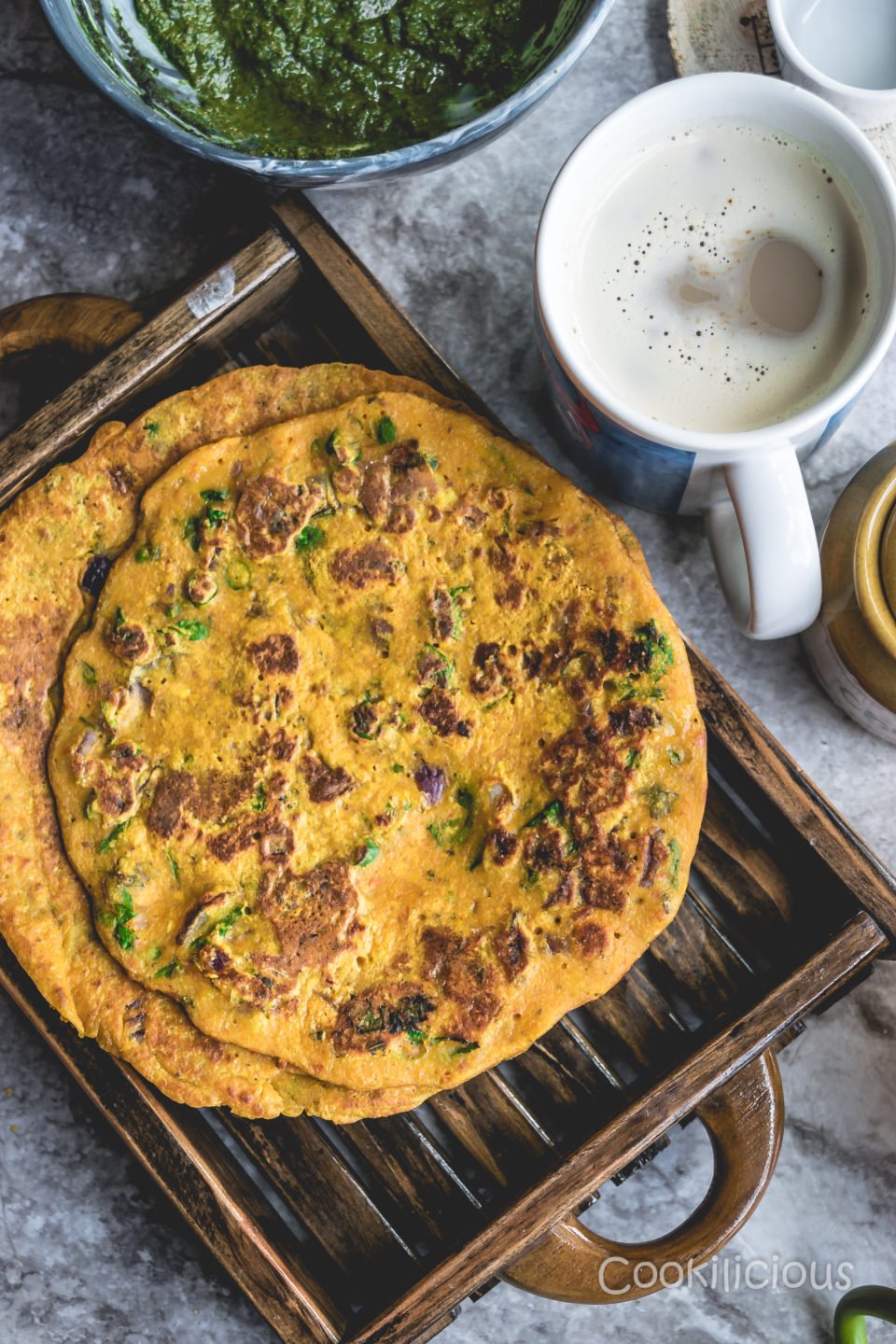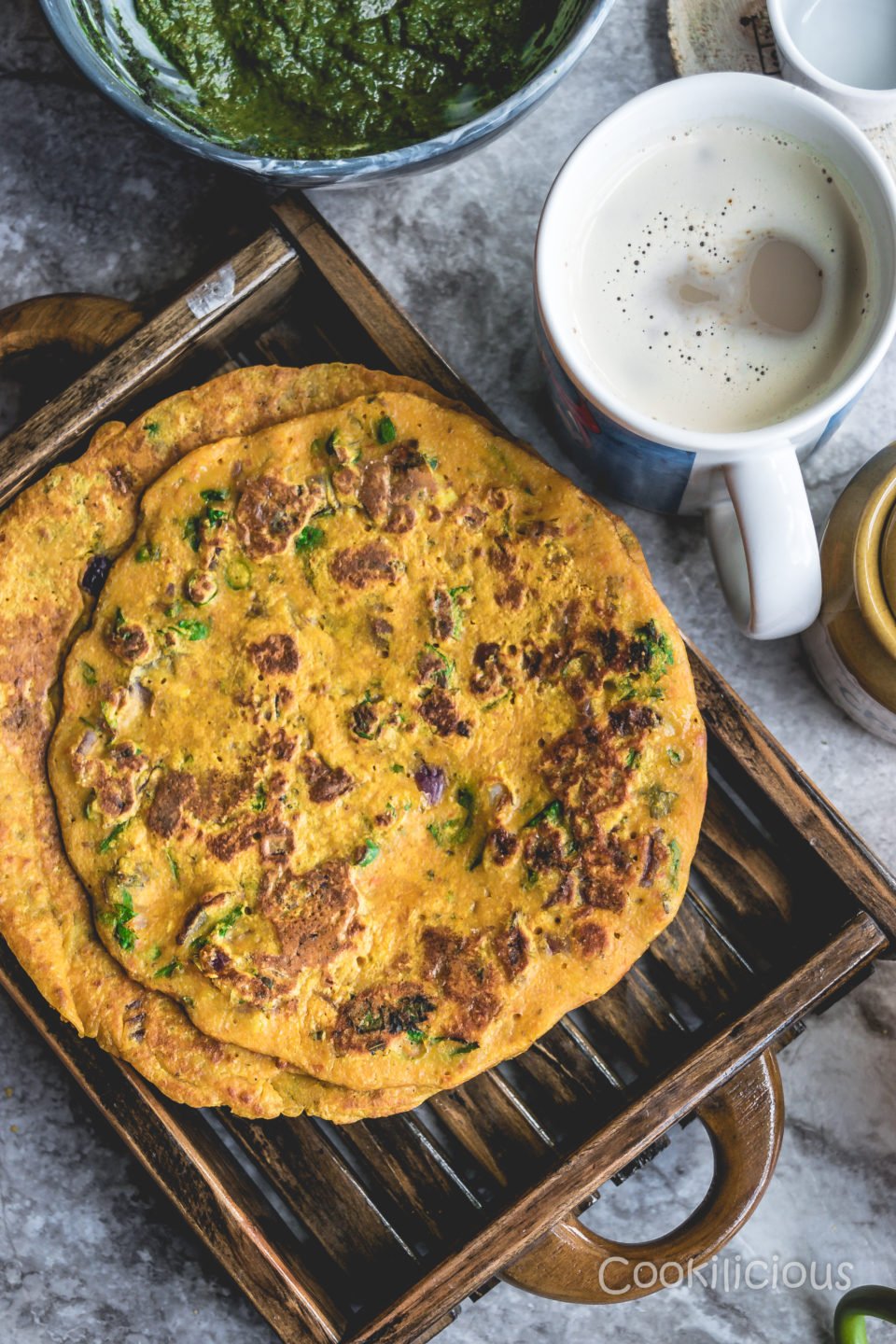 Serving suggestions 🍽
Normally when its served at a restaurant, tomato ketchup, green chutney and toasted bread lathered with butter are served with tomato omelet. Dad would like to stuff the bread with this omelet and eat.
What to serve it with
A bowl of fresh fruits on the side is a good combo. You can also stuff the tomato omelet with some sauteed veggies, mushrooms, or tofu/paneer. mashed Sweet potatoes or mashed potatoes can also be used as stuffing.
Salads like Cucumber salad or Tomato Croutons salad can also be served with it. Cucumber Lemonade, Rose Lemonade, Kiwi Detox Smoothie, or Watermelon Juice are some drinks that will go well with this vegan tomato omelet.
Top recipe tips 💭
This omelet is thicker than the regular ones. Use a mini pancake pan to make mini tomato omelet.
Recipe FAQs📖
More breakfast pancakes
Recipe 📖