Thai fried rice recipe is a simple & delicious preparation using fresh basil & veggies.To keep it vegetarian/vegan, no curry paste or shrimp paste is used!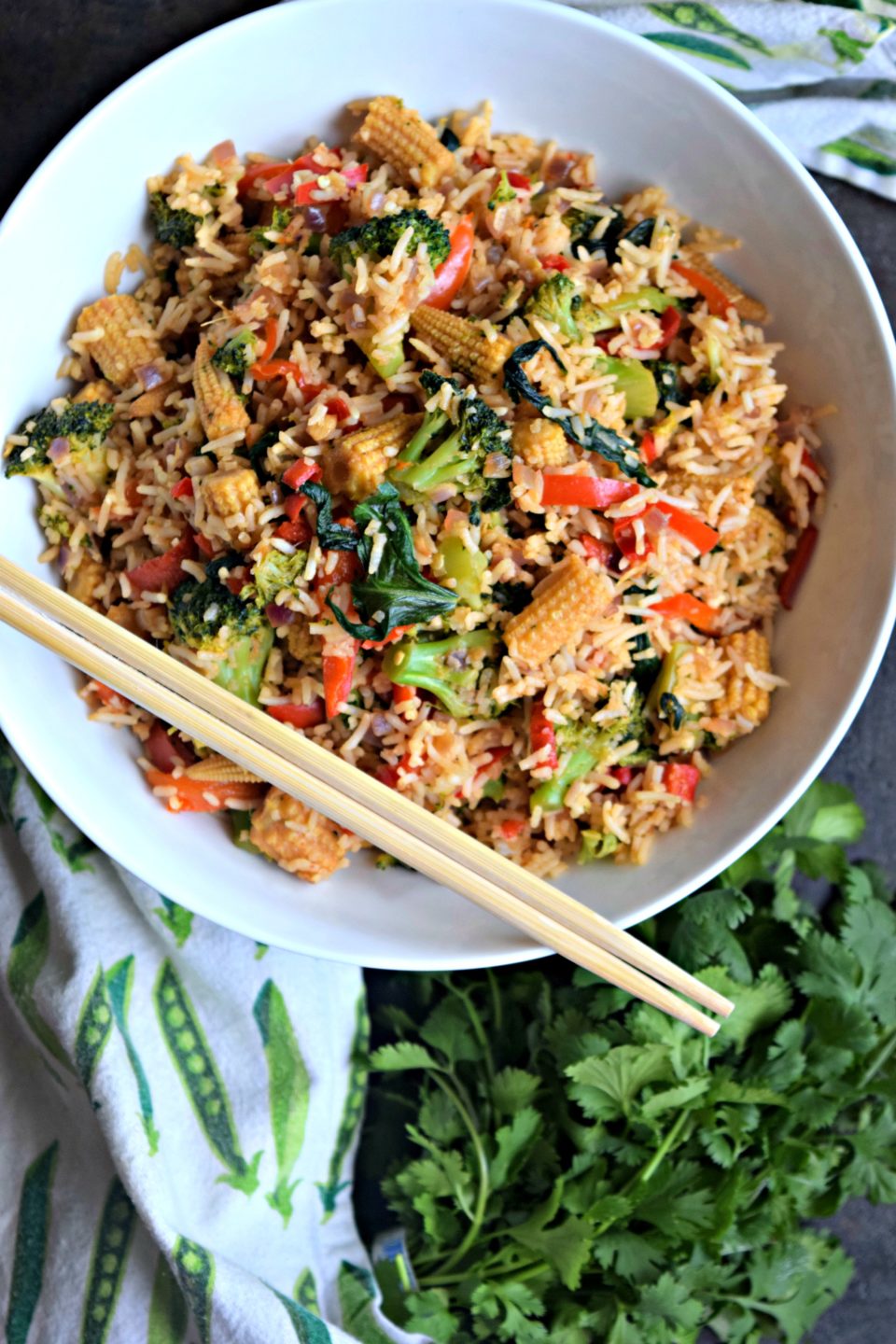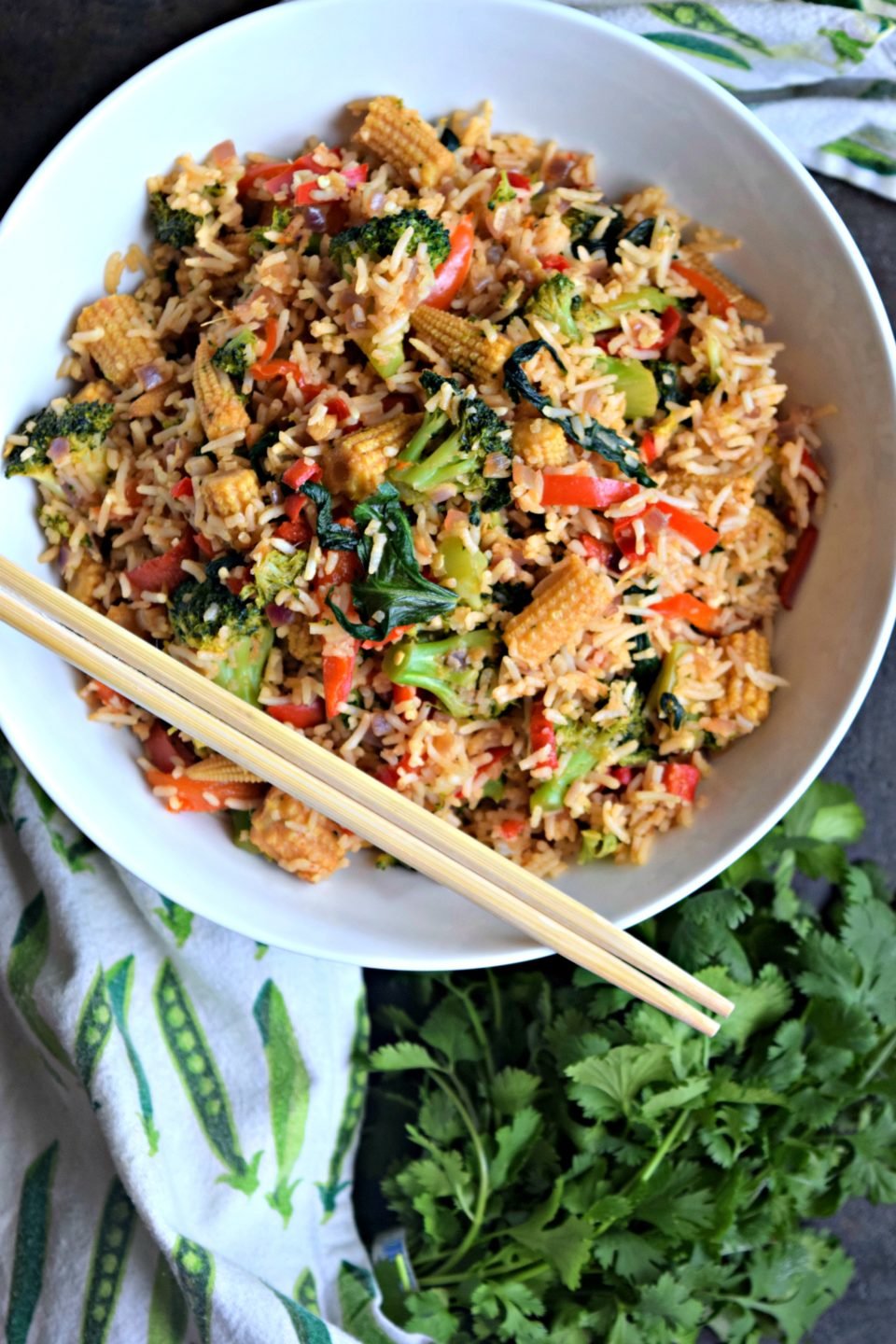 "It's Priya madam's regular order!" shouted the restaurant server from one end of the phone while I was holding the line on the other end. This was a regular weekend happening. I would call this particular restaurant to place my home delivery order and just by hearing my voice, they would know its me and my order. I didn't have to say anything. It was really very sweet of them to do so. Given that it was one of the busiest restaurants in that area, they still remembered me, my voice and my order. After some time, they told me that they had stopped delivering to my area since it was a little far for them but gave me an exception. I was the only customer from here who got this special privilege and they continued to deliver to me. Wondering what was my order? Of course it was Thai Chilly Fried Rice! I even ordered from them the night before my wedding day for crying out loud! 🙂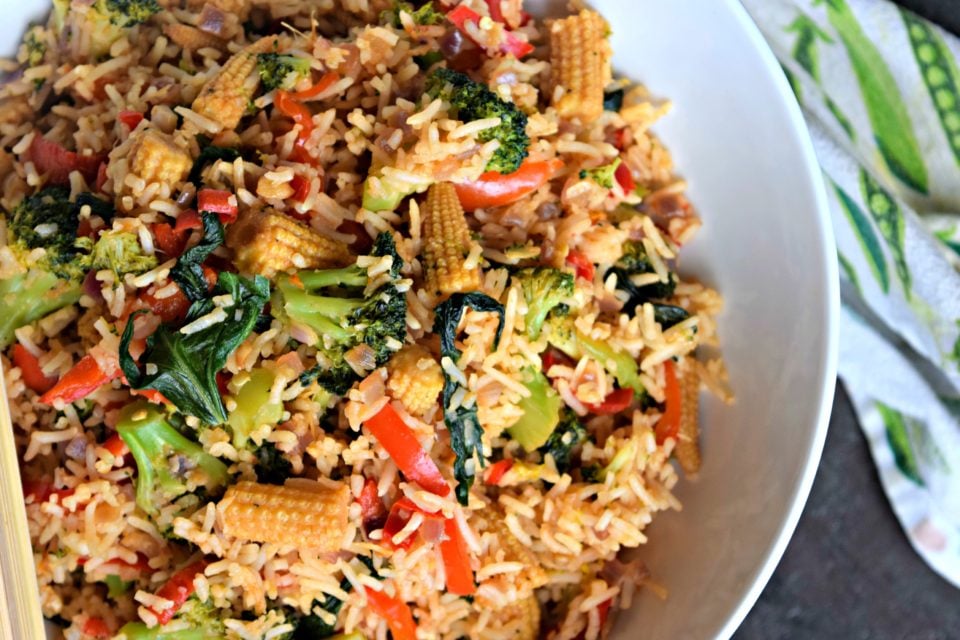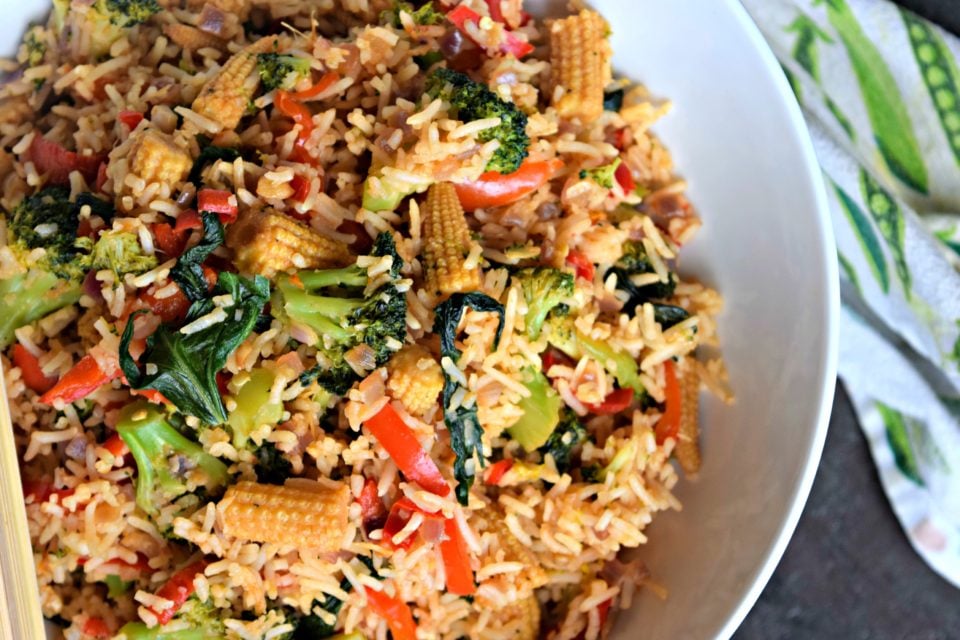 Yes, that is how much I LOVE this dish and my fascination for it began from this very restaurant. We (me and my friends) visited this newly opened restaurant few years ago. The server suggested that I try this dish out as it was their spiciest offering. Thank god I listened to him and ordered it. There was no looking back from then. No matter what the occasion, my order was always fixed. My love for this dish from this restaurant is not hidden from anybody. When my BFF visited me to the US, she got me few plates of this dish vacuumed from the restaurant just so that I could taste it after three long years. In fact, if any of my friends visit this place, they never fail to let me know that they are there or send me a pic of their food. On such occasion, my friend asked the server to write down the recipe of this dish which of course they initially refused but once they got to know that it was for me, the chef promptly wrote it down and my friend shared it with me later.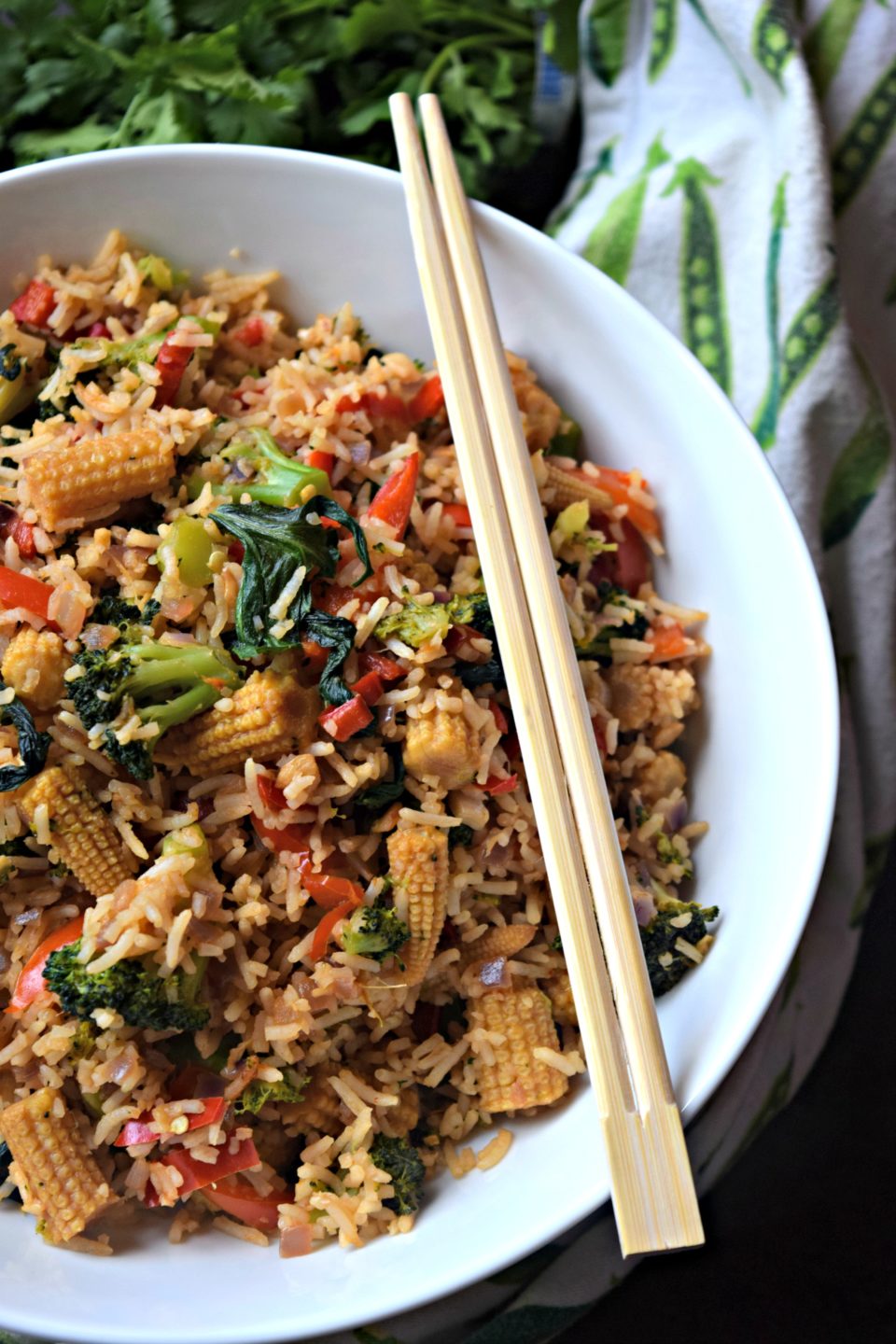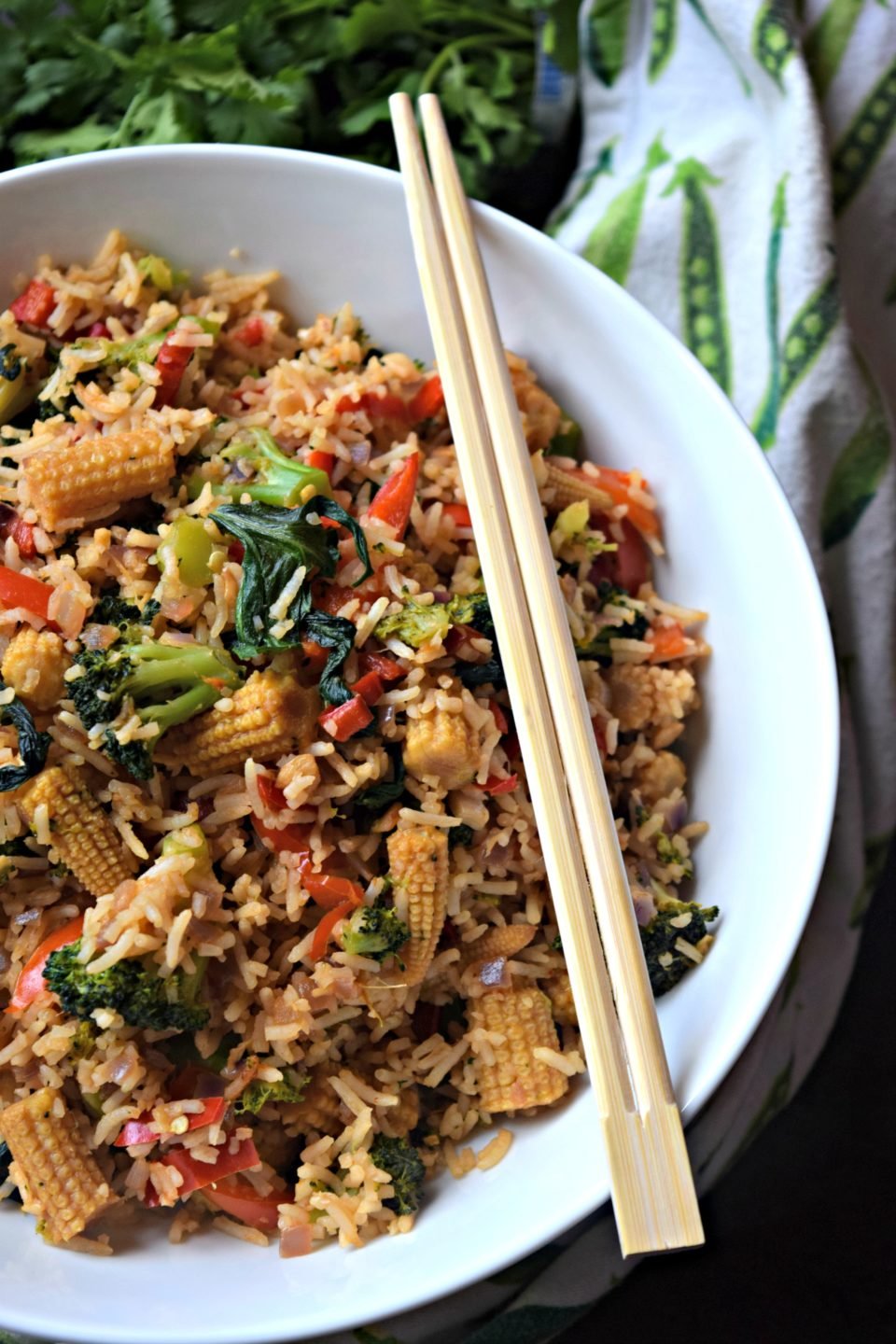 How to make it 🔪
Just my bad luck, I lost that recipe. Ever since I made Butternut Squash & Chickpea Thai Curry few days ago, I have been craving to eat Thai Chilly Fried Rice. Since I didn't have the recipe I wanted, I decided to go with my own version of it. I bought a small bottle of Thai chilly paste only to later find out that it had shrimp in it. So that went kaput! I had to figure out some other way. This recipe does not have any curry paste or fish sauce as it had to be vegetarian. Here is what I did. Heat oil
in wok
, fry garlic and ginger for a minute. Then add Thai red chilly and red onions
. Fry till the onions become translucent. Next add the veggies like baby corn, red bell peppers and broccoli along with salt. Toss it on high flame for 3-4 mins. Be careful to not over cook it or burn it. Next add fresh basil leaves
, mix with the veggies and continue to saute it for another minute.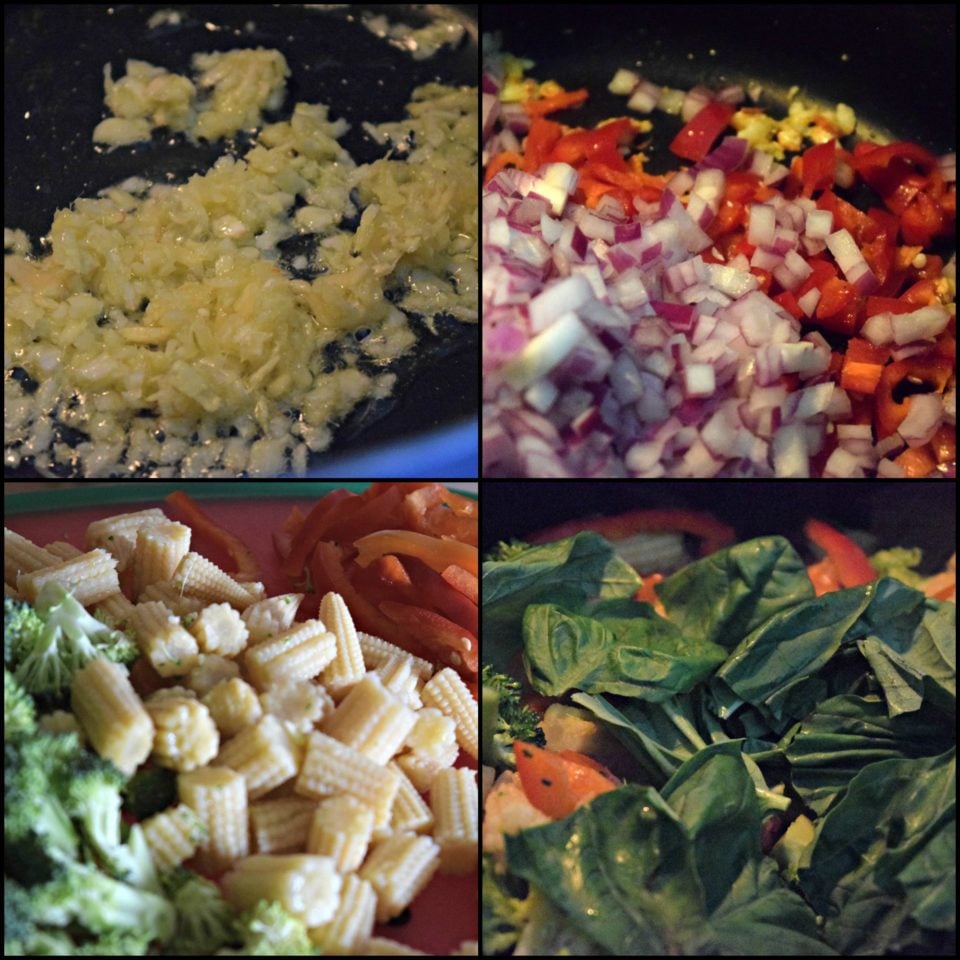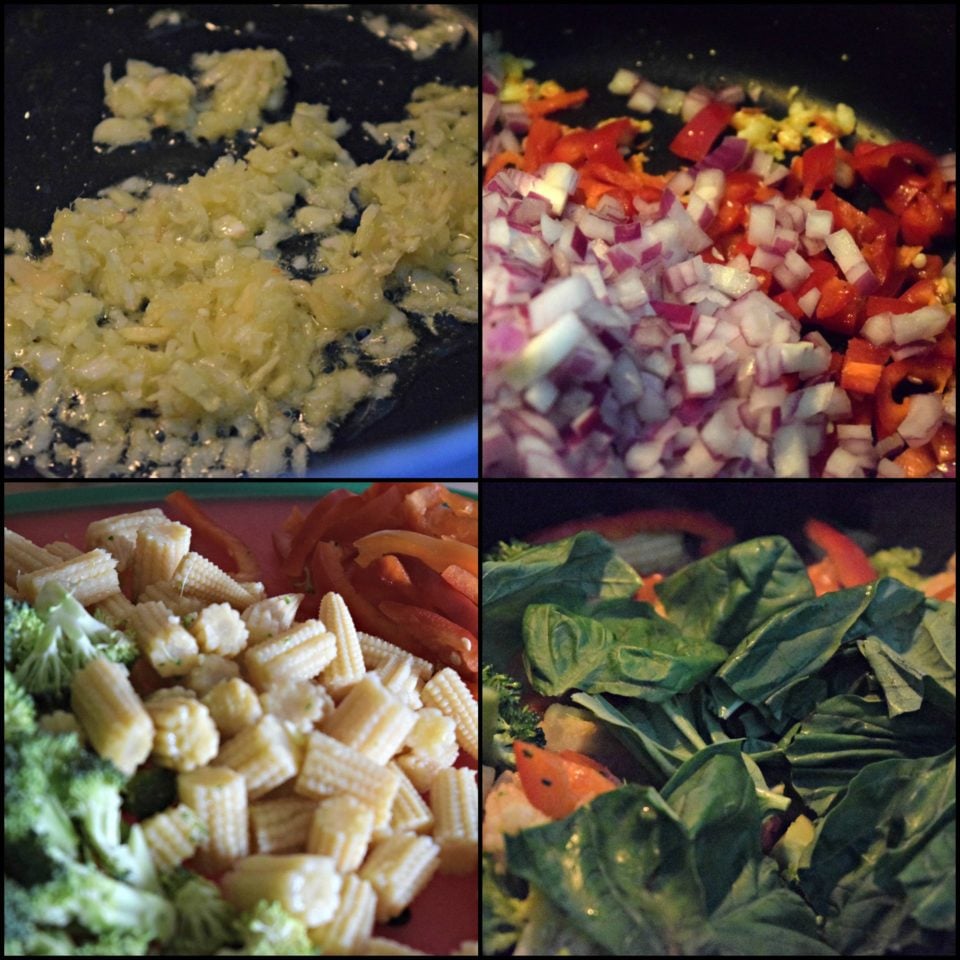 Time to add the sauces. Add soy sauce
and Teriyaki sauce
. Mix it. Then add cooked rice
(Jasmine rice
or regular rice) and some more fresh basil leaves. Mix them all together and toss them for 2 more minutes. Check and adjust salt as required.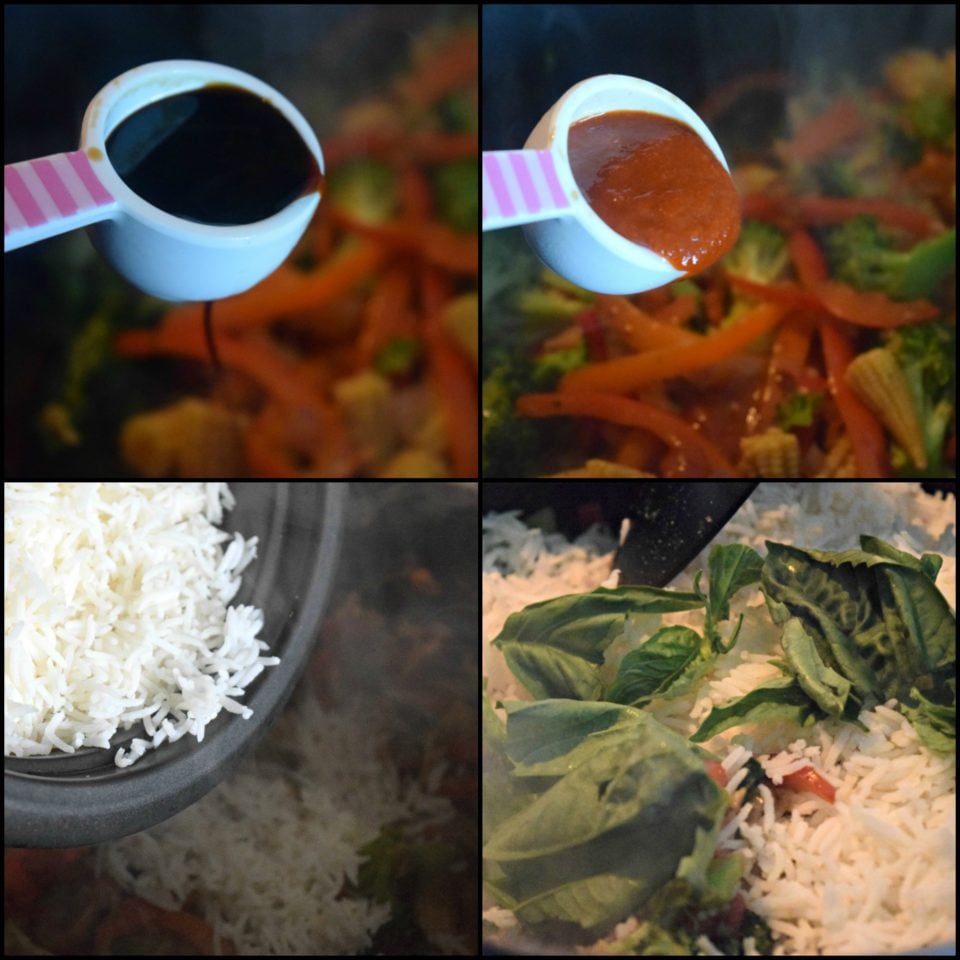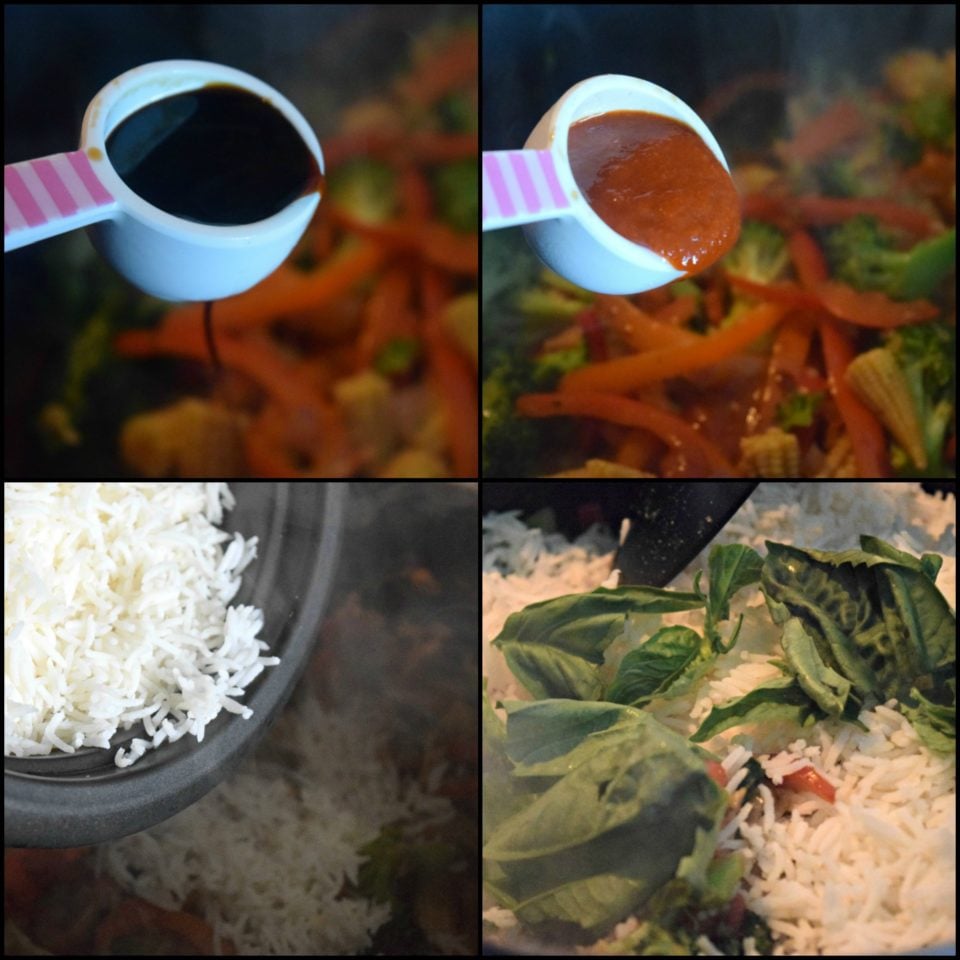 The sweet aroma of fresh basil will surely tantalize you senses as you cook. and the spice quotient comes from the Thai red chilly. The grains need to be fluffy to give this fried rice the right look.  I couldn't wait to taste it and I did dig in a spoonful before I took the shots. It was delectable. The veggies were juicy and flavorful making it mouth-watering. Serve it hot. BTW, if you love fried rice, then check out this Korean Fried Rice recipe!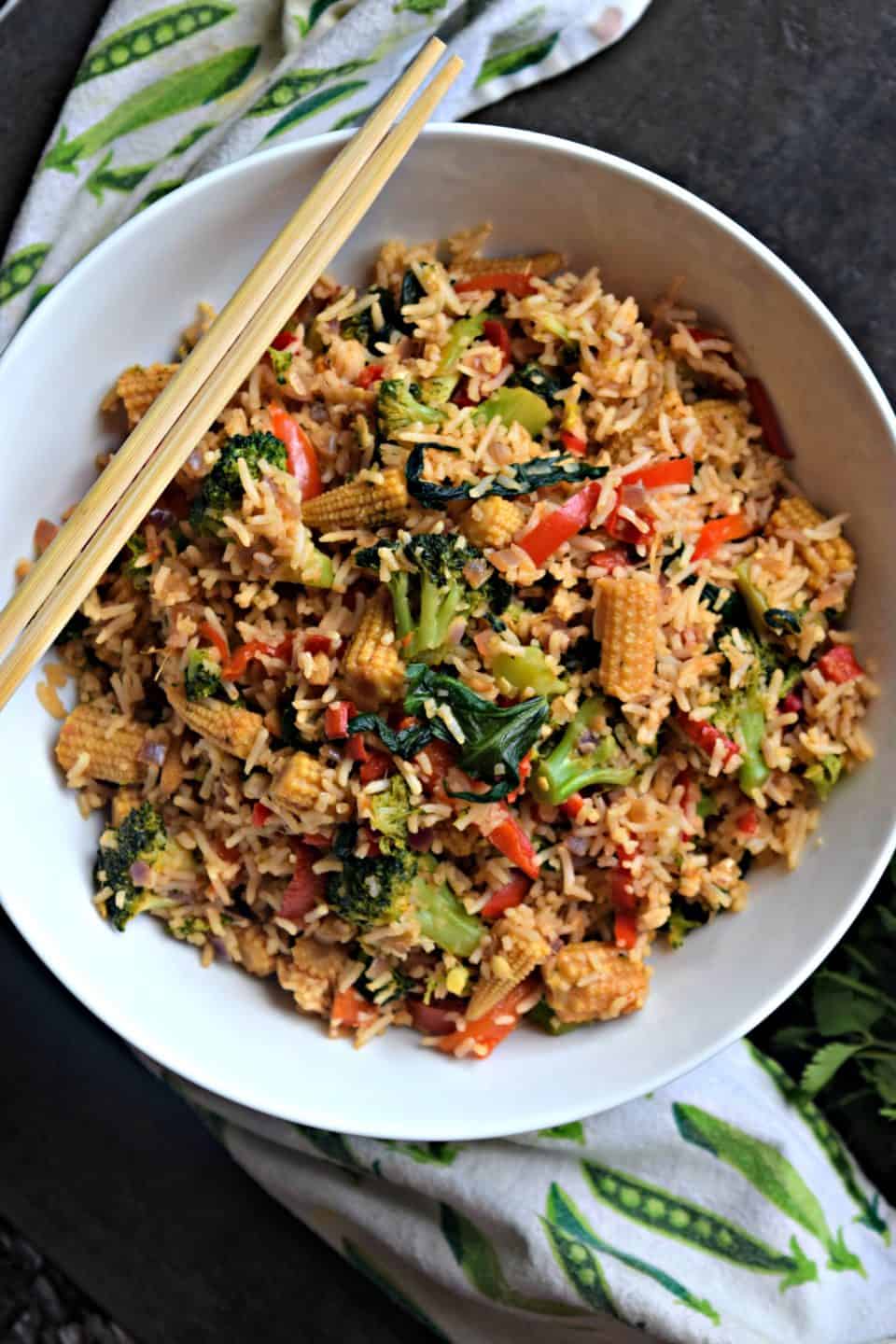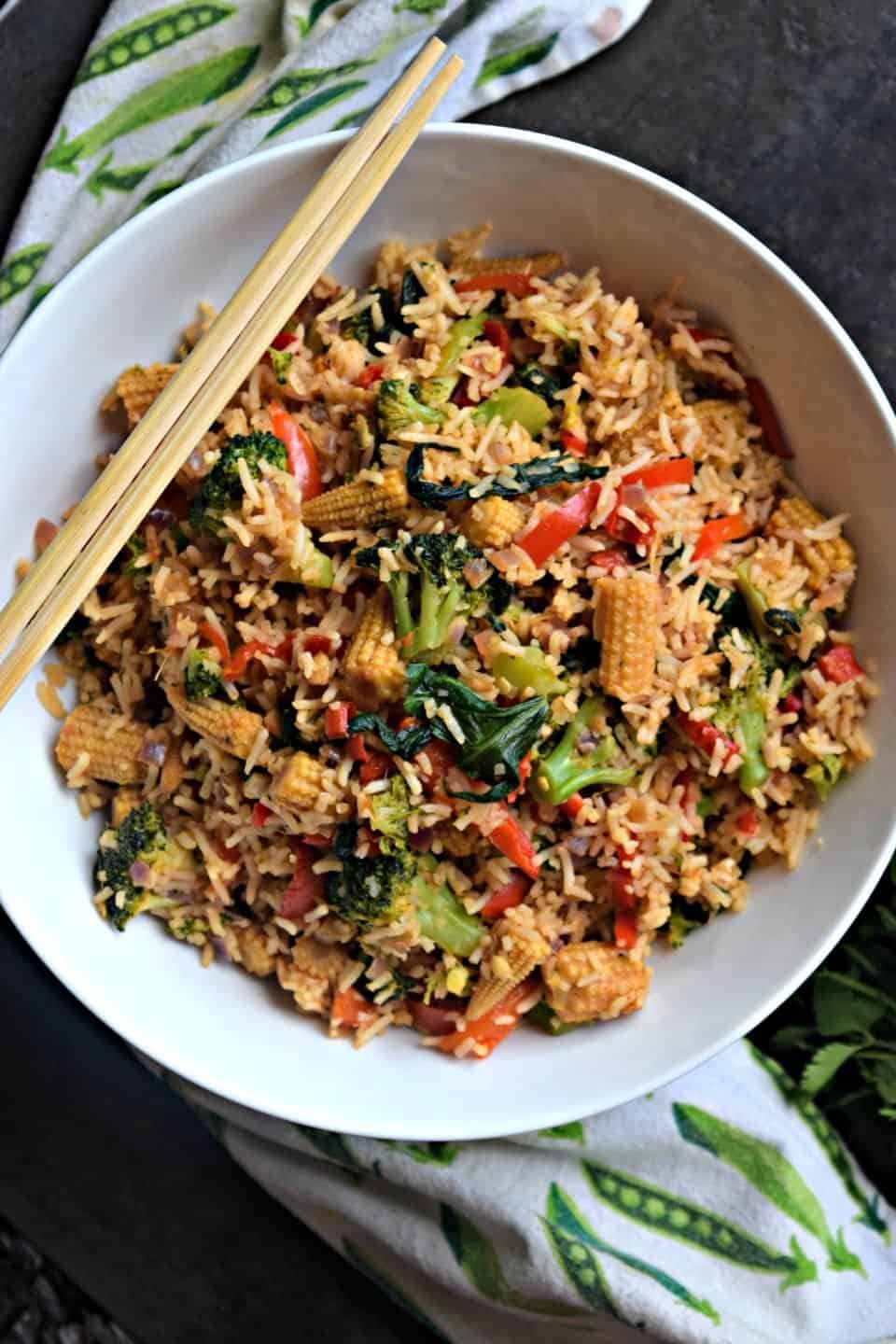 If you like this recipe then please rate it ⭐️⭐️⭐️⭐️⭐️! You can follow me on Facebook, and Instagram to see what's latest in my kitchen and also on YouTube to watch my latest cooking videos.
⭐️ Subscribe to the Cookilicious Newsletter and receive new recipes straight to your inbox! You'll receive my FREE Vegan Beginner's guide as a gift. You can then also participate in the Cookilicious Cooking Club Series to win exciting prizes.
Recipe 📖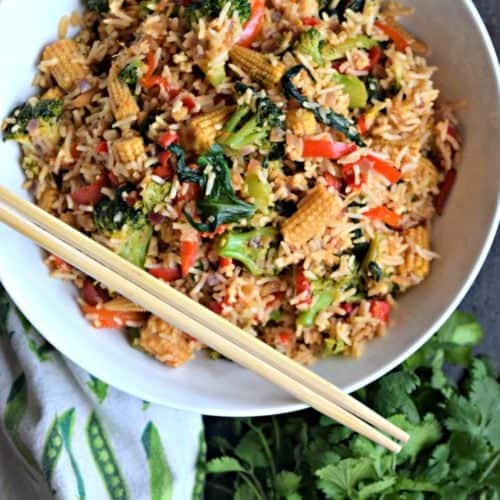 Thai fried rice recipe is a simple & delicious preparation using fresh basil & veggies.To keep it vegetarian/vegan, no curry paste or shrimp paste is used!
Ingredients
1-2

tablespoon

sesame oil

5

cloves

garlic

1

inch

ginger

crushed

1-2

Thai red chillies

1

cup

scallions

1

cup

mushrooms

chopped

1

cup

baby corn

chopped

1

bell pepper

chopped

⅓

cup

carrots and green peas

1

tablespoon

coconut aminos

or soy sauce

2

tablespoon

vegan red Thai curry sauce

¼

cup

basil leaves

2

cups

cooked rice

salt
Instructions
Heat sesame oil in a wok. Fry garlic, ginger, and Thai chillies for a minute.

Then add the scallions (reserve some for garnish) and saute for 2 minutes.

Add the mushrooms and cook for 2-3 minutes.

Then add the remaining veggies - carrots, green peas, bell peppers, and baby corn. Saute for another 2 minutes.

Add the vegan red Thai curry sauce and coconut aminos. Mix and cook for another minute.

Now add the cooked rice along with salt and basil leaves. Mix till its all well combined. Garnish with leftover scallions. Take the wok off the flame.
Nutrition
Calories:
286.92
kcal
|
Carbohydrates:
54.78
g
|
Protein:
8.5
g
|
Fat:
5.67
g
|
Saturated Fat:
0.6
g
|
Polyunsaturated Fat:
1.84
g
|
Monounsaturated Fat:
2.7
g
|
Trans Fat:
0.01
g
|
Sodium:
438.84
mg
|
Potassium:
556.91
mg
|
Fiber:
5.42
g
|
Sugar:
9.8
g
|
Vitamin A:
2628.03
IU
|
Vitamin C:
112.04
mg
|
Calcium:
52.11
mg
|
Iron:
1.58
mg