A delicious collection of traditional and fusion dessert recipes that will make your Holi party an instant hit! Enjoy the festival!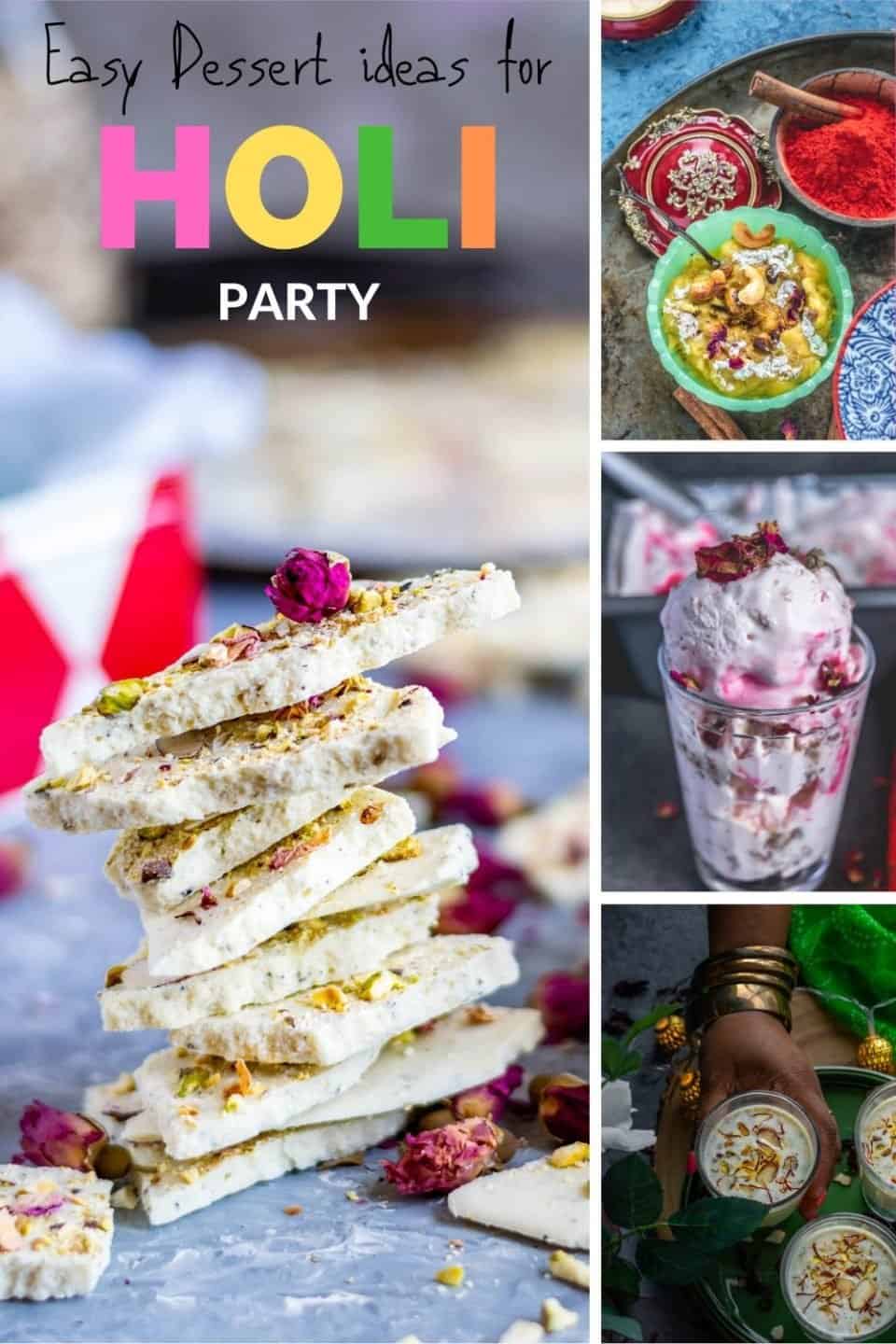 Jump to:
What is Holi
Holi is a fun Indian festival also known as the festival of colors, internationally. It is celebrated with lots of color, vigor, enthusiasm, and love! It's an occasion for friends and family to come together and celebrate. Being one of the first major festivals of the year, Holi is also a time to eat delicious foods that awaken the senses and make people happy.
My childhood memories of Holi include playing with water balloons, colors, and water in my building compound. My dad would click pictures and a friend would open up his car doors and play music from the car stereo as we played.
Our whole gang of friends would play Holi starting early morning till noon followed by an elaborate take-out meal at a friend's place. This was our tradition. This is me celebrating Holi with KR and my brother in Bombay. It was our first Holi together.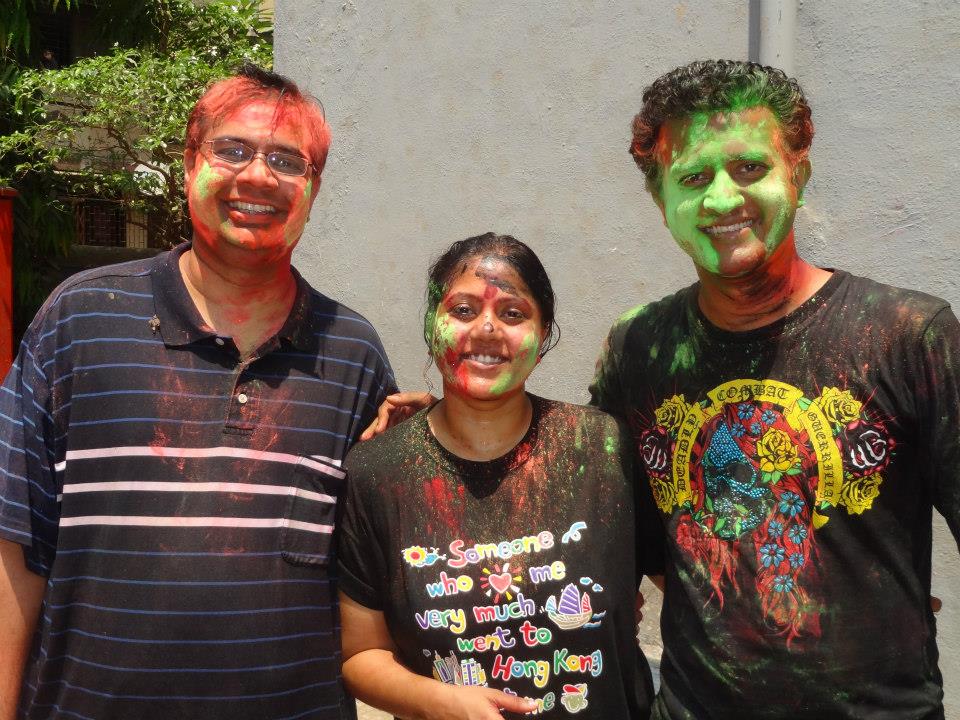 Holi party dessert recipes
End your festive Holi meal on a sweet note, with a fun, gooey, sticky, or syrupy treat. You'll want to serve just enough to top off the meal and not overwhelm your guests with sugary treats.
This recipe collection is not just limited to traditional Indian desserts. You will find innovative fusion dessert recipes, no-cook sweet treats, and instant dessert recipes that can make your Holi party a big success! All these desserts are great for a crowd and can be made with little or no effort.
Desserts for any occasion
I love serving colorful desserts on the occasion of this colorful festival! This is why I have hand-picked a collection of mouth-watering delicacies from my desserts library that will wow your guests this Holi!
Thankfully, these desserts are not limited to this festival of colors! You can make them on any festive occasion like Diwali, Navratri, Thanksgiving, or Christmas. Therefore, do not forget to bookmark this post for your future reference.
Collection of Holi dessert recipes
Instant Sweet Paneer Gujiya Shells
Gujiya and festivities go hand-in-hand! My instant version of this Indian dessert recipe is made with sweetened paneer, and puff pastry shells! It's one of the easiest, quickest and most delicious dessert recipes on the blog!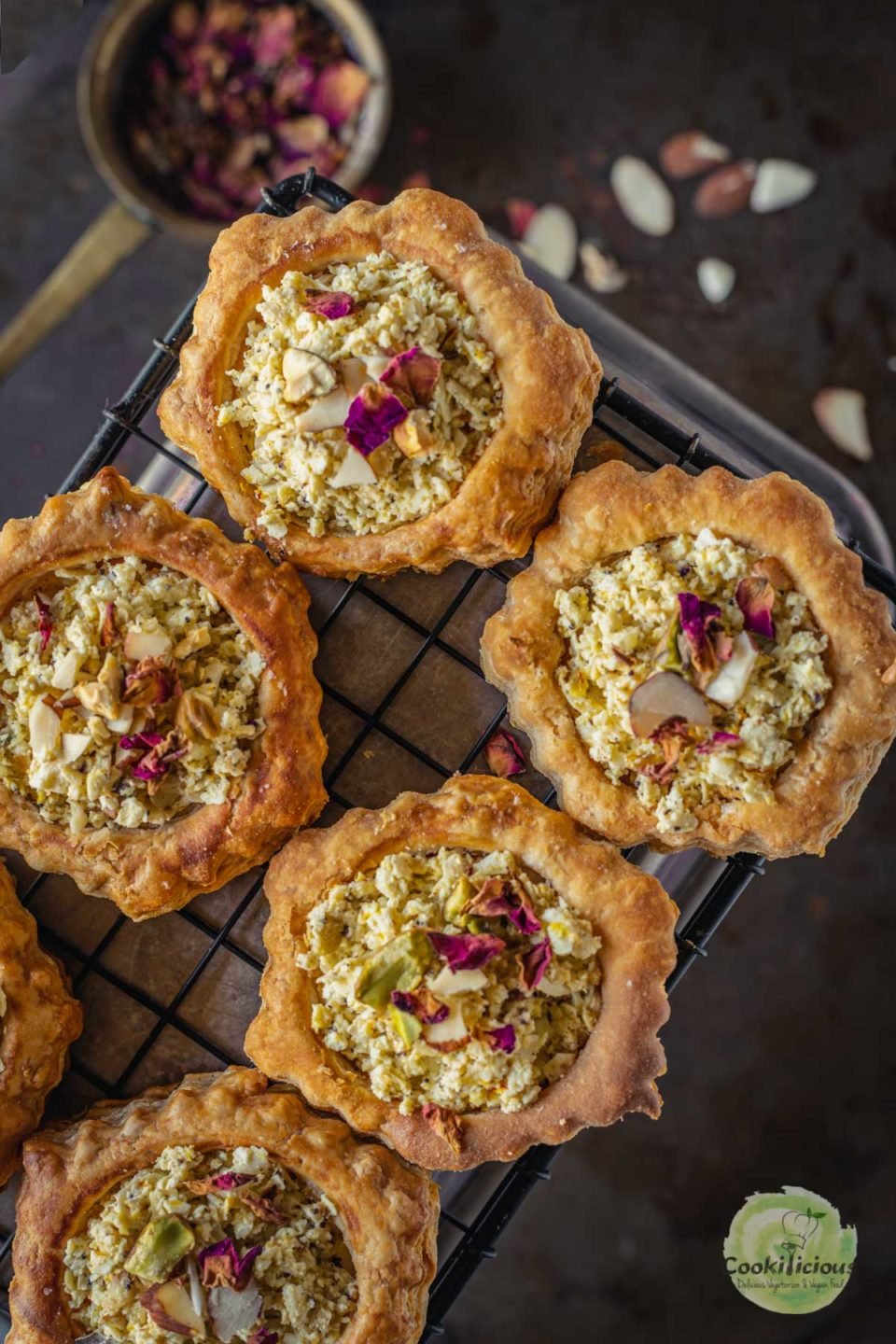 Thandai Chocolate Bark
Try this innovative fusion dessert called Thandai Chocolate Bark this holiday season. Pack them as a gift, or keep it all to yourself – it's that delicious! Plus it's a no-cook dessert perfect for all those who are craving for Thandai this Holi!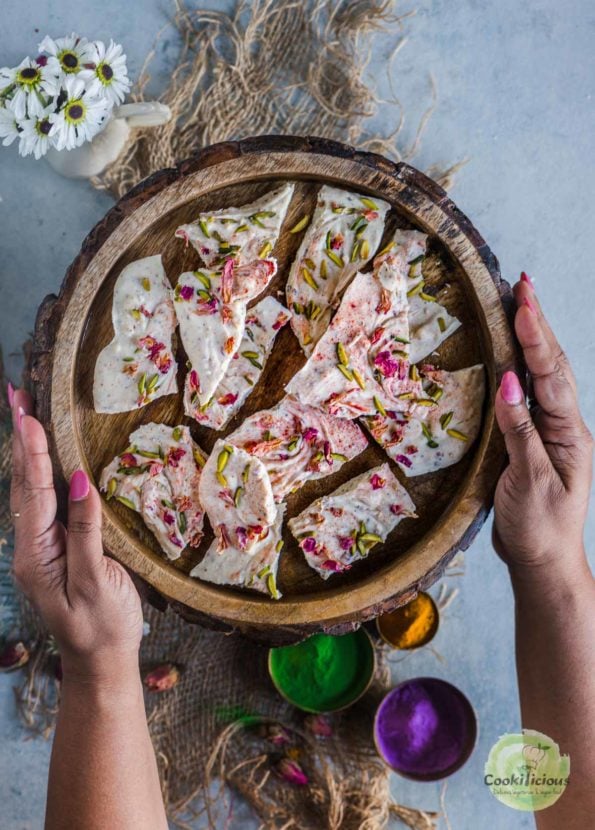 Rose Flavored Coconut Ladoo
This visually appealing Rose flavored Coconut ladoo makes a great festive treat, and also makes a wonderful gift during the holidays. Bonus - Can be made in just 10 minutes! A little secret - Kids love this.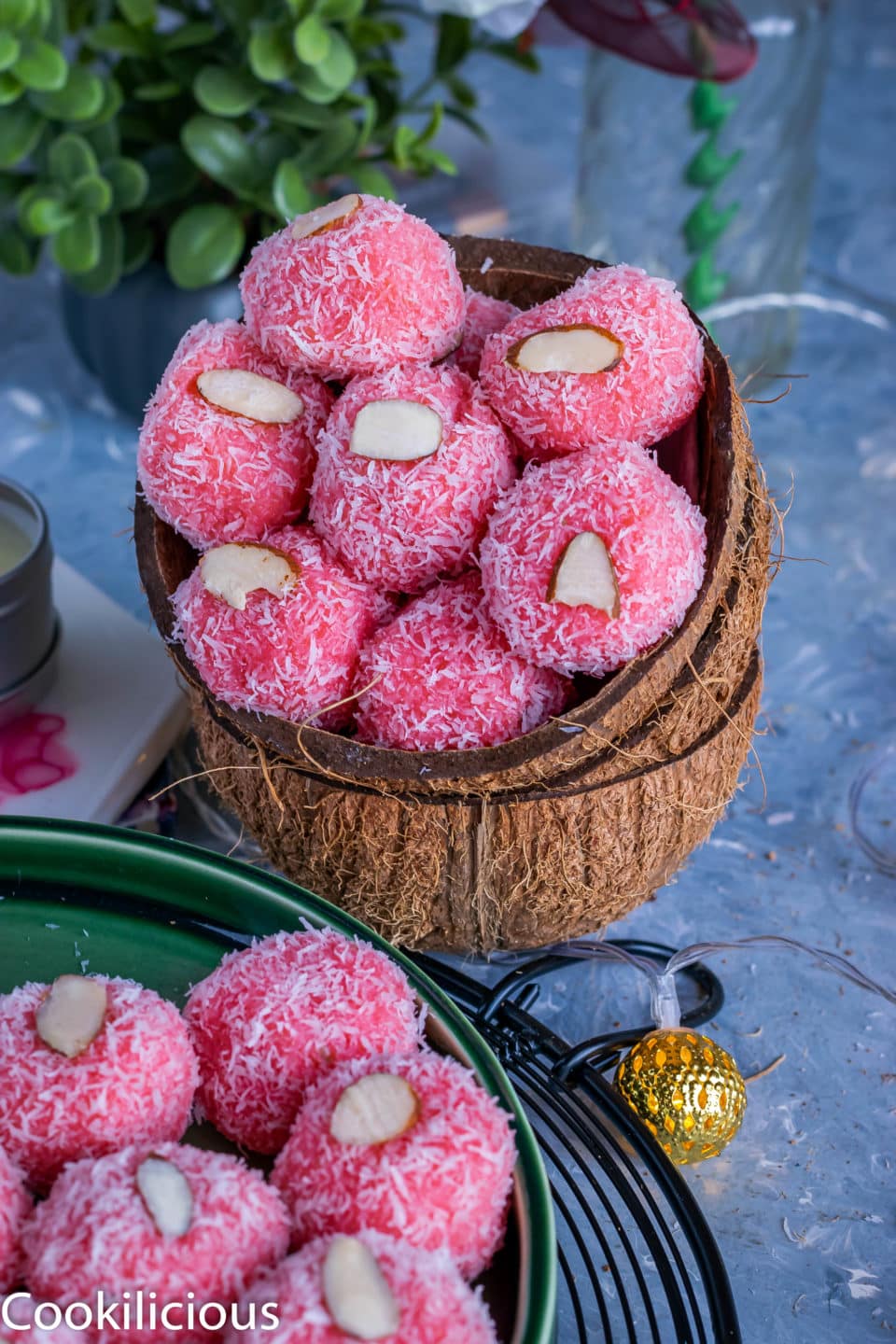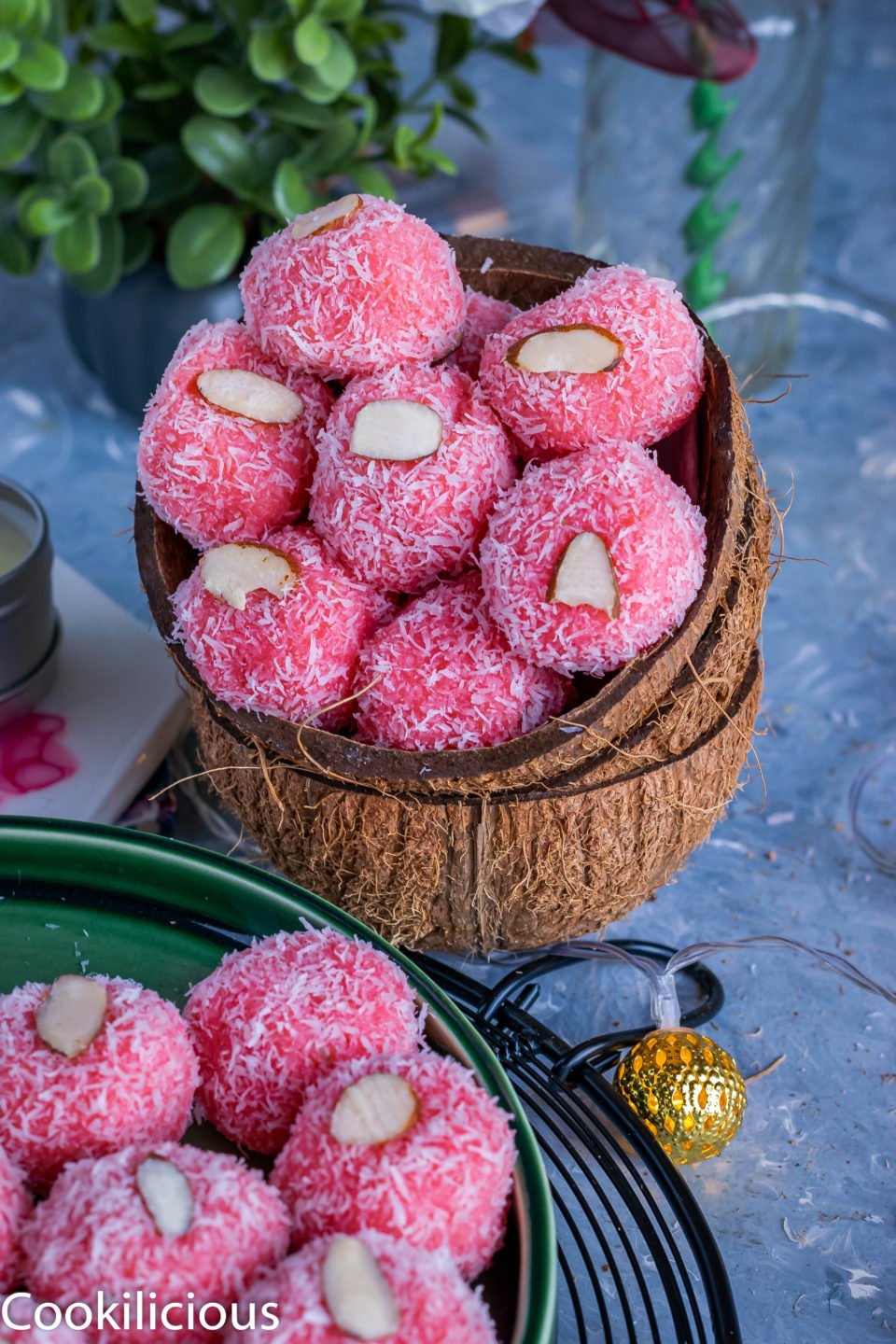 Rice Pudding/Paal Payasam/Kheer
Paal Payasam also known as rice pudding/kheer is a South Indian delicacy served on happy occasions. This Instant Pot version is the easiest way to make it.
Just put in all the ingredients in the Instant pot and forget about it! It will do the job. This is such a time-saving recipe!
Gulkand Shrikhand Tarts
Shrikhand is an extremely popular no-cook Indian dessert that's served on happy occasions. Gulkand-flavored Shrikhand Tarts take it many notches above in terms of taste. It is made with Greek yogurt and rose jam. Yum!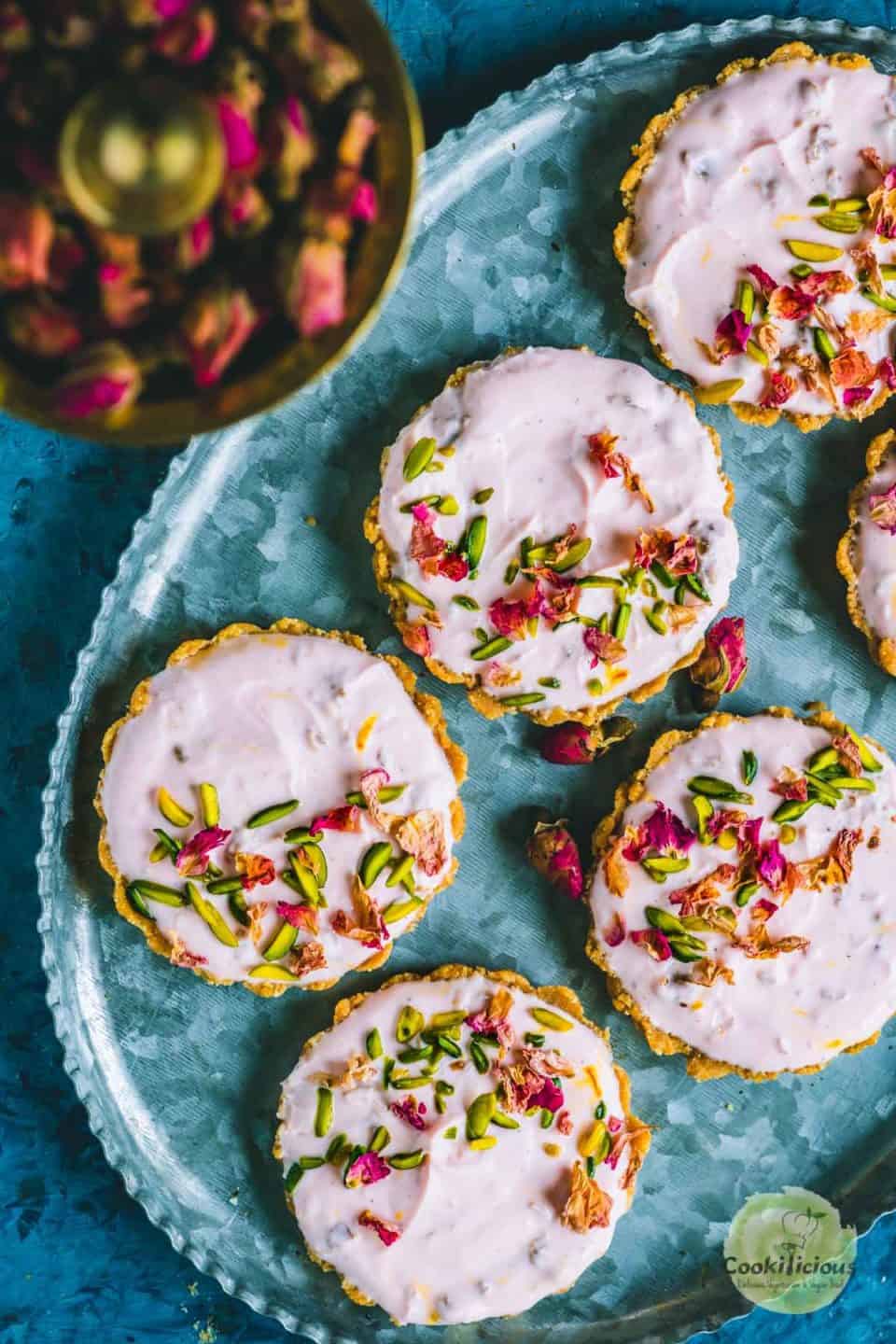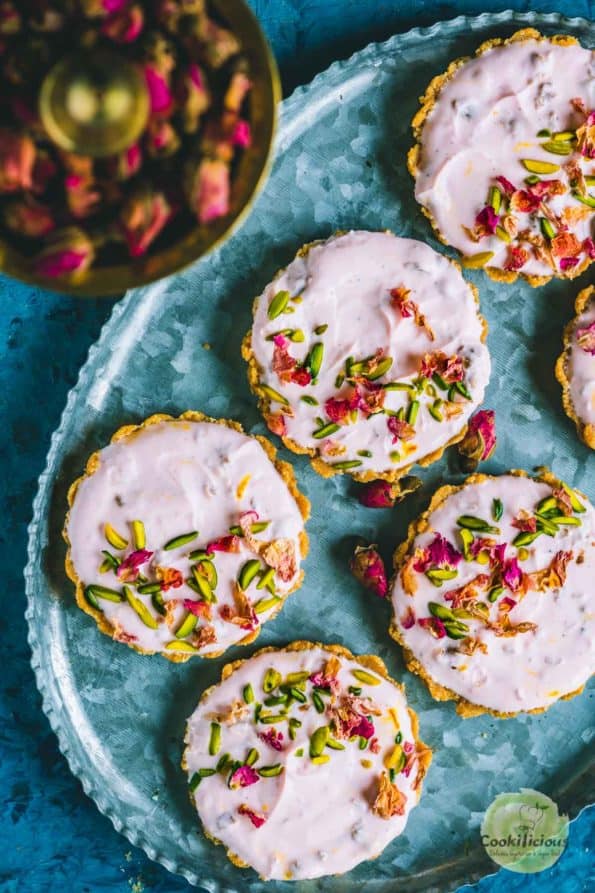 Apple Pistachio Mousse
Whip up this delicious instant mousse with apples, pistachios, and cream cheese! It's an irresistible holiday dessert made using just a few ingredients. Make first, drool later!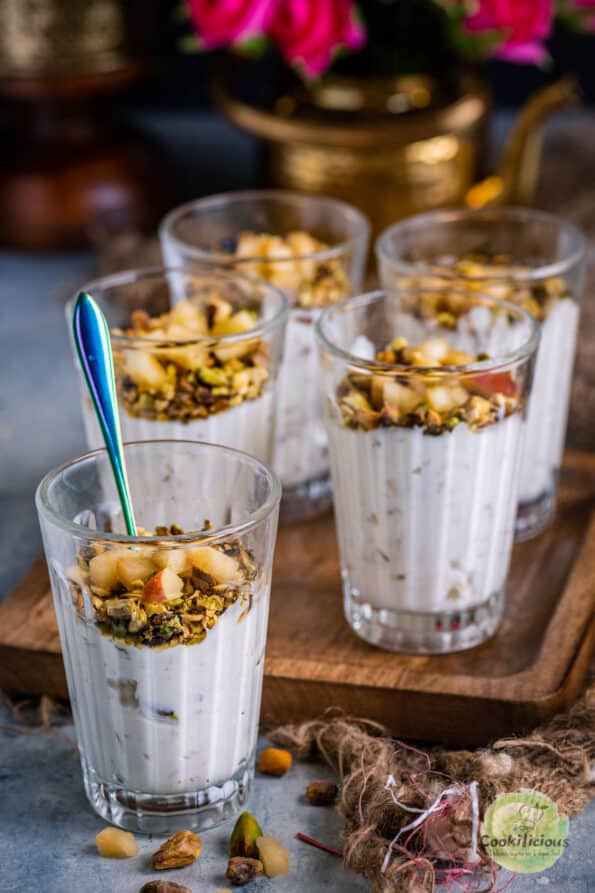 Rose Sandesh
Rose Sandesh is a colorful twist to the evergreen Bengali Sweet recipe. This no-bake easy dessert/mithai can brighten up any festival or party! Plus, it can literally be made in 15 minutes! Save this recipe, it's a keeper!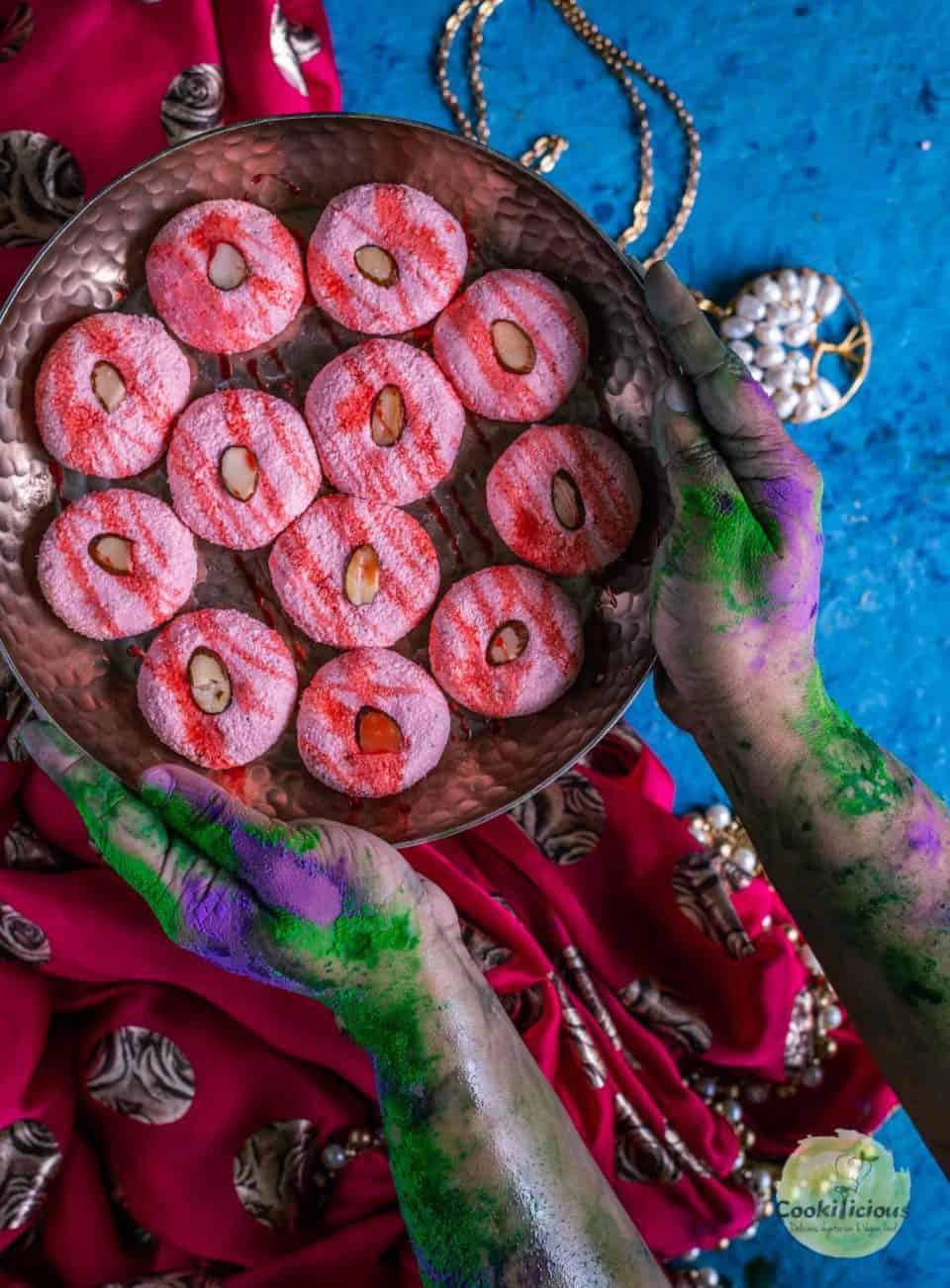 Instant Vegan Coconut Ladoo
These visually appetizing coconut ladoos make a great festive treat, and they are also wonderful as a gift during the festive season. No condensed milk is used! Tip - Make these Indian sweets in large quantities. They will be all gone in seconds!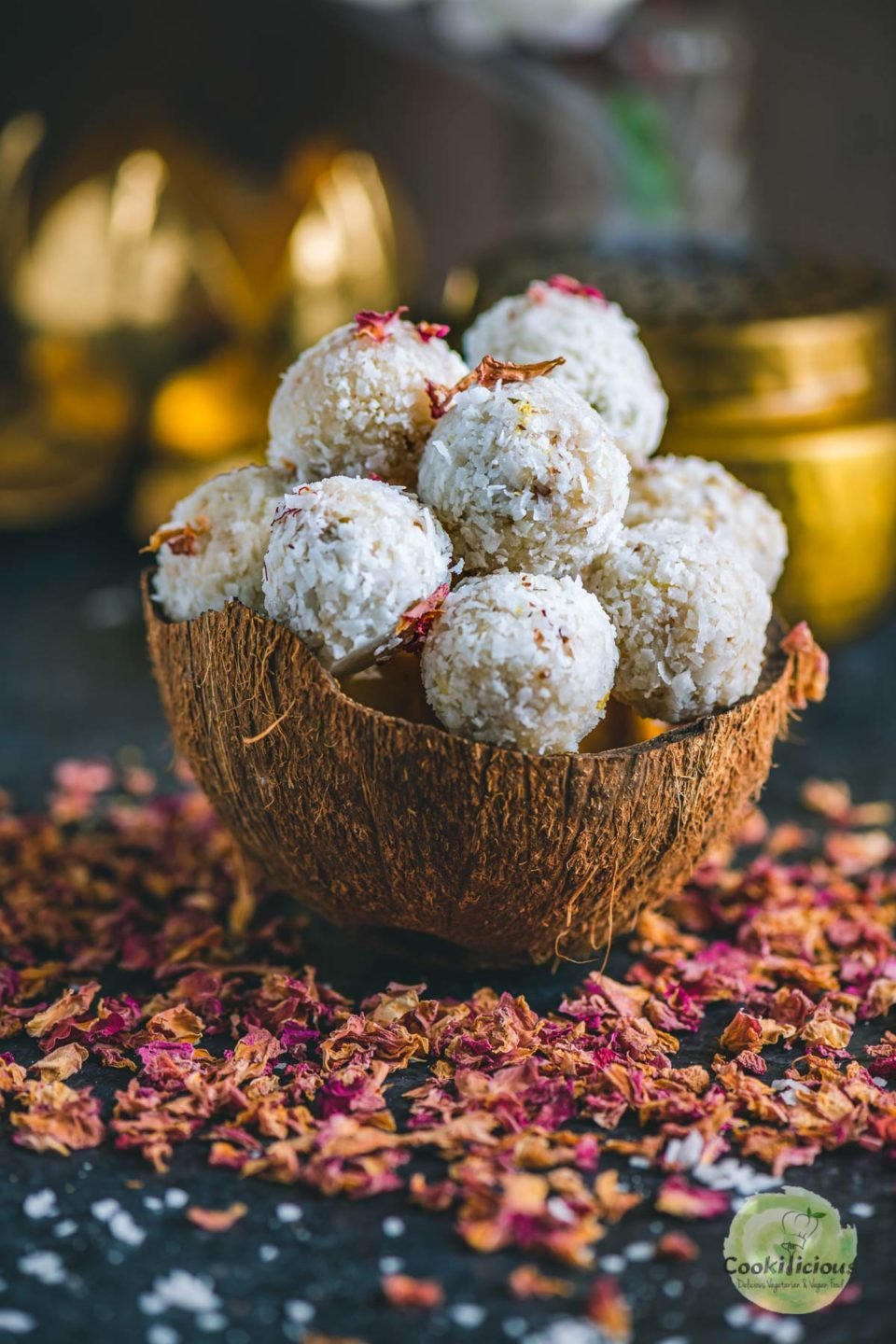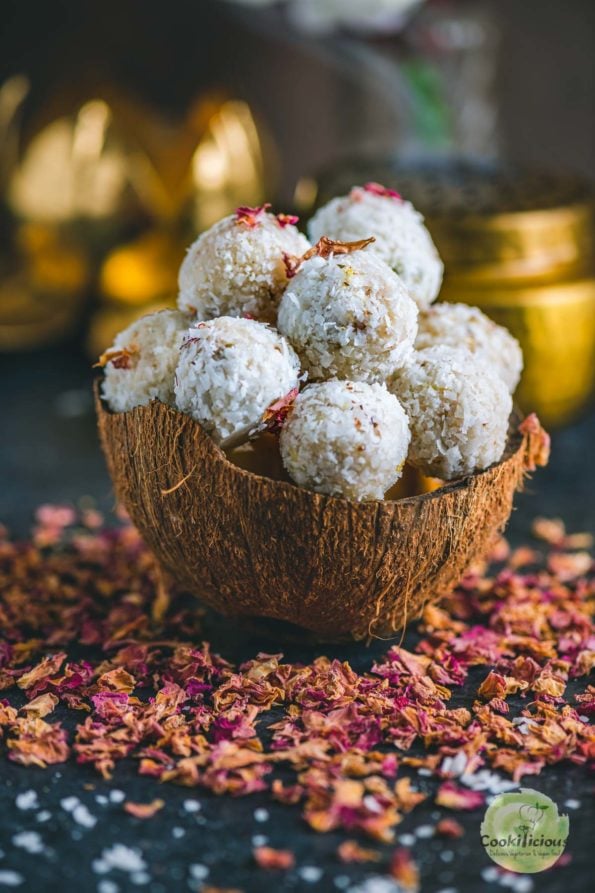 Spiced Thandai Milkshake
Spiced Thandai Milkshake is a chilled Indian beverage made with homemade Thandai masala comprising of various spices & dry fruits. Clearly a crowd favorite and mine as well!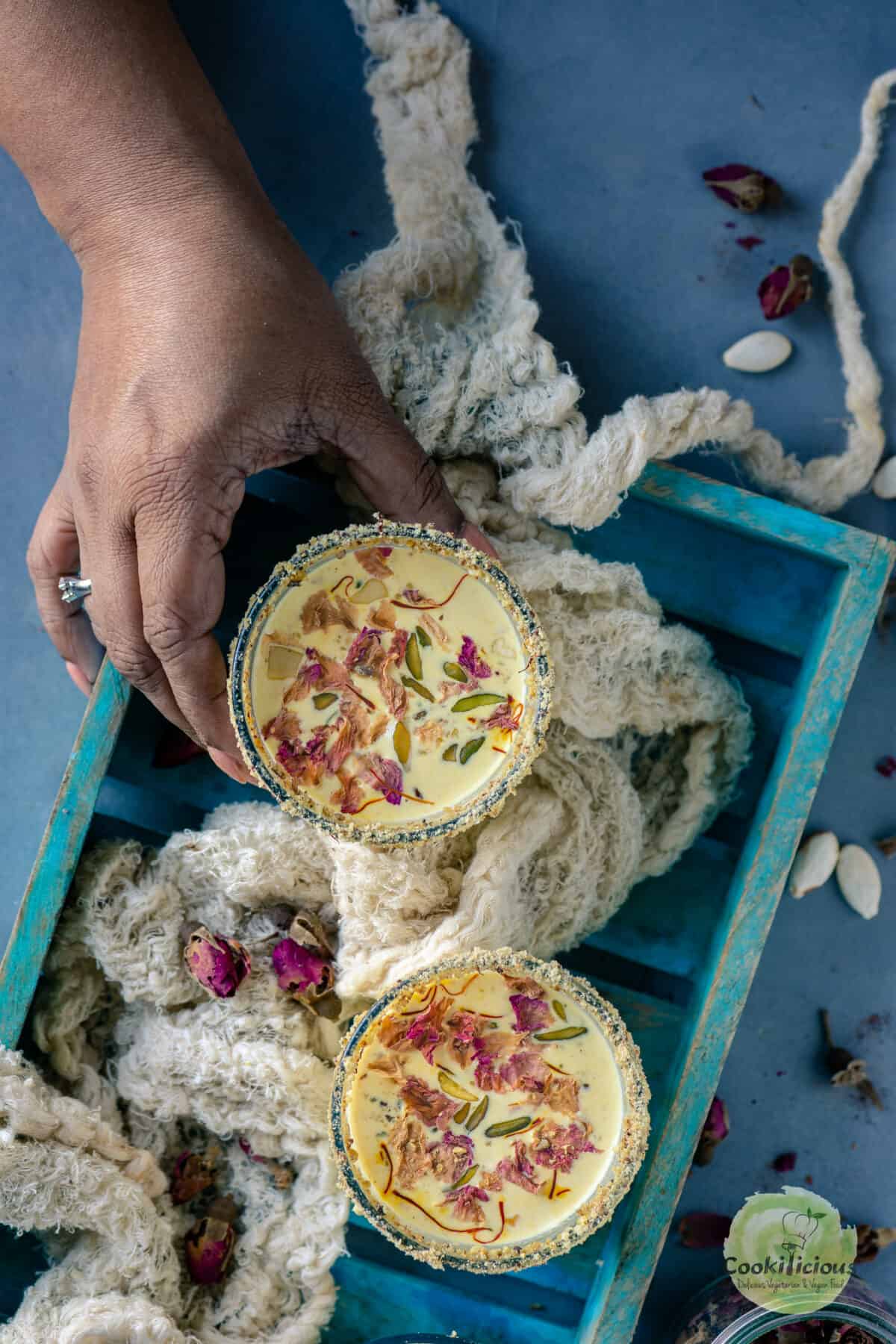 Beetroot Jaggery Halwa
Beetroot halwa is a light and delicious Indian dessert recipe that's vegan and gluten-free. It's made with jaggery powder and without khoya. Make this quick and easy halwa recipe in just 25 minutes!
For more dessert recipes click here. If you try any of these desserts for your Holi party, please let me know. I welcome your comments, star ratings, tweaks, and suggestions.
Did you try this recipe? Please let me know how it turned out by leaving a comment below or sharing a picture on Instagram @cookilicious with the hashtag #cookiliciousveg. I love hearing your feedback!
Like this recipe? Please show your love by leaving a 5-star 🌟🌟🌟🌟🌟rating below!
You can also follow me on Facebook, Twitter, Instagram, and Pinterest to see more delicious vegetarian and vegan recipes and what I'm getting up to.