Looking for vegan food gifts for foodies and home cooks (men and women) in your life? Here are 17 handpicked must-have smart kitchen gadgets to choose from! Add them to your vegan gift basket this holiday season!
I will not judge you if you decide to keep some for yourself!
Holiday season = Gifting season
It's the favorite time of the year! Yay!! Seriously, I love the gifting season because I take gifting very seriously!
Be it for loved ones or kids, I never ever pick up any random gift just for the heck of it. There is a whole process that happens! 🙂
Personally, I prefer gifts that are unique and not run-of-the-mill types. I like it when people who come over compliment the quirky stuff they find around our house.
Since I love receiving gifts that are different, useful, trendy, and easy on the pocket, I use the same approach when gifting others.
The gifts here can be gifted to vegan foodies, home cooks, the culinary lover, someone who loves to host, and/or the person who's cooking you admire.
Also, this vegan food gift guide is not just limited to the holiday season!
DISCLAIMER - Please note we have not tried and tested all these items, this is a guide only. Always do your own research before purchasing any product.
Cookilicious and I personally take no responsibility for any purchases made. Although I do get a small percentage of income from the purchases you make.
Gifts for vegans/vegetarians
Is someone close to you a vegan or a vegetarian? Searching for gifts for vegetarians is not that difficult once you know what they need!
I have handpicked a collection of cooking gifts that both men and women vegan foodies can enjoy.
You can either present them a vegan gift basket with a mix of all their favorite smart kitchen gadgets or give them something big! The choice is yours.
So are you ready to get all to the good stuff? before you even start, also check out my SHOP page. It has links to different products I use that are also not food-related.
Some of these brands have been kind enough to share an exclusive promo code with us. They are all small businesses and would love your support.
Presenting my hand-picked gift guide for 2021 for every plant-eating person on your list!
The first and best gift you can give a vegan foodie is a cookbook and it's even better if you get mine! I am SO excited to finally announce that I've written a new book, The Essential Vegan Indian Cookbook.
This Indian vegan cookbook is a guide to cooking traditional plant-based delicacies and restaurant classics with a vegan twist.
I've worked hard on this book and am so happy that I can finally share it with the world! I would love your support. ​
If you have enjoyed my recipes so far then this book will be an asset to your cookbook collection. You can order a copy here.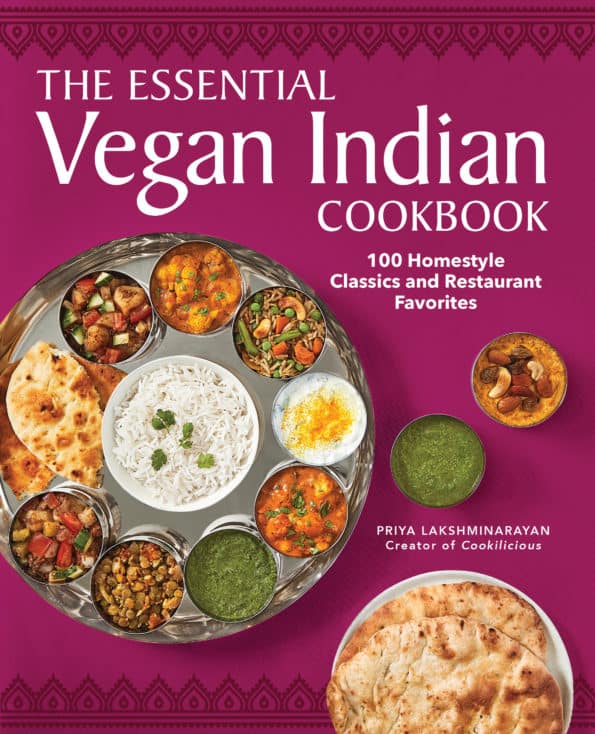 I have some and I want some. This list is a mix of both! Let's get into it!
You all know how much I love making spice blends at home! Be it Turmeric Powder, Garam Masala, or Ground Cumin, you can make them.
And that too very easily if you have an Indian mixer grinder or Coffee and Spice Grinder like this one.
I like this one because it's small and compact plus it does the job.
Now, who doesn't like freshly ground coffee as a bonus?
This one is pure genius! Whoever came up with this, deserves an award! It is on my wish list this year.
Gone are the days when you would need to dip the ice cream scoop in hot water before digging it into an ice cream container.
This warming ice cream scoop does that job for you. Now you can make more of Carrot Halwa Ice Cream, Cookies Ice Cream, and Gulkand Ice Cream!
I am in love with this 3-piece stainless steel cookware set. The Duo comes with a hybrid pot, skillet, and a stainless steel lid.
Use this coupon code at checkout - Cookilicious50 and get 50$ off on your purchase.
You can view the set on my Instagram.
A great looking and functioning knife style on a kitchen counter is a conversation starter!
Gift your loved one this knife set and watch them display it with great pride!
New to Indian cooking or love cooking Indian meals at home? These are ideal gifts and make great stocking stuffers!
There are many recipes that you can make using these spices but my favorite is Vegan Chana Masala, Green Peas Pulao, and Indian Curry Pasta.
This is perfect for lovers of zoodles and other veggie-based spaghettis.
A perfect gift for the veggie-lover in your life!
I am in love with these containers! They are free of plastic and reusable.
They are microwave safe, dishwasher safe, and freezer safe.
Plus they come in beautiful colors (I have the teal one). Do check them out.
We use this in India often. This single sandwich toaster is amazing. This is on my wish-list.
One can get creative with the stuffing and this toaster helps keep it intact.
That is the sole reason to get this gadget for your sandwich loving friend or family member.
Talking about smart kitchen gadgets, this one again is pure genius! A game-changer!
It's on my wish list and I will get it this year for sure!! Buy it today!
While I know there is no such thing as too many gadgets, but if you can reduce the number of gadgets you own, then why not!
This Instant Pot Air Fryer Lid gives you all the benefits of an Air Fryer using an Instant Pot!, so you don't need to buy an air fryer if you own an IP!
This smart kitchen gadget is for the health-conscious vegan home-cook in your life!
If he/she is always making health bars for a grab-n-go type of snack then they will surely thank you profusely for this thoughtful gift.
This kitchen gadget makes granola bar prep a super easy task!

Savory Veggie Dosa Waffles and Mashed Potato Hummus Waffles are two of my favorite savory waffles that I often make in the waffle maker!
One can get creative with the waffle maker and make sweet and savory recipes.
Both taste great and this kitchen gadget makes for a great gift for vegan foodies.
I have this one and I love it! It's a very handy box where one can store all the dry spices in one place.
We all use a variety of dry spices in everyday cooking and this wooden box makes for great storage.
The see-through cover makes it convenient to see all the spices, plus it's easy to clean.
This is one gadget I use all through the year! I enjoy making ice creams at home and this ice cream maker is a savior!
Strawberry Marshmallow Ice Cream, Coconut Chocolate Ice Cream, and Rabri Ice Cream have all been made in this.
I think this is hands down the best and smartest kitchen gadget ever, and nearly every home has one!
But if you know of someone who still hasn't got one, then it makes a perfect gift.
This is the one I use and I absolutely love it. If you want to look up recipes to make in the Instant pot, then check here.
This is what I have and I love it! I use it to make all kinds of Idli recipes like Masala Idli, Ragi Idli, and Amaranth Idli.
It comes with a Dhokla plate which is very handy when I have to make Kobichi Vadi or Corn Dhokla!
This steamer is a great kitchen gadget that helps you make oil-free snacks effortlessly!
Stews, Soups, Chili, and Curries are just some of the dishes that can be made in a Stockpot.
I like this one because it is from a reputed brand and comes in such pretty colors! Great quality!
This is a no-brainer! Tofu is an essential ingredient for vegan foodies. And if someone is cooking with tofu, they need a tofu press!
This is one of those smart kitchen gadgets that all vegans should own.
BTW, all tofu lovers, do give these Tofu Stir-Fry Noodles, and Tofu Makhani Bake a try!
They make 100% non-toxic ceramic cookware sets! They also come with organizers at no extra cost which makes storage real easy. You cannot deny that they come in some beautiful colors to compliment any home.
This cookware is truly an investment in our kitchen and health. Ceramic is naturally a non-stick cooking surface, so you only need a very little amount of oil or butter to go a long way.
You can avail of a 10% discount by clicking here.
Hot Offer
If you love discounts and offers, Then don't forget to check out this website called Italic.
Italic is a members-only shopping club. They source, design, and develop quality goods using the same manufacturers as top brands, and sell them to their members, at cost - meaning, Italic doesn't profit on product sales.
The Italic membership gives you access to 800+ quality goods from these manufacturers.
Exclusive for Cookilicious community - Use coupon code - Cookilicious and get a 10$ off on their annual membership.
Bonus Gift Idea
Vegetarians and vegans love a hearty meal, so why not prepare one for them?
You can follow any of the recipes in here and put together an awesome spread and surprise your loved ones!
Hope you liked this gift guide for vegan foodies that I put together to help you buy the perfect gift for someone special in your life!
So whether you're a last-minute shopper or love to plan your gifts well in advance, these are some gift ideas that you can definitely check!
You can also FOLLOW ME on FACEBOOK, TWITTER, INSTAGRAM, and PINTEREST to see more delicious vegetarian and vegan recipes and what I'm getting up to.
BTW, you can also follow me on Like to Know it. I bookmark all my favorites there ranging from home decor, make-up, fashion must-haves, kitchen essentials, to everyday items there.
Disclosure: This post contains affiliate links. For more information on my Affiliate and Advertising Policy, please click here.