Here's a holiday-themed dessert charcuterie board that I call the Indian Mithai (sweets) Board! It's easy to assemble and is a showstopper! Try this for your next party!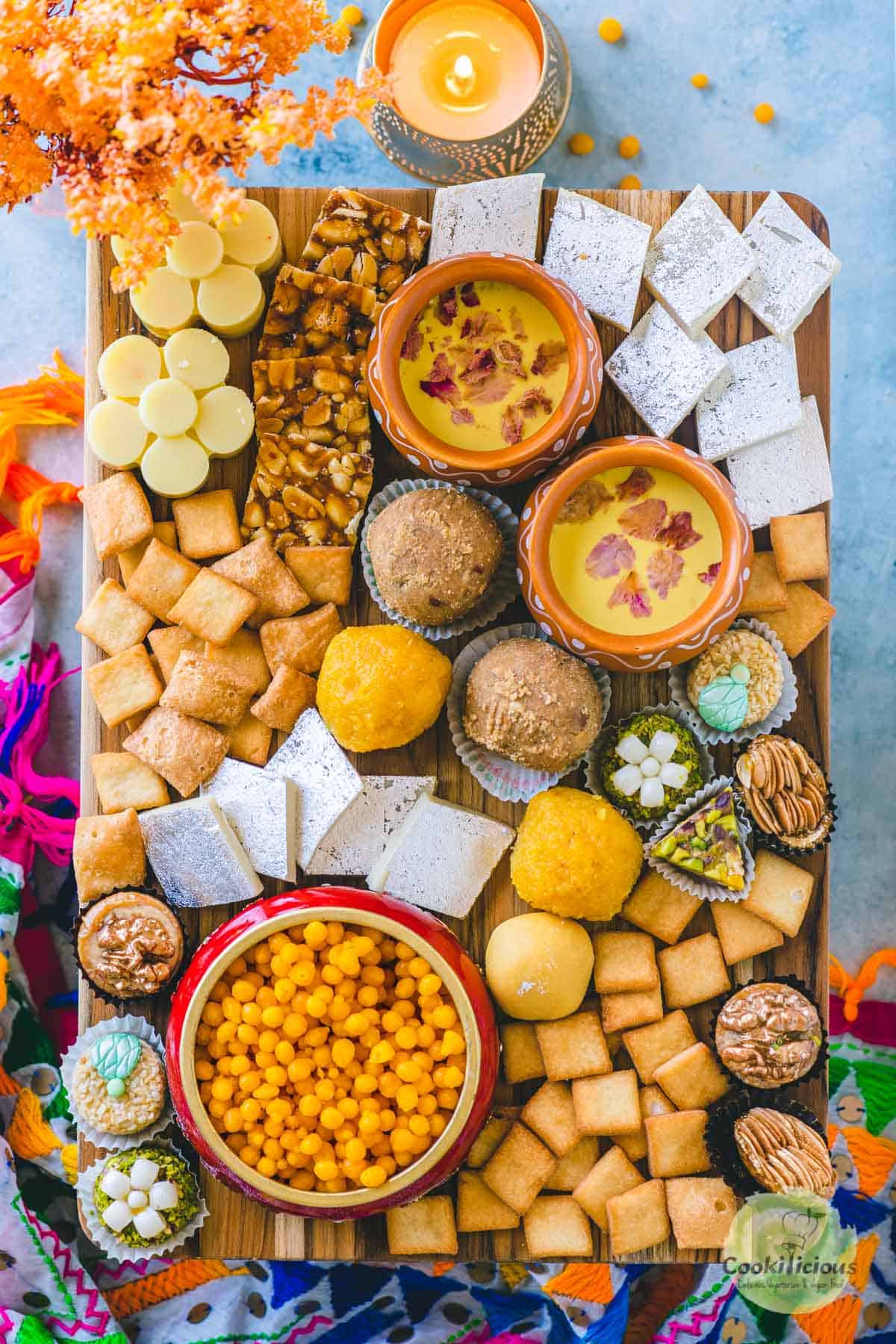 Jump to:
What is a Charcuterie Board
I was totally unaware of this until TikTok made it famous! Then Instagram picked it up and every second post on my feed is some version of a Charcuterie Board. So what is it exactly?
Charcuterie is a French term that refers to a type of cooking prepared with delicatessen, or deli-style meat products. It is pronounced as ''shahr-koo-tuh-ree'' and is often served as an appetizer. They are also very similar to Cheese Boards. These boards are a visual delight designed for a shared eating experience.
An assortment of bite-sized sweet and savory treats are placed on a large wooden board aesthetically. It's common for a charcuterie board to contain a mix of cheeses, artisan bread, olives, fruit, and nuts.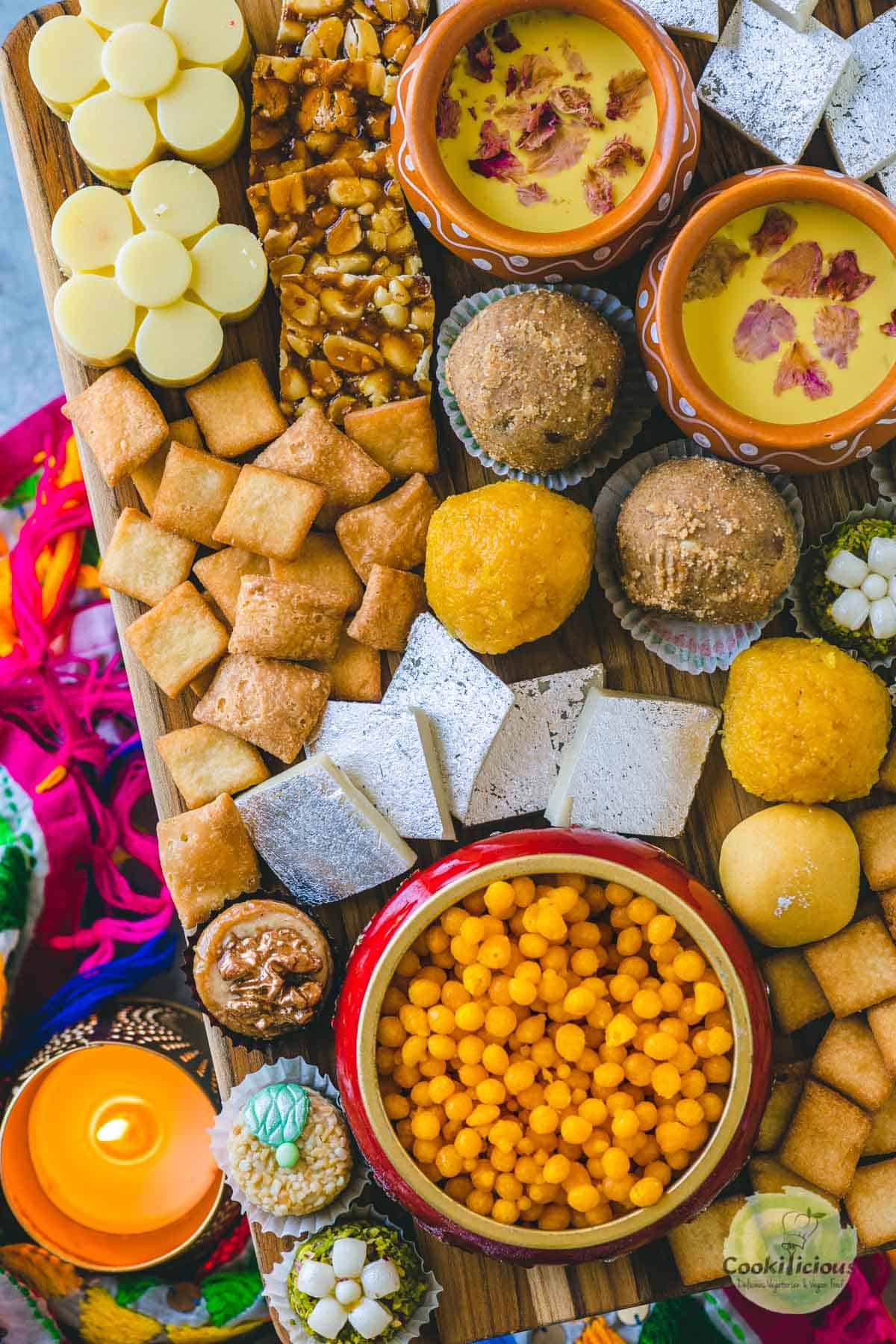 Holiday themed boards
Thanks to TikTok and Instagram, these themed boards have exploded. The Charcuterie boards seem to have gotten an upgrade or a makeover. You will find all kinds of boards online ranging from breakfast, Mexican, birthdays, Valentine's, Christmas, Halloween, movie night, dessert, Diwali, chaat, etc.
Indian mithai board
You probably would have seen many dessert boards online, but today I am sharing how to make an Indian Mithai board! This kind of mithai (Indian sweets) display is perfect when hosting a party or entertaining guests on special occasions.
Indian cuisine has its fair share of desserts or mithai, mainly prepared during the festive or holiday season. That's why serving them like this on a tray does full justice to it. Everyone gets a tease of all the sweets prepared and desserts Charcuterie board also doubles up as a festive décor centerpiece.
It's also a great way to display leftover sweets, especially after a party for the family to enjoy or when you have guests over. There are many occasions and reasons to serve this Indian mithai board.
Why make it
It acts like a sampler of desserts
Easily customizable
Is a visual and sensory treat
Great way to display all the prepared sweets
It's super easy to create
Can easily be made vegan
Also, a great way to display leftover sweets
Make it ahead of time
You can use homemade and/or store-bought treats
100% customizable
A fun way to serve Indian mithai on a platter
Ideal for large groups
Caters to everyone
It's a holiday charcuterie board
Ingredients needed 🧾
To make this Indian mithai or charcuterie board, I have used the following sweets - Sweet Boondi, Badam Doodh (Flavored Almond Milk), Shankarpare, varieties of ladoos, Kaju katli, peanuts chikki, mithai flavored chocolates, and some exotic bite-sized sweets.
Which board to use
There is no need to purchase a board for this specially. Since a wooden board is normally used, you can use a pizza platter, a wooden chopping board, a serving tray, or any other large plate you have. It need not be round it can be in any shape.
Suppose you plan on serving this on a festive occasion like Diwali, Holi, Ganesh Chaturthi, or Navratri. etc, then use those pretty-looking silver or brass serving trays and bowls! You can use colorful trays to suit the occasion.
How to make it 🔪
Get the perfect-sized wooden board or tray depending on the party size and the number of sweet treats you plan to include.
First, start with the main treats. These are the sweet treats that the rest of the board items will revolve around. These are mainly the ones that need to be served in bowls.
Then place the other oversized items around the bowls.
Add in the smaller treats to fill the empty spaces.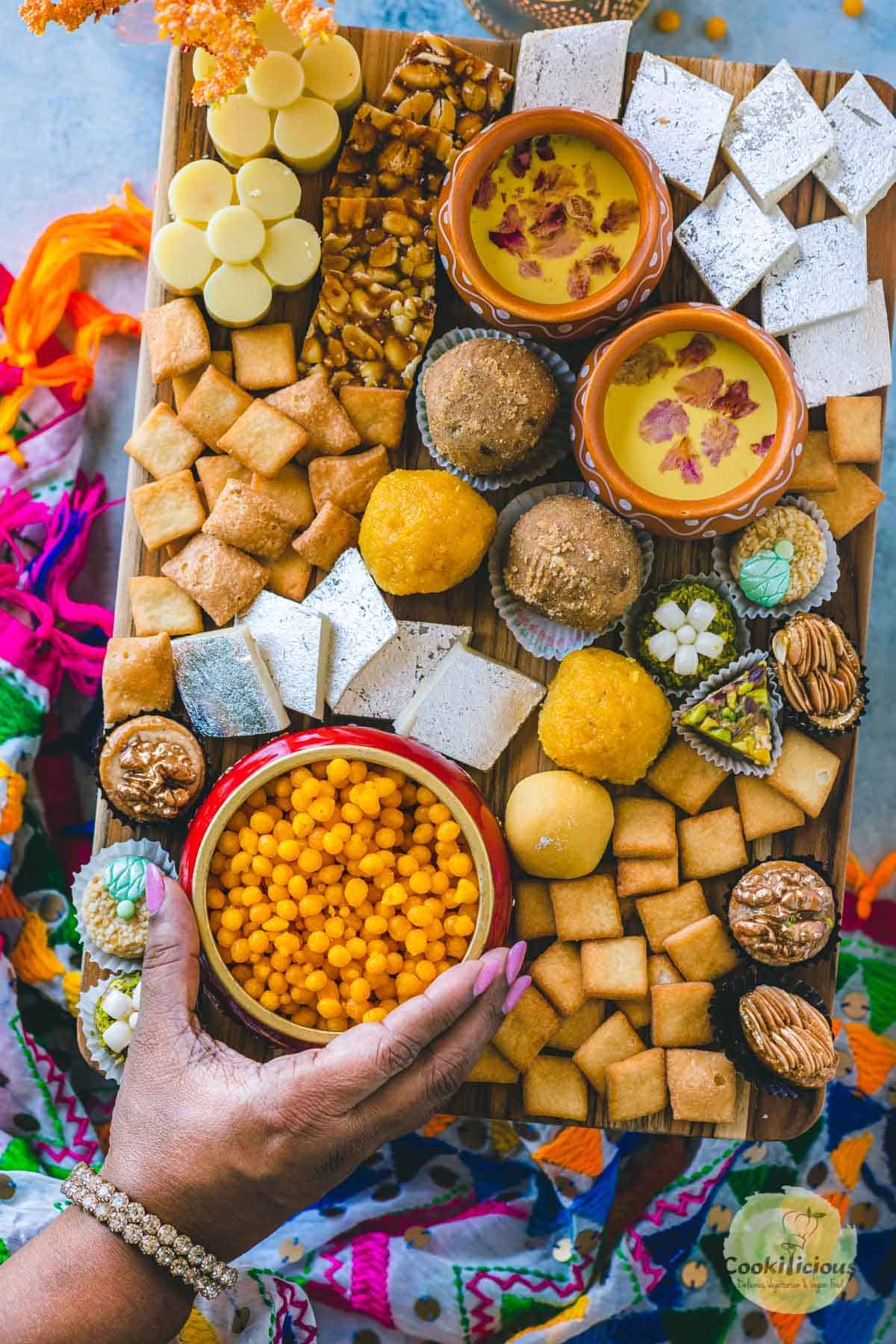 Serving suggestions 🍽
Serve this Indian Mithai/Sweets Charcuterie Board for your next party or bring it as a Potluck dish! It's perfect for Diwali, Thanksgiving, Christmas, or Holi parties because it caters to large crowds. You can also make it on special occasions like birthdays, anniversaries, baby showers, date nights, etc.
You don't really need to serve anything more with it because this will suffice. But if you must, then pair it with some fun party drinks (cocktails or mocktails). Encourage guests to try small bites and sips of each, for an indulgent celebration.
What more can be added
Ice creams also make a great addition to this Indian dessert charcuterie board. Add some desi ice cream flavors like guava ice cream, gulkand ice cream, Rabri ice cream, or carrot halwa ice cream.
Some other items that will pair well are pound cake cut in small pieces, fruits like strawberries, or blueberries, nuts or dry fruits, cream wafers, and Indian cookies like Nankhatai, Ghee biscuits, or Kesar Pista cookies. Depending upon the holiday, dress up the charcuterie board with edible flowers, themed toppers, sprinkles, or festive trinkets.
Top recipe tips 💭
Play around with different shapes, sizes, colors, and textures of the desserts to make them appetizing and to give the charcuterie board some pattern. There is no right or wrong way of doing it. Avoid having empty spaces on the board. Fill up the board as much as you can.
Select mithai that are bite-sized. If some of the sweets are bigger, you can cut them into smaller pieces. To help with the layout, use a picture, drawing, or template for reference. Balance with something savory if you feel the sweets are too overpowering.
Recipe FAQs
How to store them?
Thankfully, you can put together this Indian dessert board ahead of time and store it in the fridge for 3-4 days. In case you have leftovers, you can pack the sweets back in their individual boxes or in zip-top containers.
Can you make it vegan?
Yes, you can totally make this holiday charcuterie board dairy-free! Simply use vegan Indian mithai. You can either make them at home or use store-bought ones.
Favorite festive desserts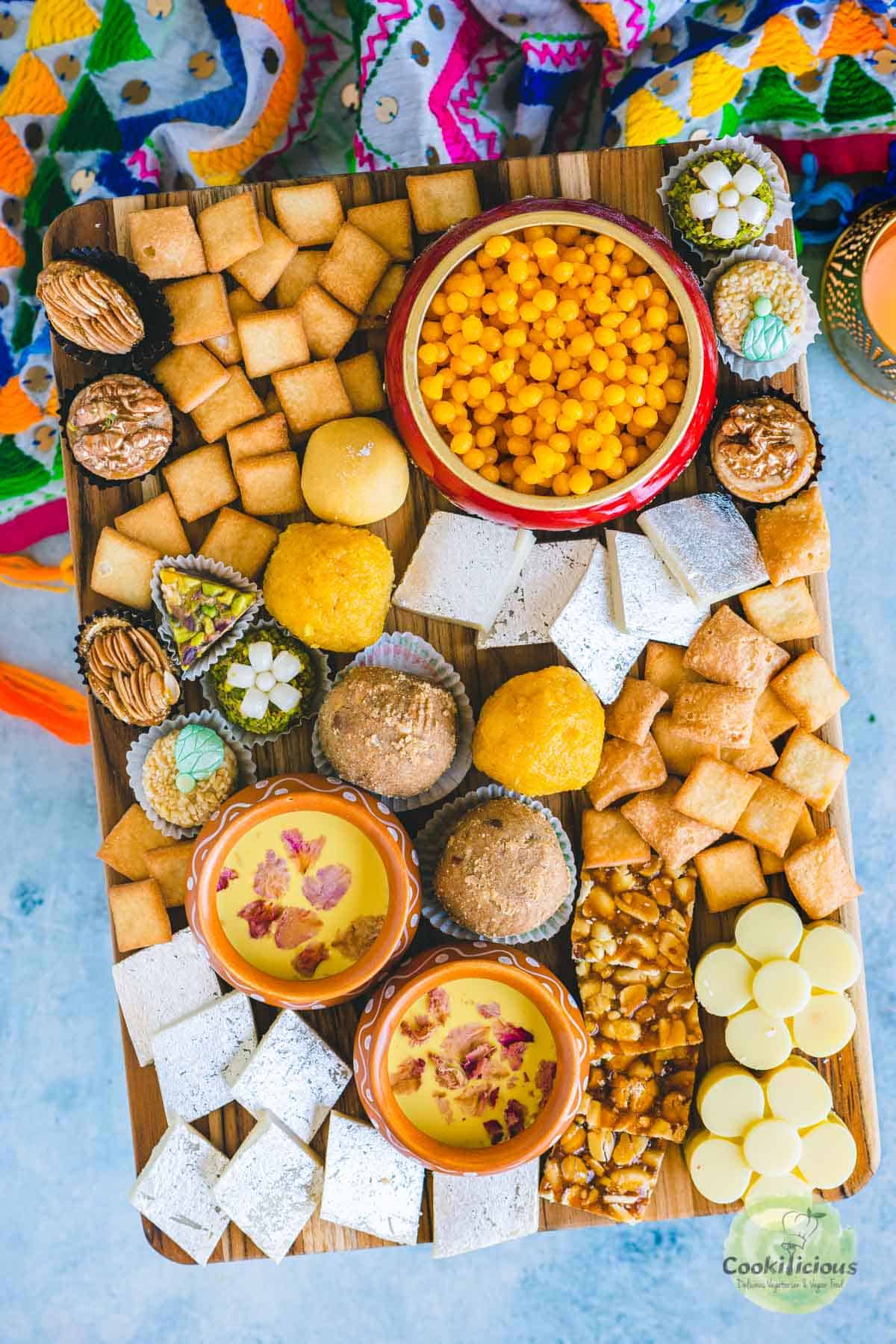 Did you try this recipe? Please let me know how it turned out by leaving a comment below or sharing a picture on Instagram @cookilicious with the hashtag #cookiliciousveg. I love hearing your feedback!
Like this recipe? Please show your love by leaving a 5-star 🌟🌟🌟🌟🌟rating below!
You can also follow me on Facebook, Twitter, Instagram, and Pinterest to see more delicious vegetarian and vegan recipes and what I'm getting up to.