Tired of unhealthy snacks? Start snacking on these deliciously healthy oven-roasted almonds! Enjoy a smoky, spicy flavor with every bite! They can be made in 15 minutes and they stay good for weeks! Make them any time of the year.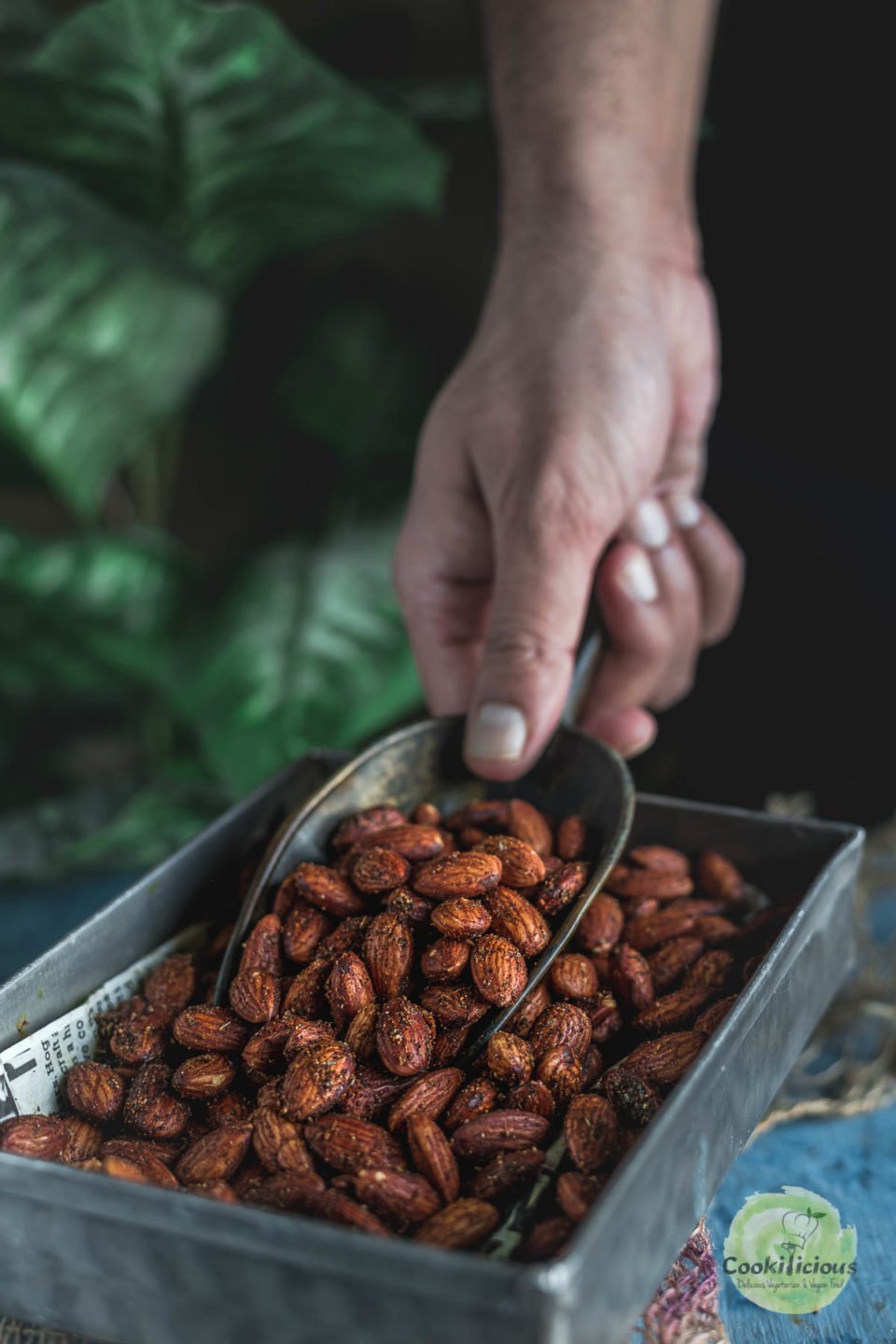 Jump to:
Never-ending hunt for healthy snacks
How many of us scout the aisles of a grocery store for some healthy snacks that even taste good? At least I know I do!
In fact, while KR is picking up veggies, I go to the snack aisle looking for something healthy and interesting.
Most of them are fried and the baked ones may or may not taste good. Me being a fussy eater, I do not like every new thing I try. As KR puts it, it's best if I make it at home myself as per my liking.
For me, the most trying times are the evenings and at midnight when my hunger is at the peak! It's been a couple of hours post-lunch/dinner so my belly begins to rumble.
That is why it is very essential for me to have a variety of healthy snacks in my pantry to munch on guilt-free. And what better than homemade?
Healthy crispy crunchy snacks to make this season
Masaledar Chana Dal
Chickpea Edamame Crispies
Bagel Parmesan Chips
Baked Bread Parmesan Fries
If you are looking for savory food snacks to make this holiday season, check out this post.
Why are almonds a healthy snack
Almonds are one of the healthier nuts and there are many benefits to consuming them. They contain lots of healthy fats, fiber, magnesium, protein, and vitamin E. Almonds help lower blood sugar levels and reduce blood pressure. They help promote weight loss. Almonds are naturally cholesterol-free and are full of "good" unsaturated fat. Research shows that munching on 1.5 ounces of almonds daily curbs hunger without increasing calorie intake or bodyweight?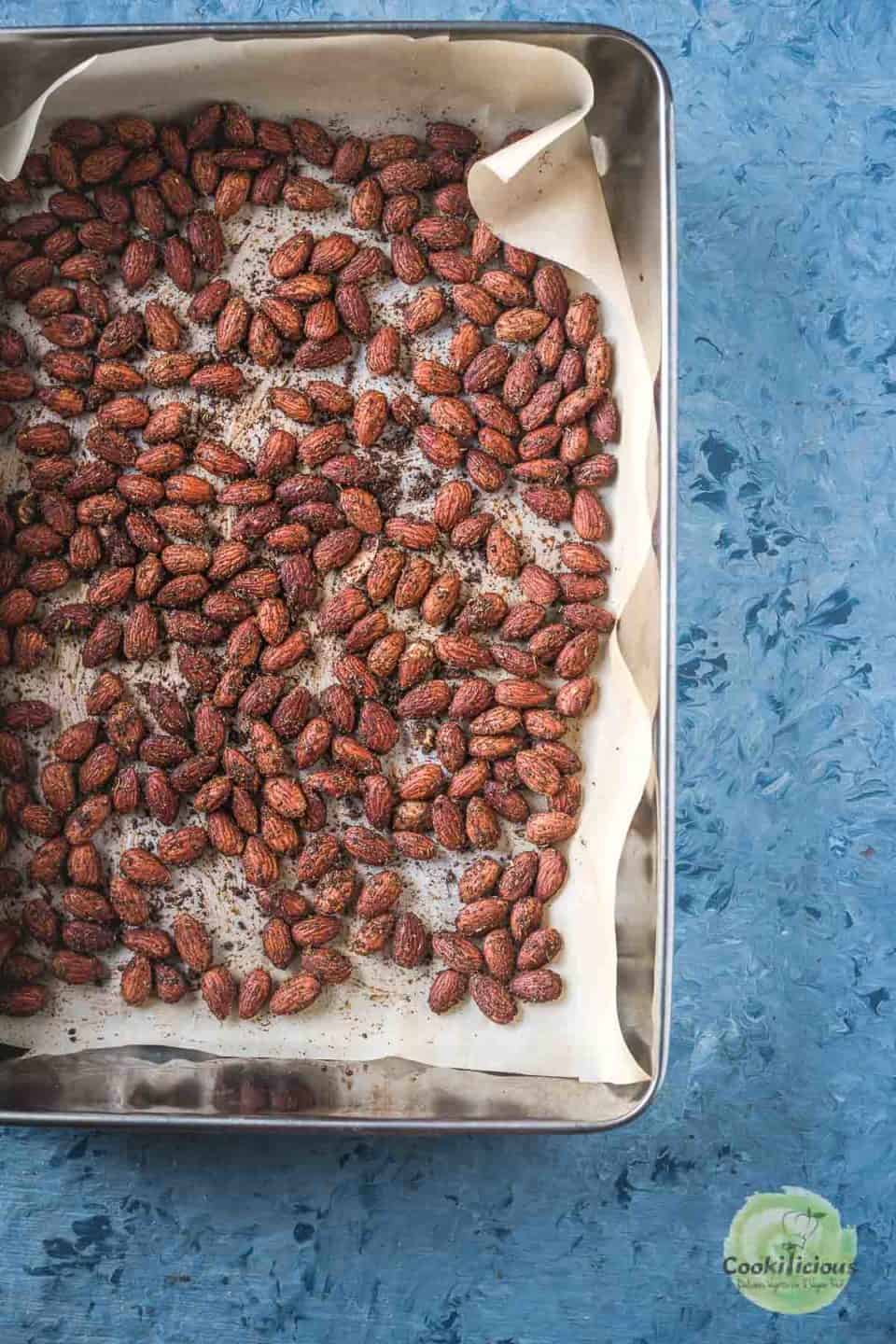 Why make this
Smoky Spicy Almonds are one of those snacks that you can make all year round. It's healthy, simple, and complementary to any flavor sensation you desire.
Make these crunchy roasted almonds at home instead of wasting your time and money purchasing them from the store.
Here are the many benefits of making these spicy smoky flavored roasted almonds at home.
It's baked, not fried
They can be prepared in less than 30 minutes
Mix up any combination of spices that you like. The options are endless
Delicious to taste and highly addictive
Roasted almonds are the perfect snack for people watching their carbs and sugars
It can be made in bulk
It's low-carb, vegan, keto-friendly, and gluten-free
They don't need to be refrigerated
Ingredients needed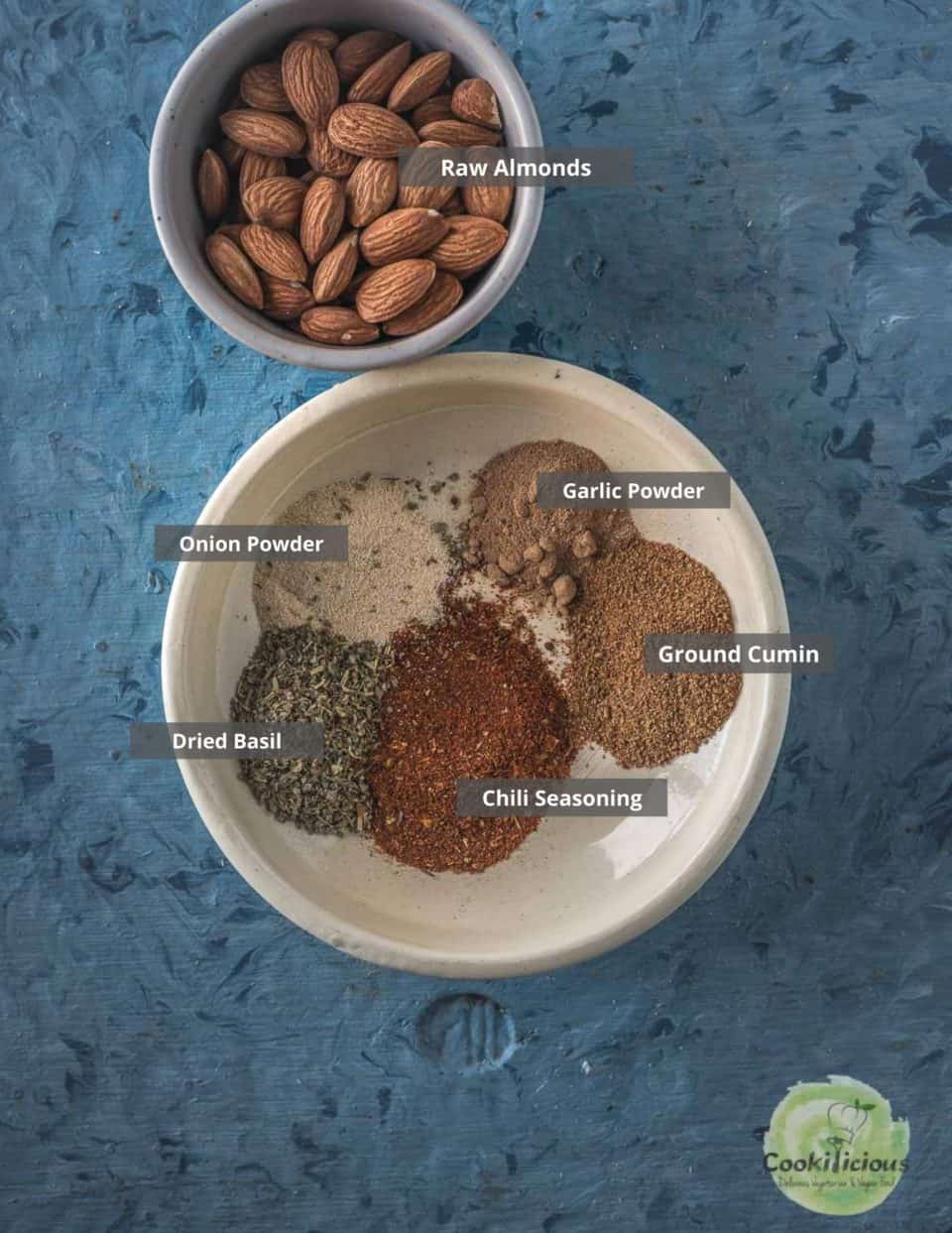 How to make it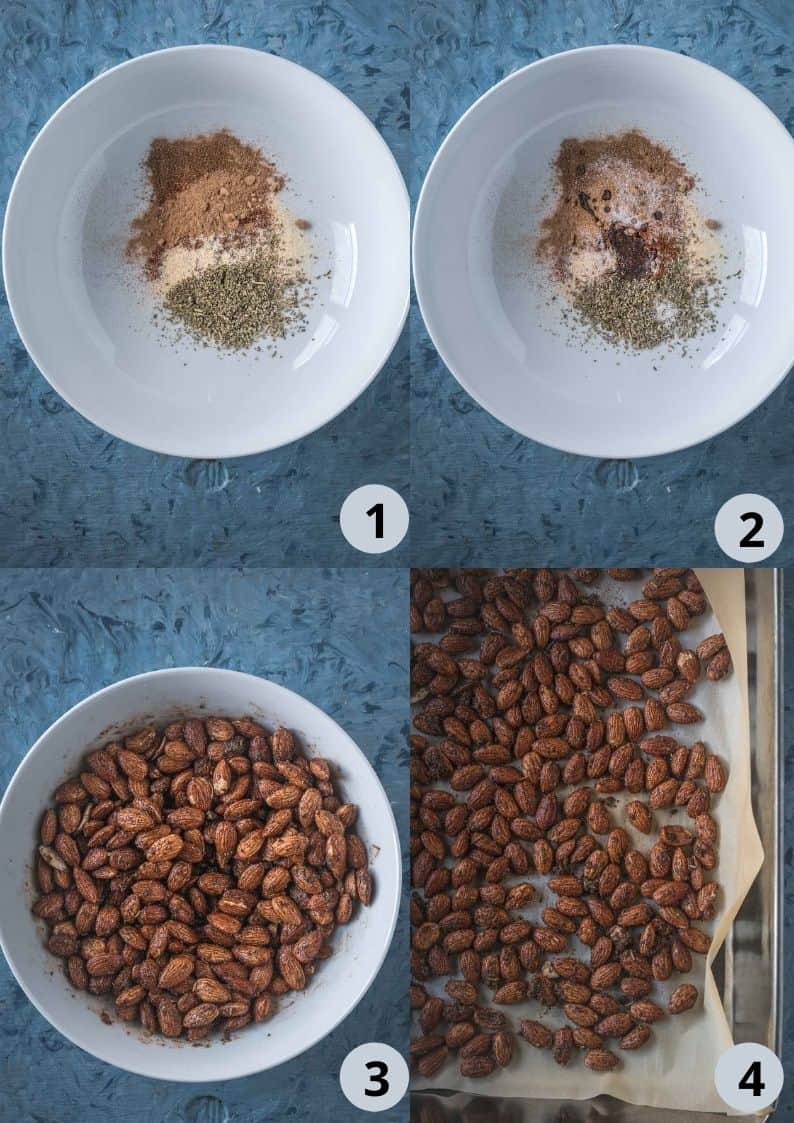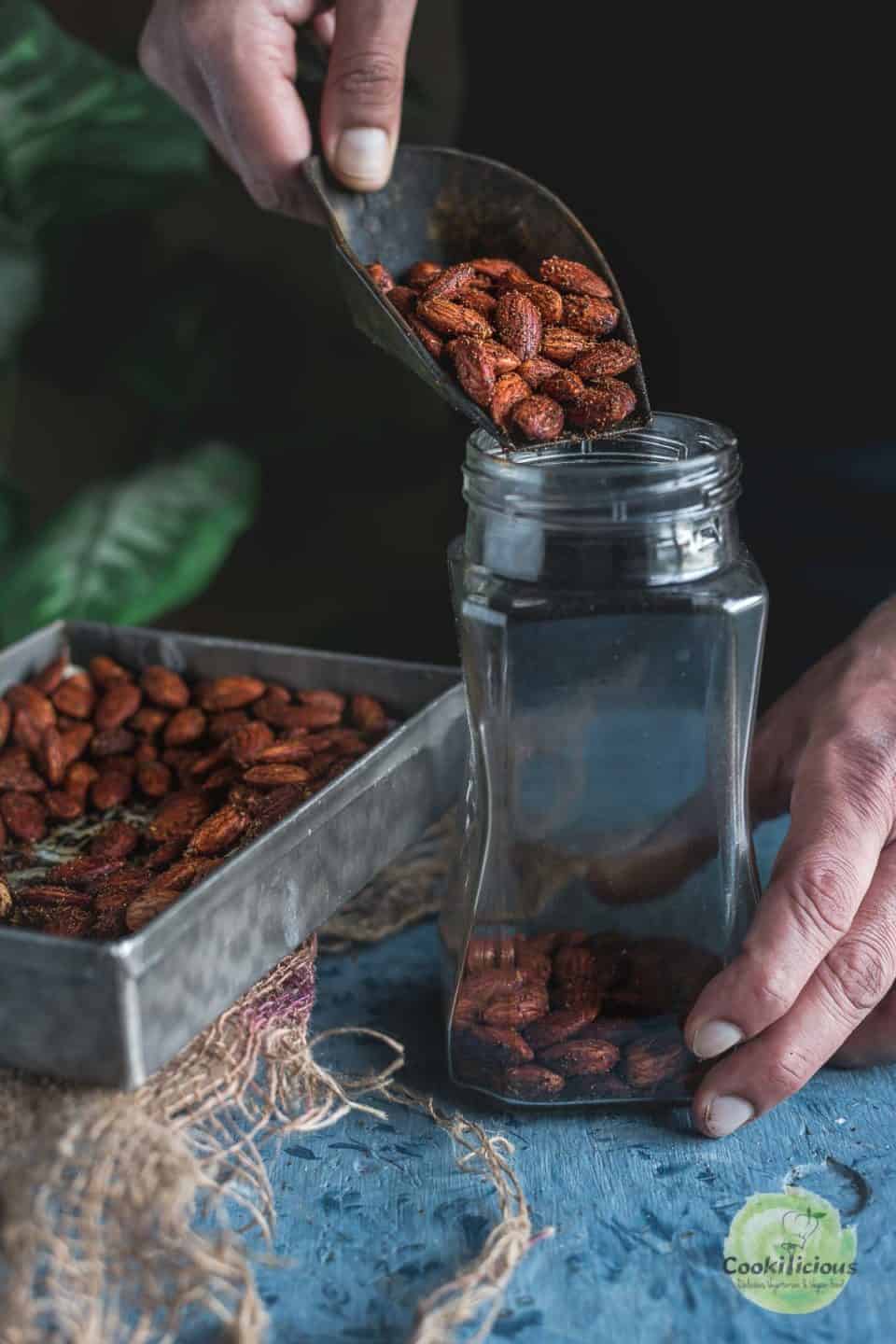 Serving Suggestions
How you serve these DIY roasted almonds is totally up to you! The options are endless. Here are some ideas to serve these spicy almonds. Serve them as a travel snack, after school snack, bar snack, game night snack, pre/post-workout snack, or munch on it while you are reading a book, watching TV, etc. Basically, this is one of those versatile snacks that you can have any time to satisfy your craving. Did I mention that they make great DIY food gifts during the holiday season? Put them in a cute jar and they make perfect little gifts for your loved ones. They also make a really nice addition to your cheese or charcuterie board. You can also add them to your salad. BTW, if you need some gifting ideas for the holiday season, do check out this post.
Top recipe tips
Always buy good quality raw almonds. They should be fresh and not have a stale smell to it.
You can easily make adjustments to the spice mix, adding more or less of each to match your preferences and spice level tolerance.
Parmesan cheese or Nutritional yeast can also be added to give it a cheesy flavor. You can also add other dry spices or herbs as per your choice and availability.
Do not crowd the baking sheet. Ensure that there is space for the heat to roast the almonds. Flip the almonds several times so they cook and roast more evenly.
Every oven is different. Keep checking on them every few minutes. You don't want to burn them. Set a timer if needed.
Just store them in an airtight container or a Ziptop container in a cool, dry place like your pantry. It stays good for 2 weeks. You can freeze them as well if needed.
I have directly used raw almonds. But you can also soak them overnight, drain and dry them. Then follow this recipe.
You can also try this recipe with other nuts like cashews, pecans, walnuts, etc. If not savory, you can also give them a sweet flavor.
If you don't want to bake it, you can easily make them on the stovetop in a skillet. You will just have to keep stirring it more frequently on low flame to prevent them from burning.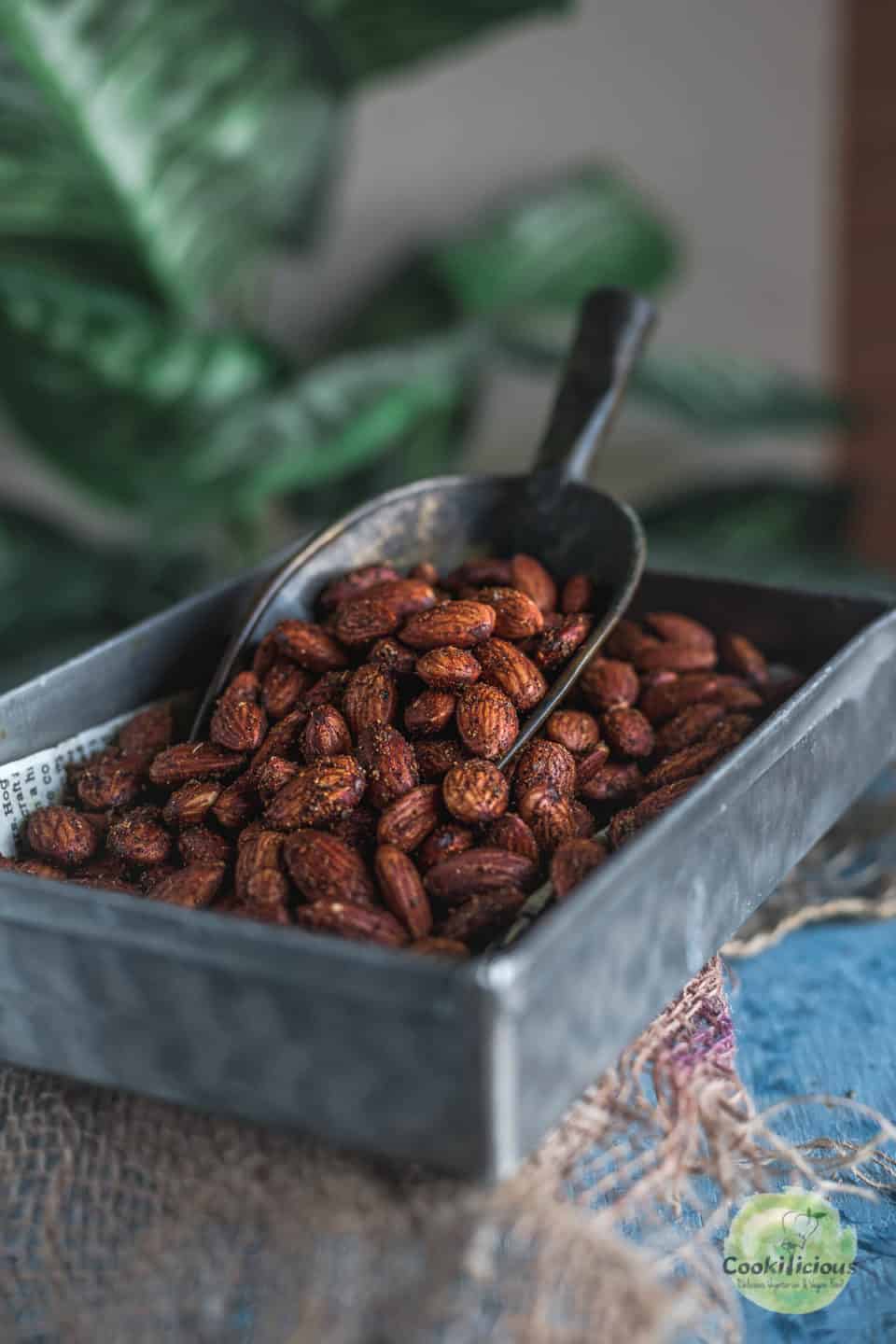 If you like this recipe then please rate it ⭐️⭐️⭐️⭐️⭐️! You can follow me on Facebook, and Instagram to see what's latest in my kitchen and also on YouTube to watch my latest cooking videos.
⭐️ Subscribe to the Cookilicious Newsletter and receive new recipes straight to your inbox! You'll receive my FREE Vegan Beginner's guide as a gift. You can then also participate in the Cookilicious Cooking Club Series to win exciting prizes.
Recipe 📖