A collection of quick and easy Asian/Indian Diwali food snacks to spice up your festive season. Make and serve these delicious savory foods this Diwali!
Festival of lights
Diwali or Deepavali is called the Indian festival of lights. It is celebrated by (but not limited to) Hindus all around the world with great pomp and show.
This day is celebrated to honor Lord Ram, the seventh avatar (incarnation of the god Vishnu).
According to Indian mythology, on this day Rama along with his wife and brother returned to their people after 14 years of exile.
During that time they fought and won a battle against the demons and the demon king, Raavan.
Diwali is all about the victory of light over darkness, good over evil, and food over mood! That is why this festival is extremely special to us.
The festivities typically last 5 days. Temples, homes, and all other places of celebration are decorated and brightly lit.
Some traditions and rituals
While everyone has their own way of celebrating this festival, there are a few things that are common for all.
Homes and offices are cleaned and sometimes renovated in the run-up to Diwali.
New clothes and jewelry are purchased especially for this festival.
On the first day of Diwali, we apply oil all over our body and have a bath before sunrise. This is called Abhyanga Snanam.
People often then decorate the outside their doorstep with a rangoli (see pic), designs made out of colored powder, and sand on the floor.
Houses and every other place are lit up with Diyas (earthen lamps).
Exchanging food gifts with friends and family is another important aspect of this festival.
It's an occasion for the entire family to get together and celebrate.
One can say that Diwali is like Christmas for us Hindus! There's joy, cheer, good mood, and FOOD!
A scientific reason behind these rituals
Just recently I got to know that there were also some scientific reasons behind celebrating this beautiful festival the way we do.
We celebrate this day by lighting lamps all around the house. Now here's why back then (when there was no electricity), this was done.
Diwali brings in the season of winter and marks the end of the rainy season in India. All through the rainy days, many insects would create a nuisance in the homes.
So earthen pots were used to light lamps that would help to keep these insects away, to provide light in the evenings after dark, and also help in spreading warmth around the house.
Even the early morning oil- bath had a purpose. It was believed that it would help heal cracked skin and control aging.
Traditionally, the rangoli that we draw outside our homes were/are made of rice flour. This acted as food for the ants and other small insects.
It's amazing how our ancestors thought of everything using simple ways!
We also set off fireworks on this day.
Chemicals in the firecrackers that were used back in the day were not harmful. It was believed that burning these would burn away the insects around people and the bacteria in the air.
Diwali memories
I have some wonderful Diwali memories, growing up. We would look forward to this festival because schools used to shut down for about two weeks.
Plus, our parents would buy us new clothes and we would get to flaunt it amongst our friends.
My dad would also buy us fireworks that I would then divide them between my brother and me.
A few days before Diwali, my mom would start her food prep. Every day we would be treated to a new sweet or savory dish.
On Diwali day, mom would apply oil all over our body and hair and after we showered, we were given those new clothes to wear.
My friends and I would then hang out together setting off firecrackers and enjoying each other's company.
In the afternoon, we kids would be running around homes exchanging food gifts which our moms would nicely decorate and give us.
Later, we would settle down outside our homes to draw rangolis. We liked doing elaborate and intricate designs. So this activity would take up the whole afternoon.
Then in the evening, mom would light Diyas (lamps) all around the house and around our rangoli.
It was really fun growing up in my neighborhood where there was so much warmth and love. We all have some wonderful memories of our times together.
I feel festivals become more fun when you are with your loved ones doing things you love!
Not to forget, food plays a major role in this festival. Diwali gifts usually comprise of dry fruits, desserts, and dry snacks like the ones below.
I always prefer savory food over sweet and end up making more of these in comparison to sweets during this time of the year.
Why make these snacks
Here is my collection of savory Diwali snack food recipes that are sure to light up your festive Diwali Party!
They are finger-licking good, and both traditional and fusion Asian snacks to make your holiday menus drool-worthy.
These are very popular Indian Dry snacks that can very easily be made ahead of time so that you can spend more time with your family or guests than in the kitchen.
Vegan Asian snacks
Fried and savory snacks
Make great holiday gifts
Made in advance and stored for 2-3 months
Quick and easy to make
So ditch the store-bought snacks this time and try making them at home. Make these quick Indian snacks together with your family and create your own Diwali memories.
A delicious & addictive South Indian tea-time snack that's loved by all. This vegan & super crunchy Asian snack is made of chickpea flour mainly on festive days.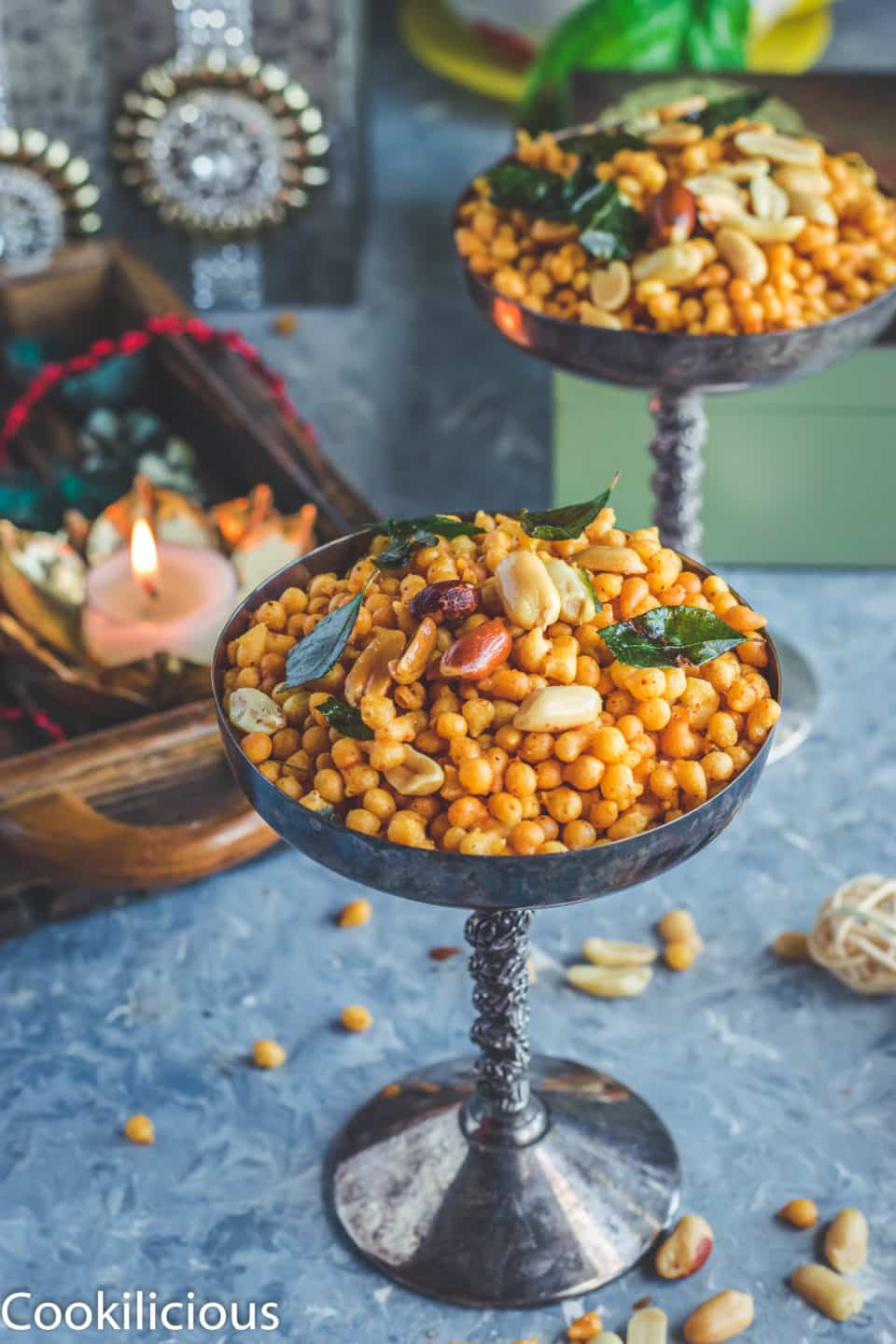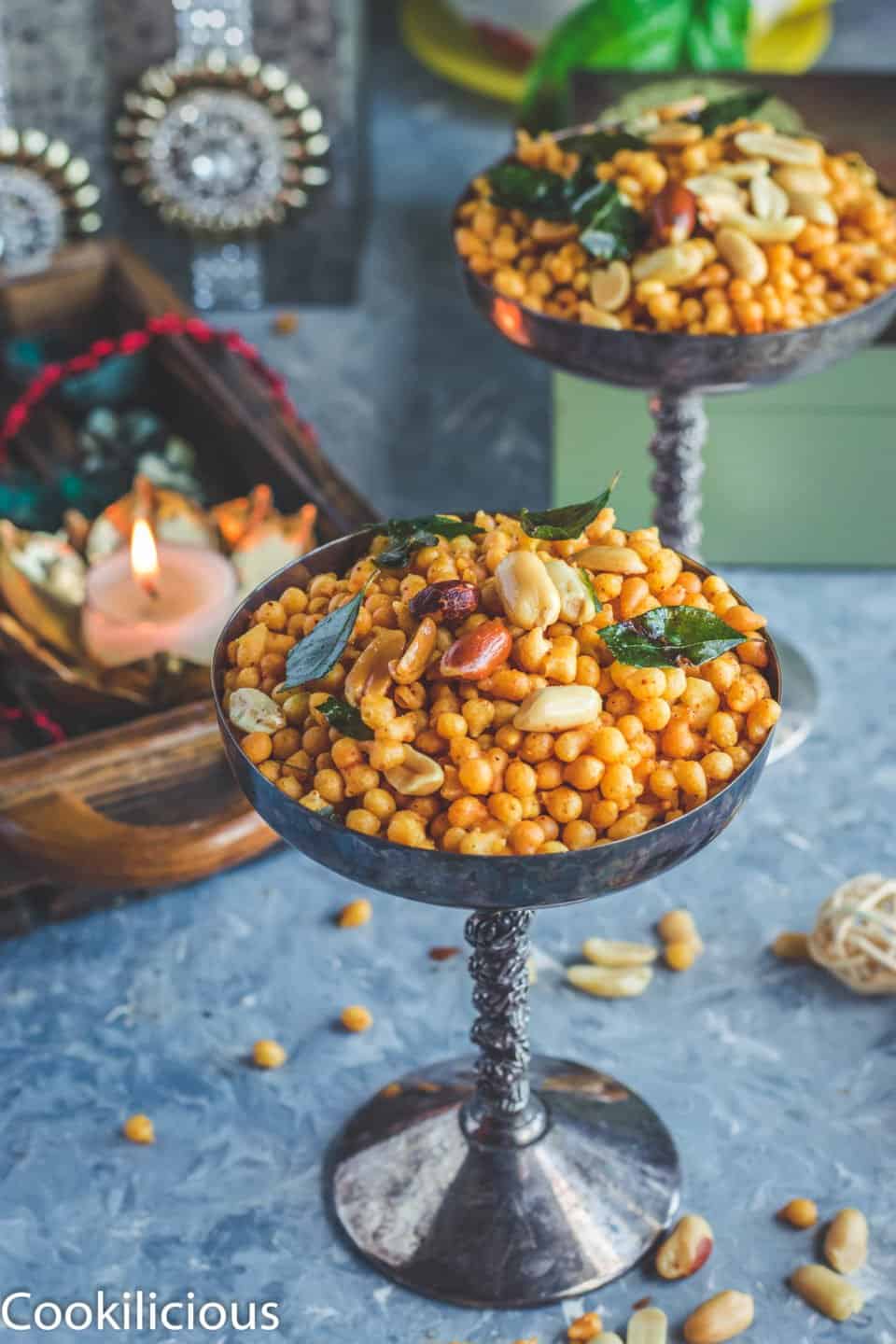 Savory Rice Krispie Chivda | Trail Mix
Learn to prepare this quick Indian savory snack called Chivda using rice Krispies in just 5 minutes! This savory food is easy to make and crunchy to taste.
Omapodi/Sev recipe is a popular Indian spice mixture made with chickpea flour. This South Indian snack made using a sev maker is crispy and crunchy!
Mathri is one of the popular Indian dry snacks that's loved by all! These Vegan savory Indian biscuits are quick and easy to make. This one is cilantro flavored and is a fried version.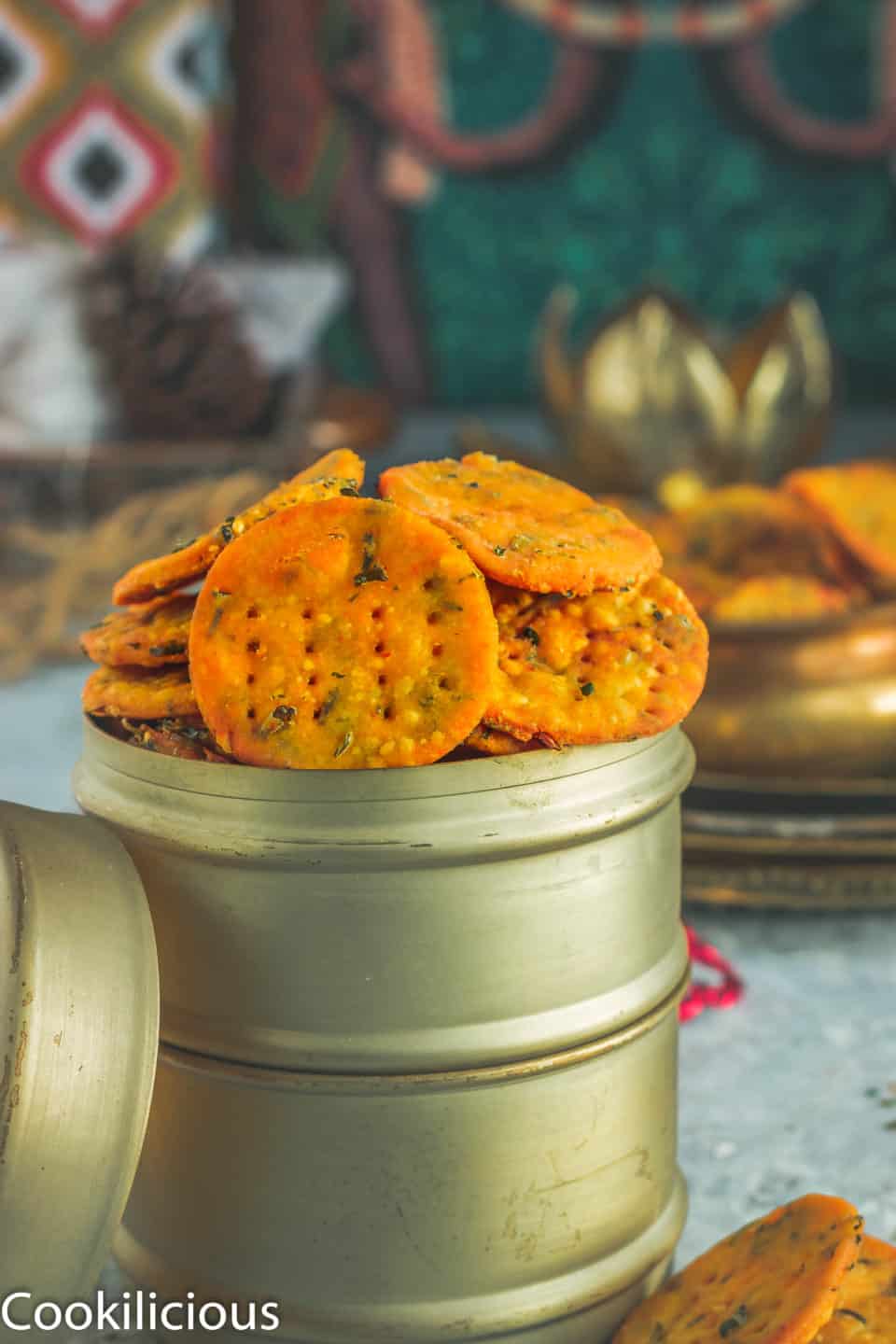 A delicious fried plantain/raw banana chips recipe is a popular vegan snack in South India. These popular vegan chips are made with just a few ingredients!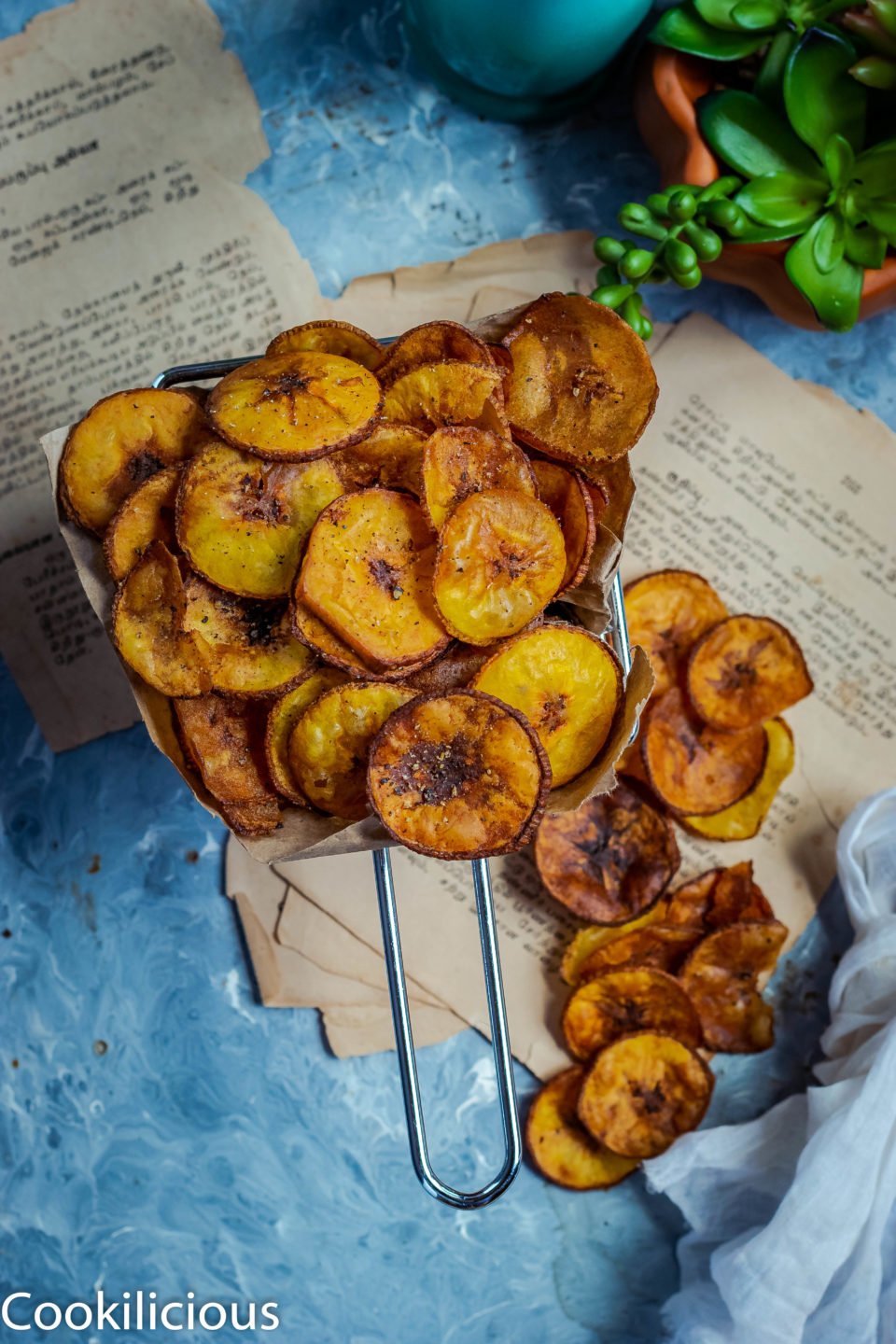 A delicious quick Indian snack that takes just minutes to make and one that can be enjoyed at any time of the day. Relish this addictive crispy crunchy Chana Dal/split pea dry snack guilt-free.
These mixed flour crackers are crispy, thin, flaky & vegan. They are easy to make and ready in 30 minutes. A delicious homemade Asian snack perfect for your entire family!
Thattai is a popular deep-fried savory food made with rice flour, urad dal flour, salt, and herbs. A crispy and crunchy Asian snack!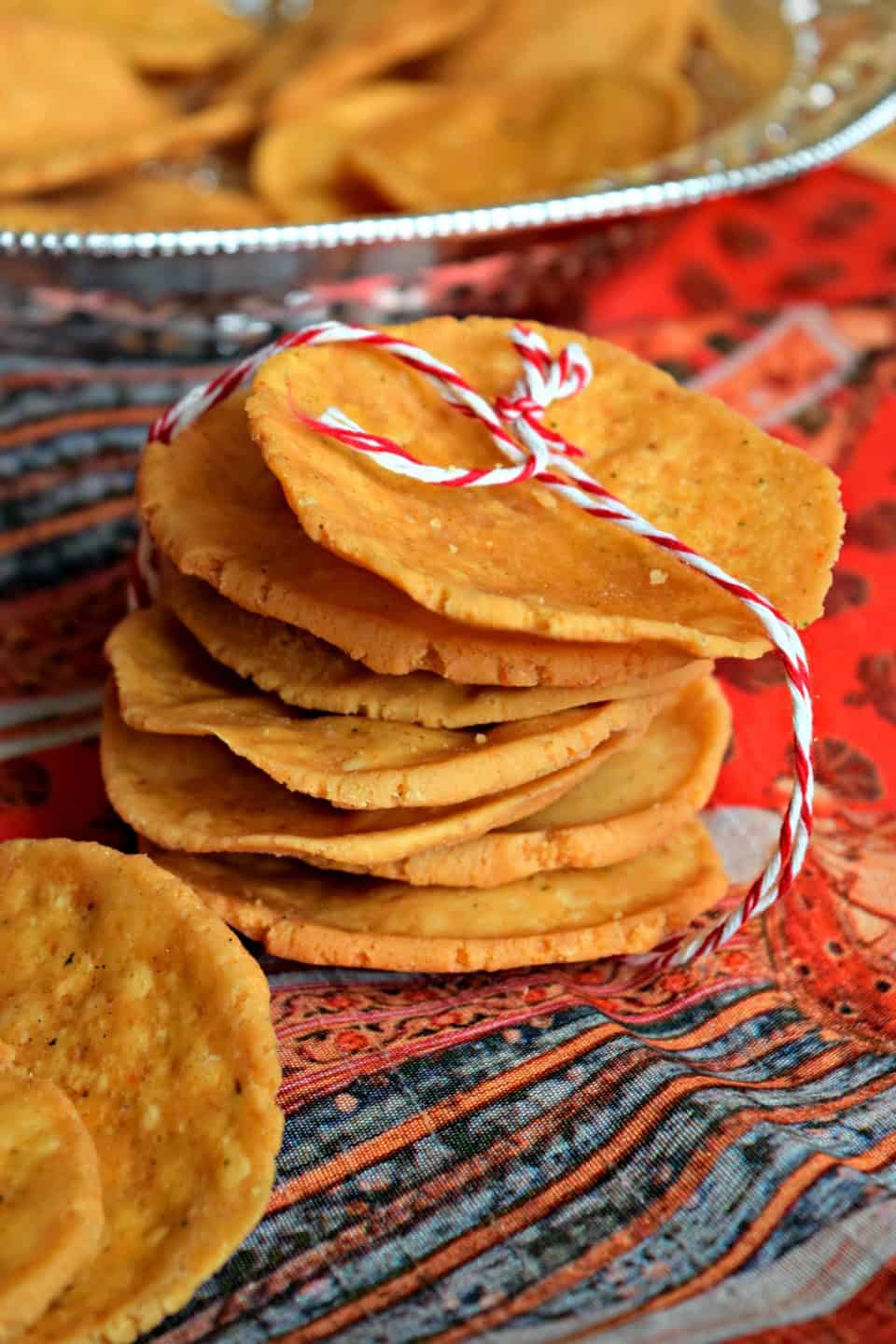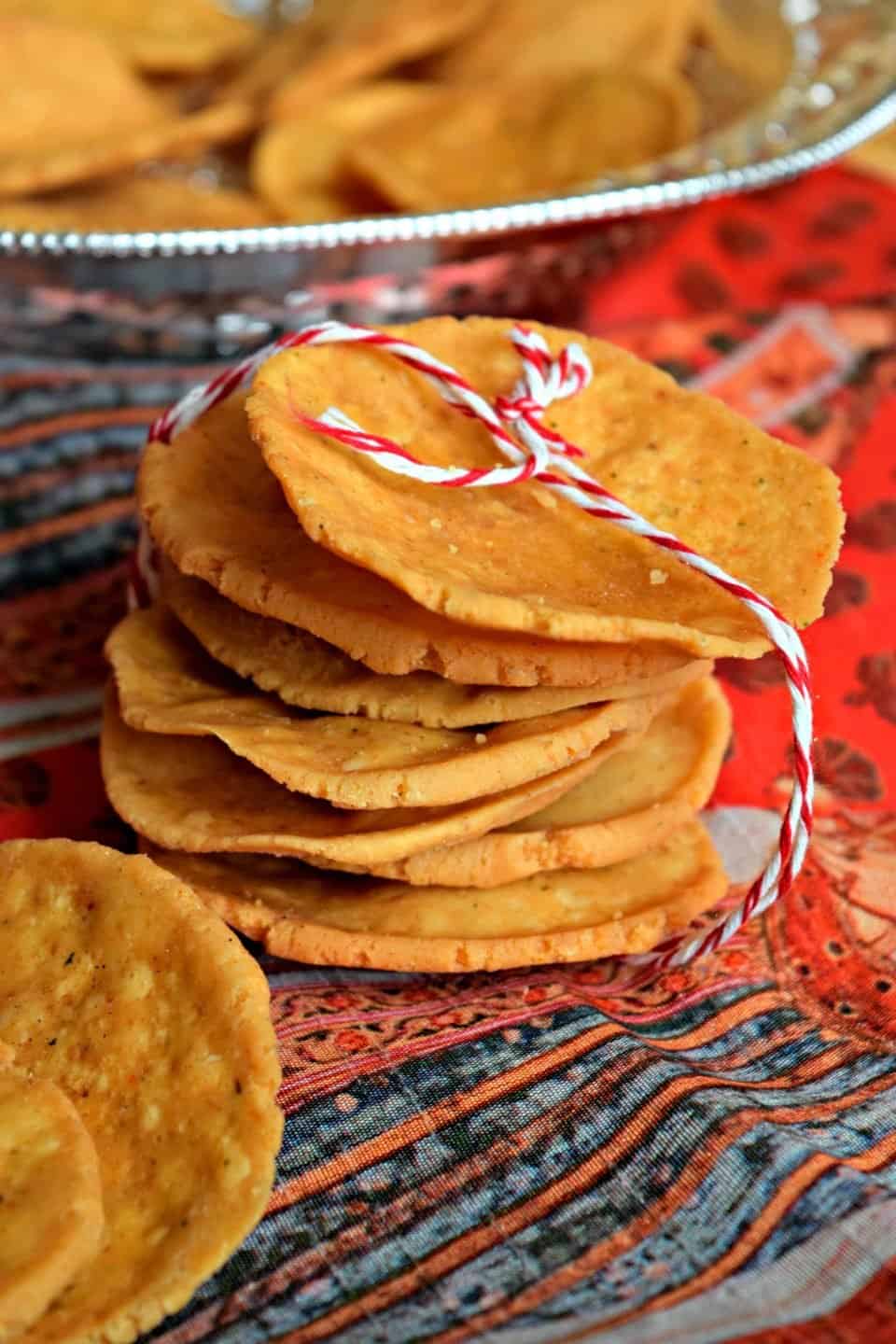 Finally, a crispy homemade quick South Indian snack that tastes better than the store-bought version! This crunchy Moong Dal snack is made in a microwave with just 4 ingredients and that too with a cooking time of just 7 minutes!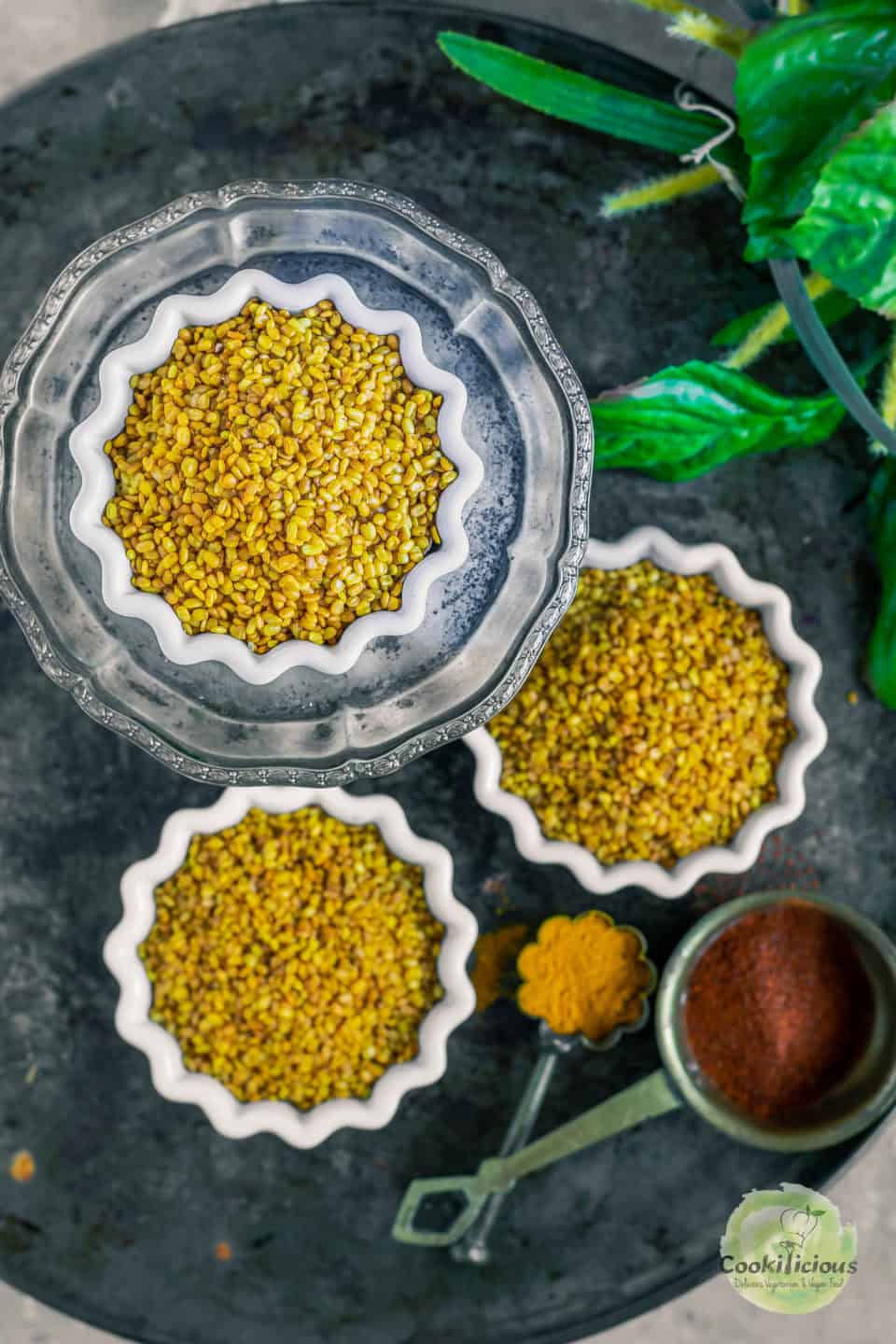 After savory food treats come desserts! Check out this PAGE for all wonderful sweet treats you can make this Diwali!
Lastly, I would love to wish and your family a very Happy Diwali! No matter how 2020 was, 2021 is going to be your year, and hope you achieve everything you aspire for!
If you end up trying any of these Indian Diwali Food Snacks or any other recipe on the blog please let me know how it went by commenting below, I love hearing from you!
You can also FOLLOW ME on FACEBOOK, TWITTER, INSTAGRAM, and PINTEREST to see more delicious vegetarian and vegan recipes and what I'm getting up to.
Disclosure: This post contains affiliate links. For more information on my Affiliate and Advertising Policy, please click here.