Chocolate Avocado Smoothie is extra creamy, vegan, nutrient-dense & packed with chocolate flavor! It surely is a healthy & decadent start to your morning!
If you came here reading the word 'chocolate' then you will not be disappointed! This recipe is oozing with chocolate and is super creamy thanks to the avocado! You will love this beverage all the more when I tell you that you can have this chocolate for breakfast and enjoy it guilt-free. I got this idea of making this smoothie from a Chocolate Avocado Mousse we has the other day at a newly opened vegan restaurant in Orlando. It was our customary date-night as KR wanted us to check out this new restaurant in town. Both of us love to support and encourage small business owners that dare to dream and bring to life their vision. In fact, we always look for such restaurants that are family owned or have a specific theme whenever we are on a date-night. This particular one that we went to had a very interesting menu. It was one-of-a-kind vegan restaurant and I was pleasantly surprised to notice that it was running in full capacity. I didn't know there were so many in Orlando ready to try a vegan cuisine! While waiting for our table, I began chatting with some of the guests and got to know that some even though some of them were meat eaters, they were very much interested to try vegan food.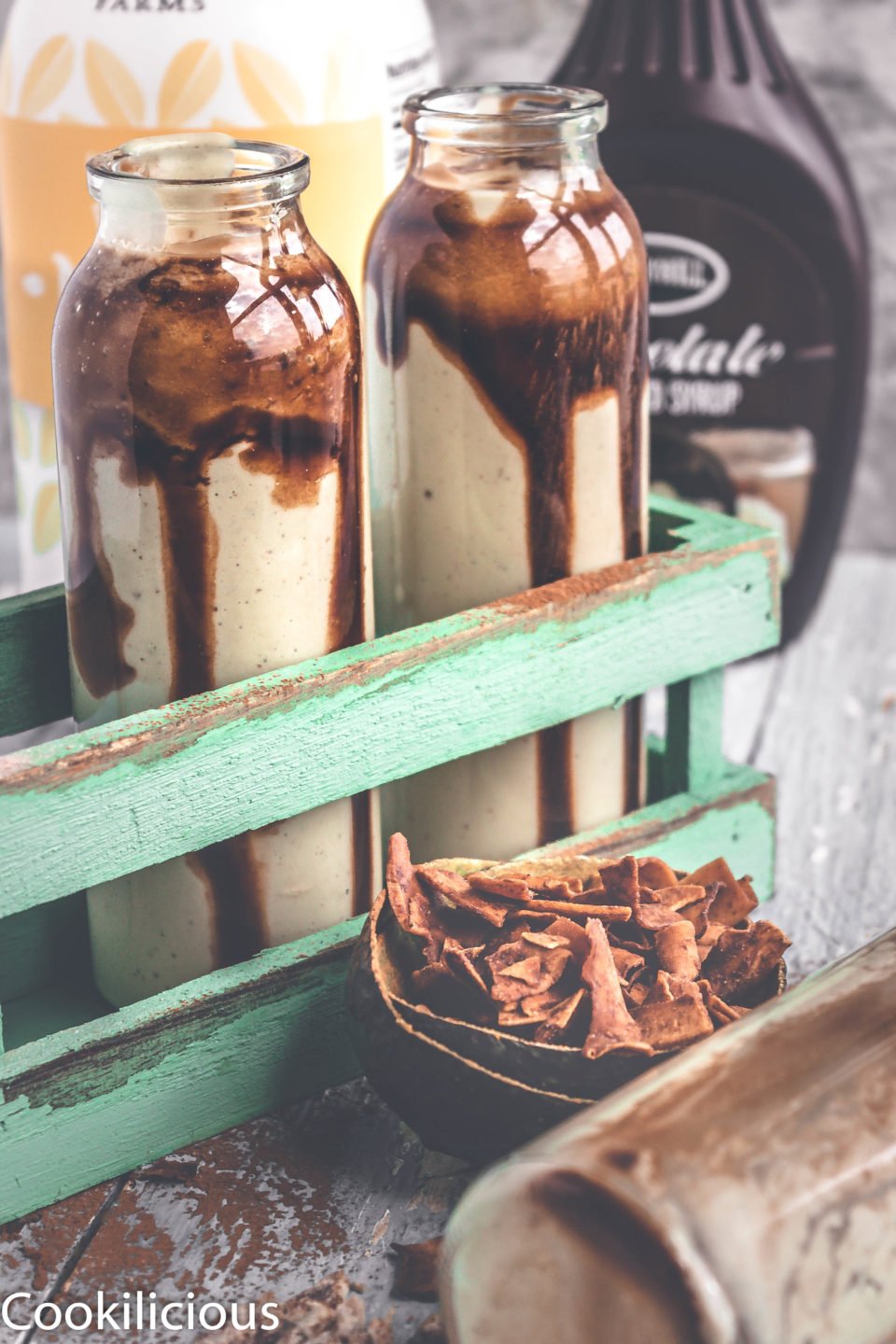 We tried a couple of new things from their menu and were very satisfied with the quality of food, taste and service. Especially the Jack-fruit burger and Lentil Quinoa Salad that they had on the menu became an instant favorite and KR couldn't stop raving about the vegan chocolate avocado mouse that he had for dessert! What I noticed about the menu was that each item was very well planned and unique. I loved the idea of combining chocolate and avocado and made a mental note to self to try this combo in some recipe. Smoothie was my first obvious choice and therefore on my next grocery shopping trip, I ensured that I pick up avocados and bananas. There are many nutritious ingredients I have used to prepare this Chocolate Avocado Smoothie! We all know how healthy and delicious a banana is but I have never been a fan of it! In fact, as a child I hated it! Even today, I can only consume it if in a smoothie. My dad would always have a banana post a meal because he would say that its good for digestion. Later I got to know that they are great for weight loss as well. It's a fiber rich fruit which also contains many powerful antioxidants. You know what is the best thing about this fruit? It contains no fat!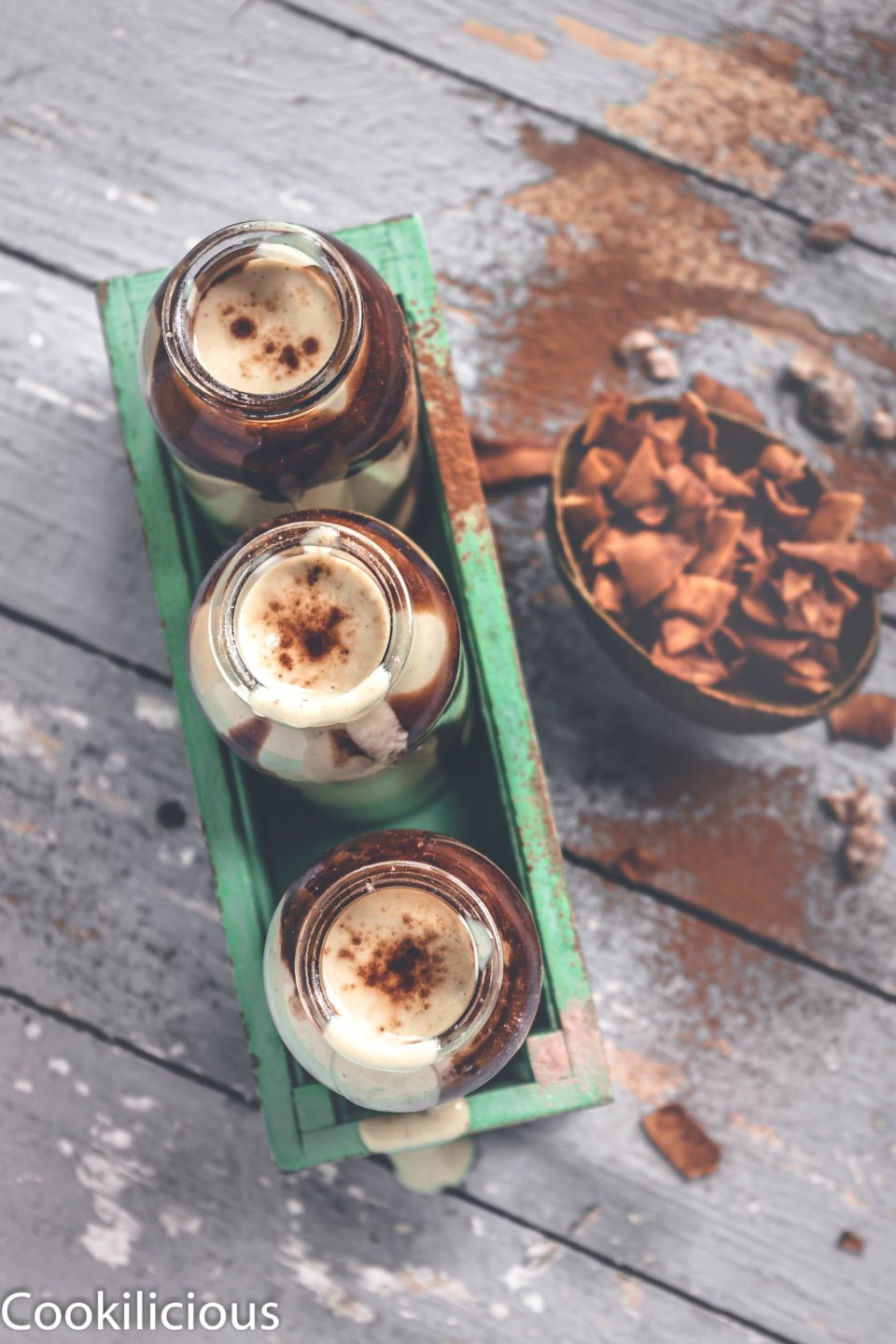 I therefore wanted to pair it with a fruit that is full of good fat - Avocado. I was introduced to this wonder fruit only when I moved to US, 6 years ago. Until then I had never heard of this fruit and its benefits. Avocados do not contain any cholesterol or sodium and are low in saturated fat, making it a very nutritious fruit. It has more potassium than bananas and is also rich in fiber. Personally, I think an avocado has no taste of its own but when used in any recipe, it gives a creamy texture to the dish. Not only is avocado highly nutritious, it can dramatically increase the nutrient value of other plant foods that we are eating. My other hero ingredient in this smoothie is chocolate! Contrary to popular belief, dark chocolate is actually good for you. But you know, you have to buy quality dark chocolate with a high cocoa content, then it is actually quite nutritious. Chocolate contains a decent amount of soluble fiber and is loaded with minerals. When all these ingredients come together, they make one delicious smoothie! I make smoothies everyday and I kind of know how to nail the perfect smoothie by now. Let me share with you some tricks and tips to make that perfect smoothie.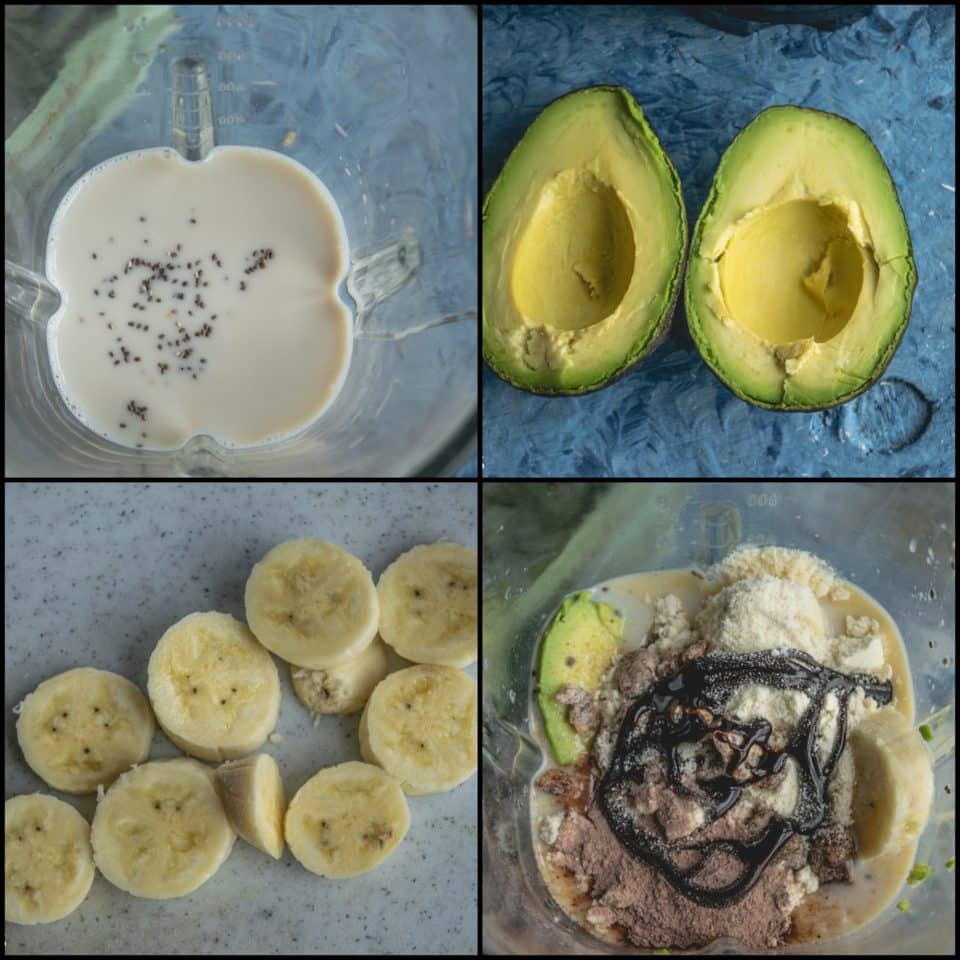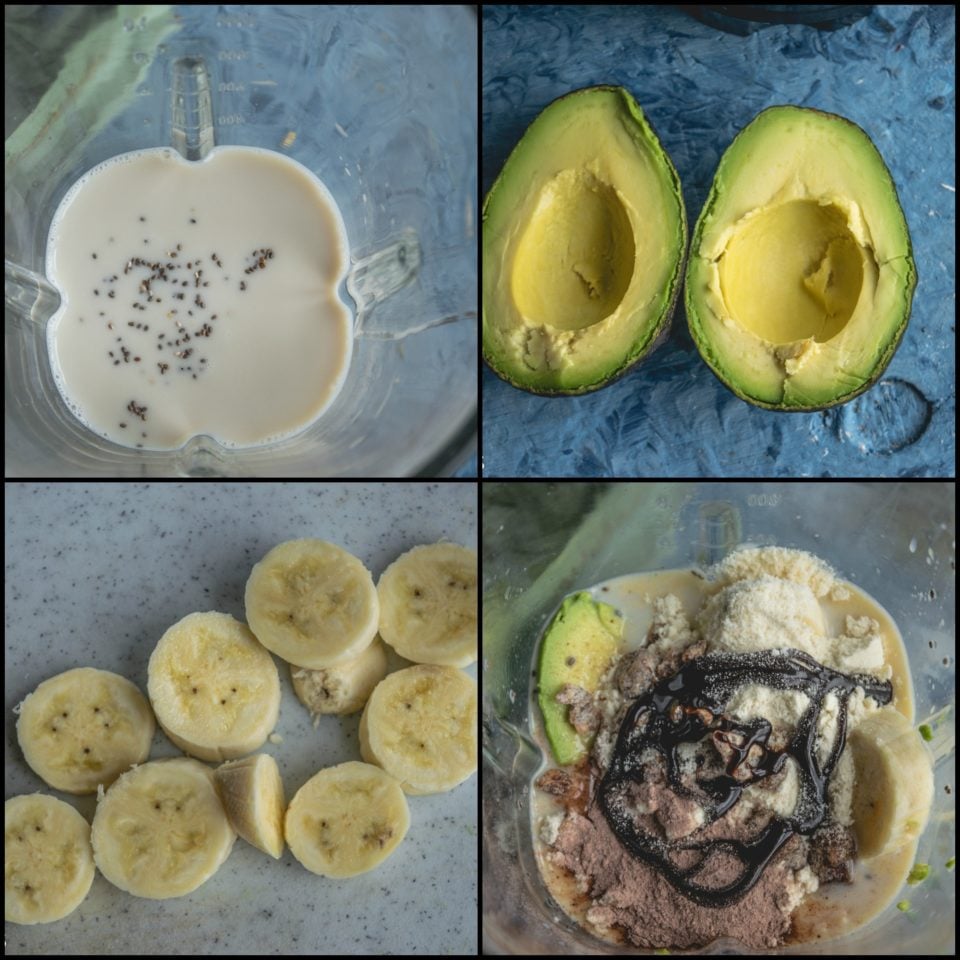 One trick is to start the blender at a low-speed first and then gradually increase the power. This makes the blades work better and break down the ingredients evenly. Also layering the ingredients in the correct order is key to the silkiest, richest blends. The trick it to add the liquids in first as that will keep the blades lubricated and keep the solids moving. Next to be added should be the greens (if using any). They will blend seamlessly rather than roughly tear up and float on top. Your frozen ingredients and other solids should go next. The liquid at the bottom will absorb the pureed solids. I always prefer adding frozen fruits than ice cubes in smoothies ice waters down the flavor and texture. Now let me show you how to make this super delicious Chocolate Avocado Smoothie at home! All you need is a good blender
and a couple of ingredients. Add any non dairy milk to a blender along with soaked chia seeds and water
. Scoop out an avocado and add it to the blender followed by a chopped banana. Then add dark chocolate powder
, dates
, protein powder
and chocolate syrup
to the blender. Blitz together to make a smooth and creamy smoothie. Serve immediately. Just one glass is enough to keep you full for a long time.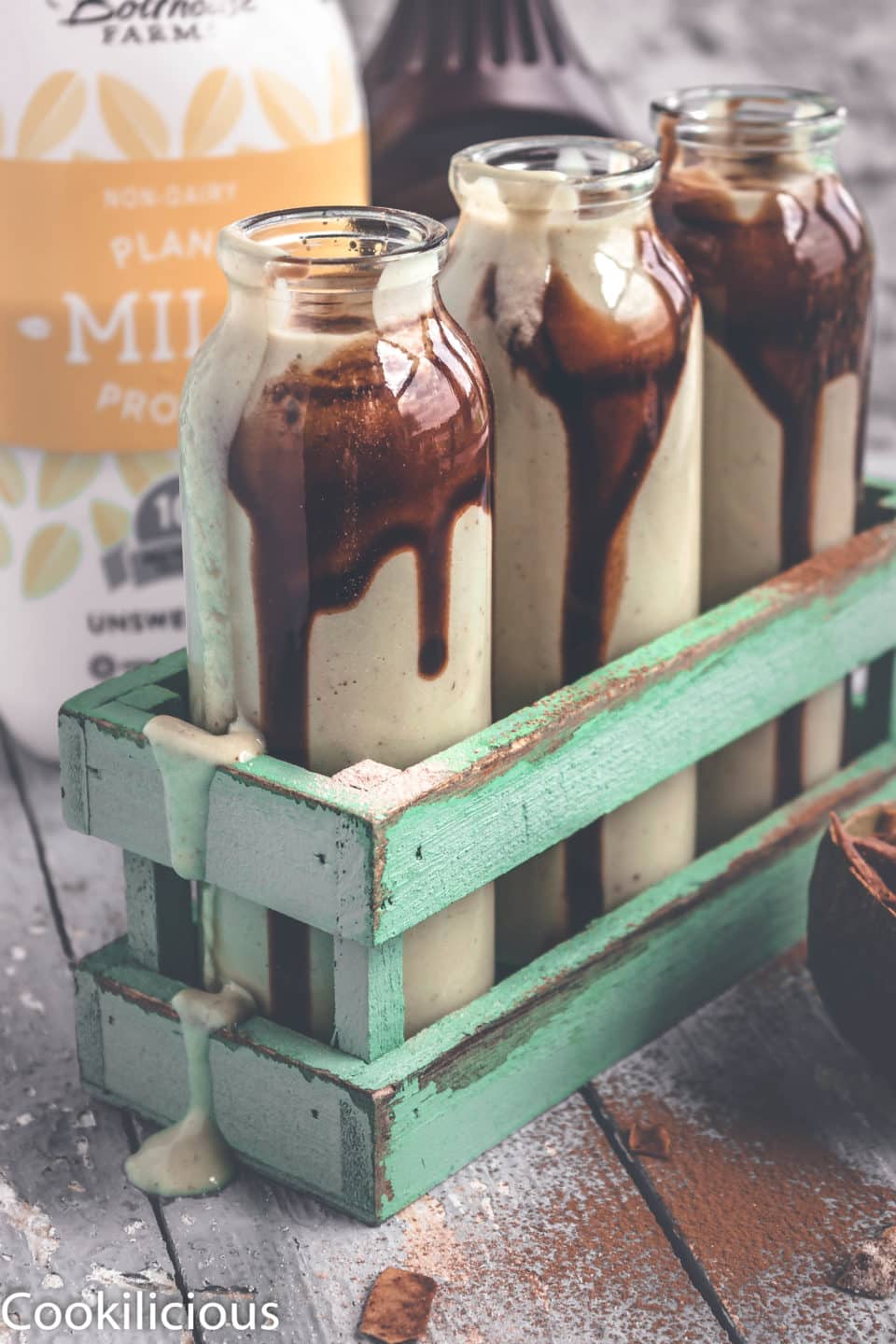 Did you try this recipe? Please let me know how it turned out by leaving a comment below or sharing a picture on Instagram @cookilicious with the hashtag #cookiliciousveg. I love hearing your feedback!
Like this recipe? Please show your love by leaving a 5-star 🌟🌟🌟🌟🌟rating below!
You can also follow me on Facebook, Twitter, Instagram, and Pinterest to see more delicious vegetarian and vegan recipes and what I'm getting up to.
Recipe 📖
Chocolate Avocado Smoothie is extra creamy, vegan, nutrient-dense & packed with chocolate flavor! It surely is a healthy & decadent start to your morning!
Ingredients
1

cup

non dairy milk

½

cup

water

2

teaspoon

chia seeds

1

avocado

1

banana

1

scoop

protein powder

1

tablespoon

cacao powder

2

dates

½

cup

water

1

teaspoon

chocolate syrup
Instructions
Soak chia seeds in water for 10 minutes.

Add any non dairy milk to a blender along with soaked chia seeds 

Scoop out an avocado and add it to the blender.

Then add the chopped banana.

Add cacao powder, dates, and, protein powder to the blender.

Add water and blitz together to make a smooth and creamy smoothie.

Pour in serving glasses and serve immediately.
Nutrition
Calories:
403.99
kcal
|
Carbohydrates:
36.8
g
|
Protein:
19.46
g
|
Fat:
22.82
g
|
Saturated Fat:
4.69
g
|
Polyunsaturated Fat:
4.44
g
|
Monounsaturated Fat:
11.34
g
|
Trans Fat:
0.01
g
|
Cholesterol:
25.23
mg
|
Sodium:
81.66
mg
|
Potassium:
975.04
mg
|
Fiber:
11.85
g
|
Sugar:
16.37
g
|
Vitamin A:
578.81
IU
|
Vitamin C:
21.67
mg
|
Calcium:
234.74
mg
|
Iron:
3.59
mg