The only smoothie you want to drink this winter! Stay healthy this flu season with this delicious immune-boosting drink with Vitamin C and antioxidants!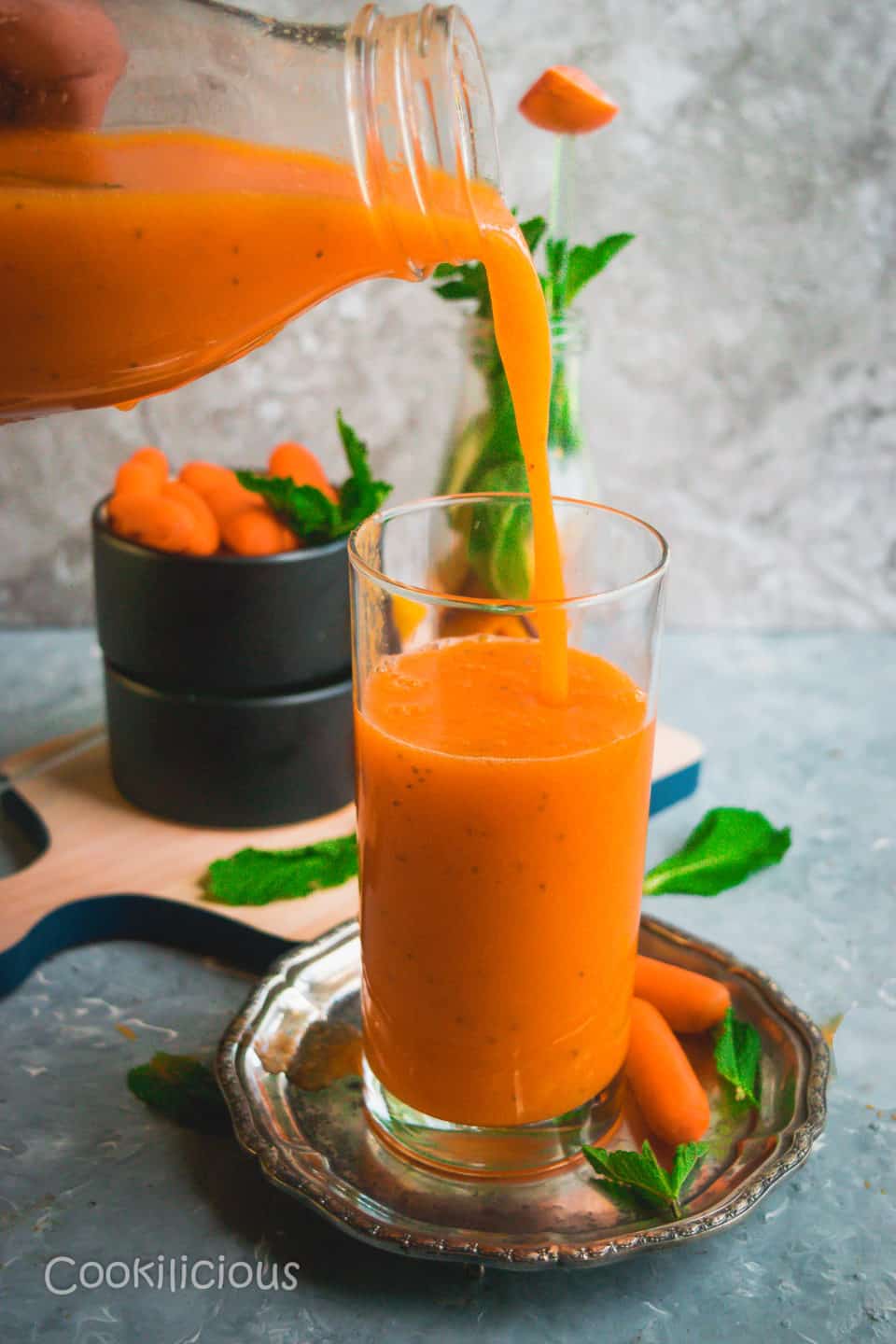 We are on a spree to lose excess weight and because of that our diet has changed considerably. We are not dieting, mind you. I hate that word as it brings back some horrifying memories of my teenage years when I didn't know much about eating healthy and eating right. I randomly just followed word-of-mouth diets. If someone said this works, I would follow that and then move on to the next one. The only thing these diets did was demotivate me.
Weight loss seemed like an illusion back then that one fine day I simply stopped following any diet and that marked the end of my crazy diet era. After what seemed like zillion years, KR entered my life to change my perception on not just life and love but also about diets. He seems to have mastered the art of it. Being a marathon runner, he is very careful of what he eats (on most days) and he introduced me to portion control. He always says that it's not what you eat but how much you eat that makes the difference! Makes sense!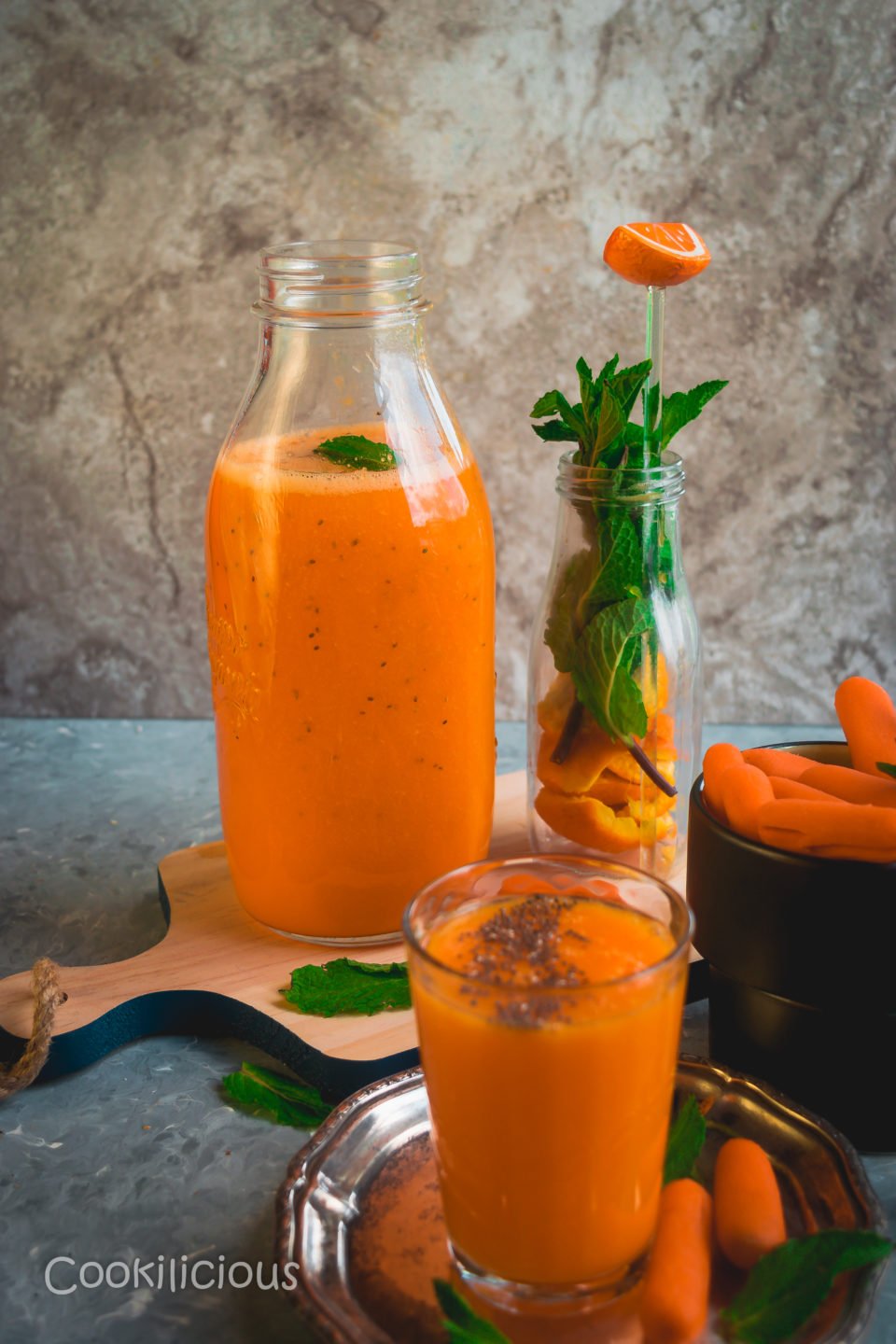 Over the last 5 married years, we have gone back and forth w.r.t our eating habits and I am not ashamed to admit that we have faltered a lot. This year, both of us decided that we really need to get serious about our lifestyle choices and in order to stay fit and healthy, eat right. Me being a food blogger has its pros and cons. The days I prepare something rich and calorie dense, I see to it that it's not just us eating it. I prepare these dishes when I have friends over or for potluck parties or on weekends. This way, it's not just the both of us that are consuming these foods. On weekdays I prepare recipes that are high in protein, low in calories and of course very delicious to taste. I hate to compromise on the taste of the dish and flavor is extremely important for me. I cannot eat bland food or salad on any given day. So yes, my food on weekdays is something that tempts me to eat it and not crib and sulk. That is how food should be treated!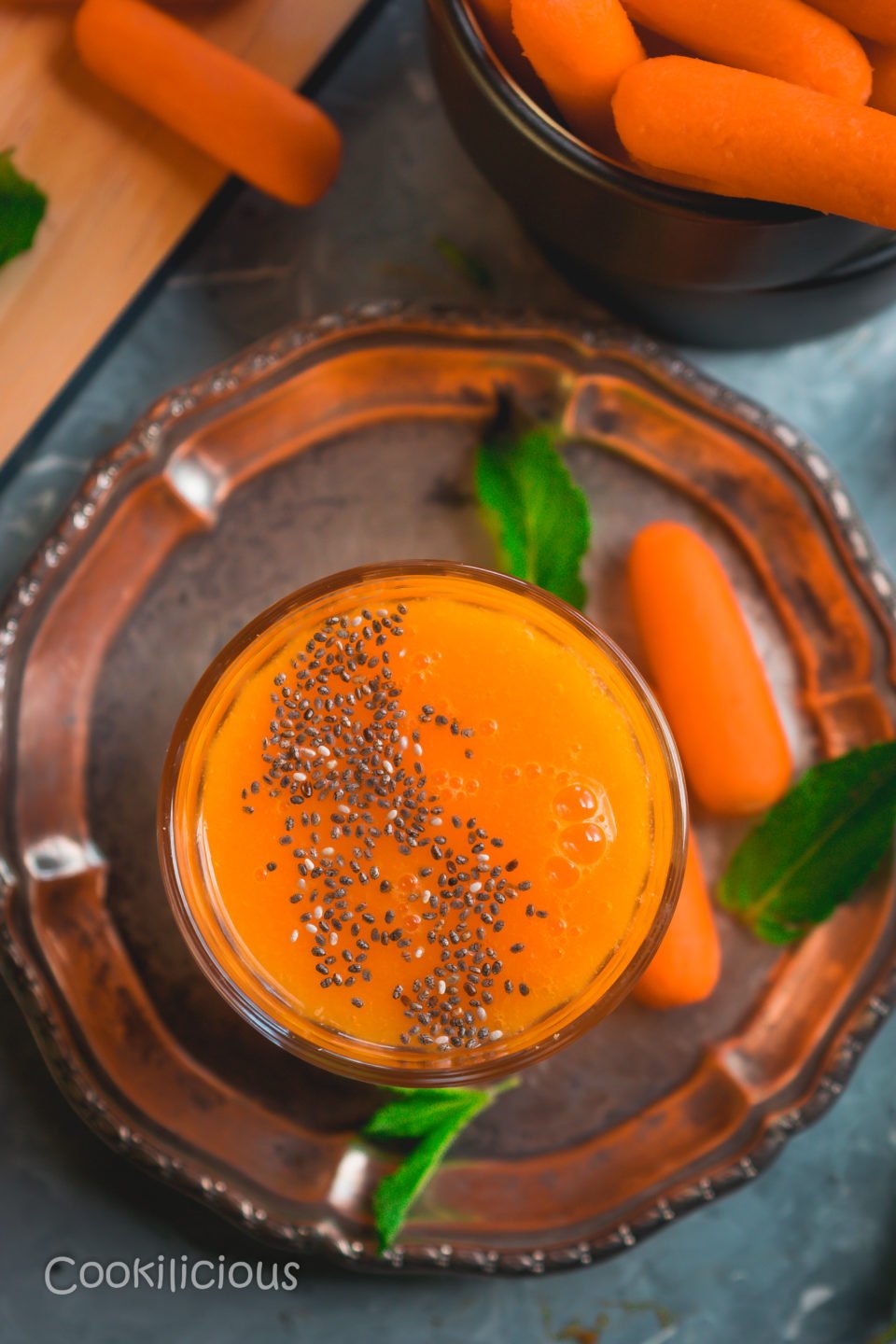 Now that we are following a strict lifestyle, my recipes revolve around healthy eating these days. Now let me confess something here. I dislike chewing fruits and can only consume them in the form of juices or smoothies. Since this is the only way fruits are entering my system, I am big into juicing. Every week I pick up fruits and vegetables that are from the same color family and blend them together. I alternate between fruit juices and smoothies every week. For smoothies, I keep swapping between regular milk and dairy-free alternatives. This is just my way of not getting bored with the same breakfast every day. This way we get to enjoy different colorful drinks every week which is not just appealing to look at but also nourishing to the body. Juicing is surely a fun way to consume fruits/veggies. This week I want to share with you the recipe to make Yellow/Orange Juice. It's a great immune-boosting drink that can easily become a regular in your kitchen.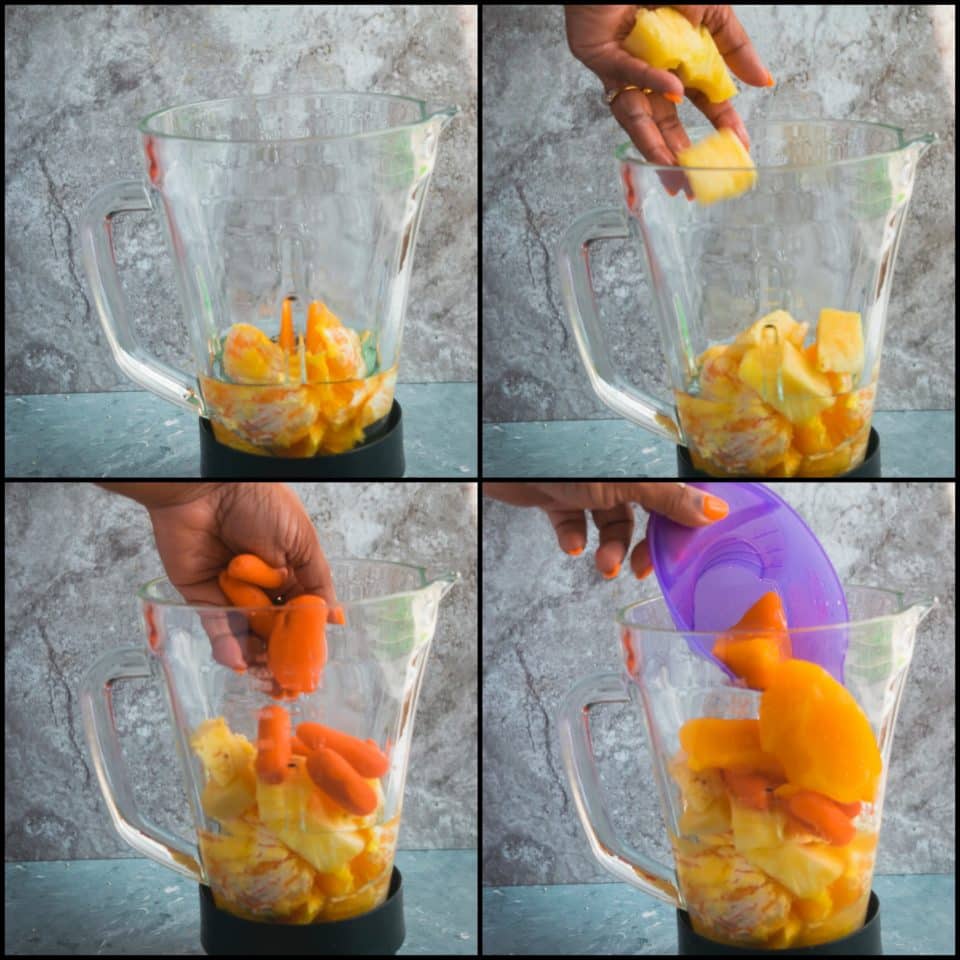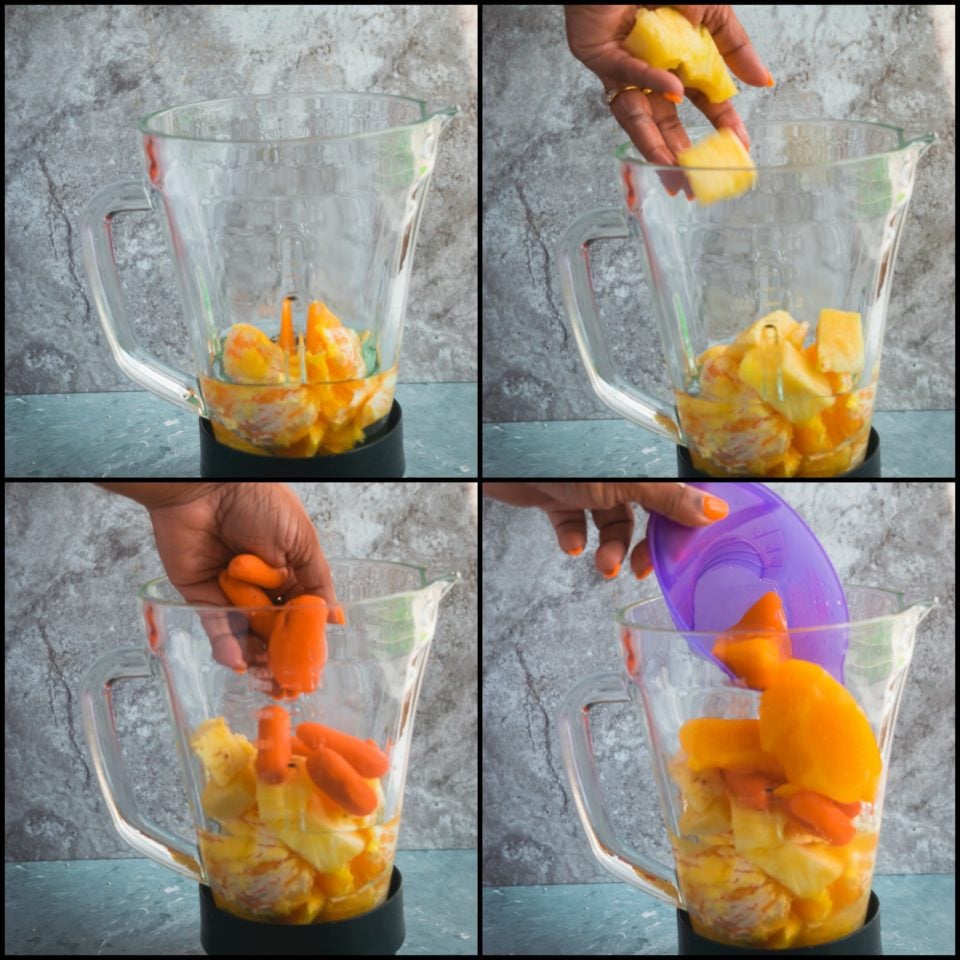 The recipe to prepare this Immune Boosting Sunshine Smoothie is super easy. All you need is a good blender like this one
. I prefer using fresh fruits and vegetables always. Add oranges, mango, pineapple, carrots and turmeric powder in the blender. Blend to make a thick juice. You can add ice cubes or water as well if you want. Now, I don't like to sieve the juice but if you wish to then you can sieve it and then consume it. These fruits are rich in Vitamin C which is essential for boosting your immune system and fighting off colds and infections. Especially that the Flu season is upon us, it's a smart choice to include these fruits and vegetables in our diet somehow. This drink/juice can even be given to children. One tall glass in the morning is all you need to kick-start your day in the right direction. It has a refreshing and tangy taste that doesn't require any added sugars to give it a natural sweetness. Given the immune-boosting properties in these fruits, it definitely is the ultimate sunshine smoothie that no one can resist!
Make turmeric powder at home and try these immunity-boosting drinks - Vegan Turmeric Latte and Organic Carrots, Cantaloupe & Orange Juice!
If I have convinced you enough to try smoothies for breakfast, then I am sure you would need more recipes to make a smoothie. Here are some that may be of interest to you - Rose Lemonade, Organic Energy Drink, Healthy Pear & Plums Breakfast Smoothie, Dairy Free Mango Figs & Apricot Power Smoothie, Dairy-Free Blueberry Pancake Smoothie, Raspberry Mango Sunrise Smoothie, Vegan Coconut Water Berry Smoothie, Vegan Mango Avocado Smoothie, Ice Cream Smoothie, Rambutan Rose Lassi, Rainbow Smoothies, 4 Berry Chia Seeds Power Smoothie, 5 Varieties of Banana Smoothie, Cantaloupe Sweet Lassi, Raspberry Apple Lassi Recipe and Indian Watermelon Cooler.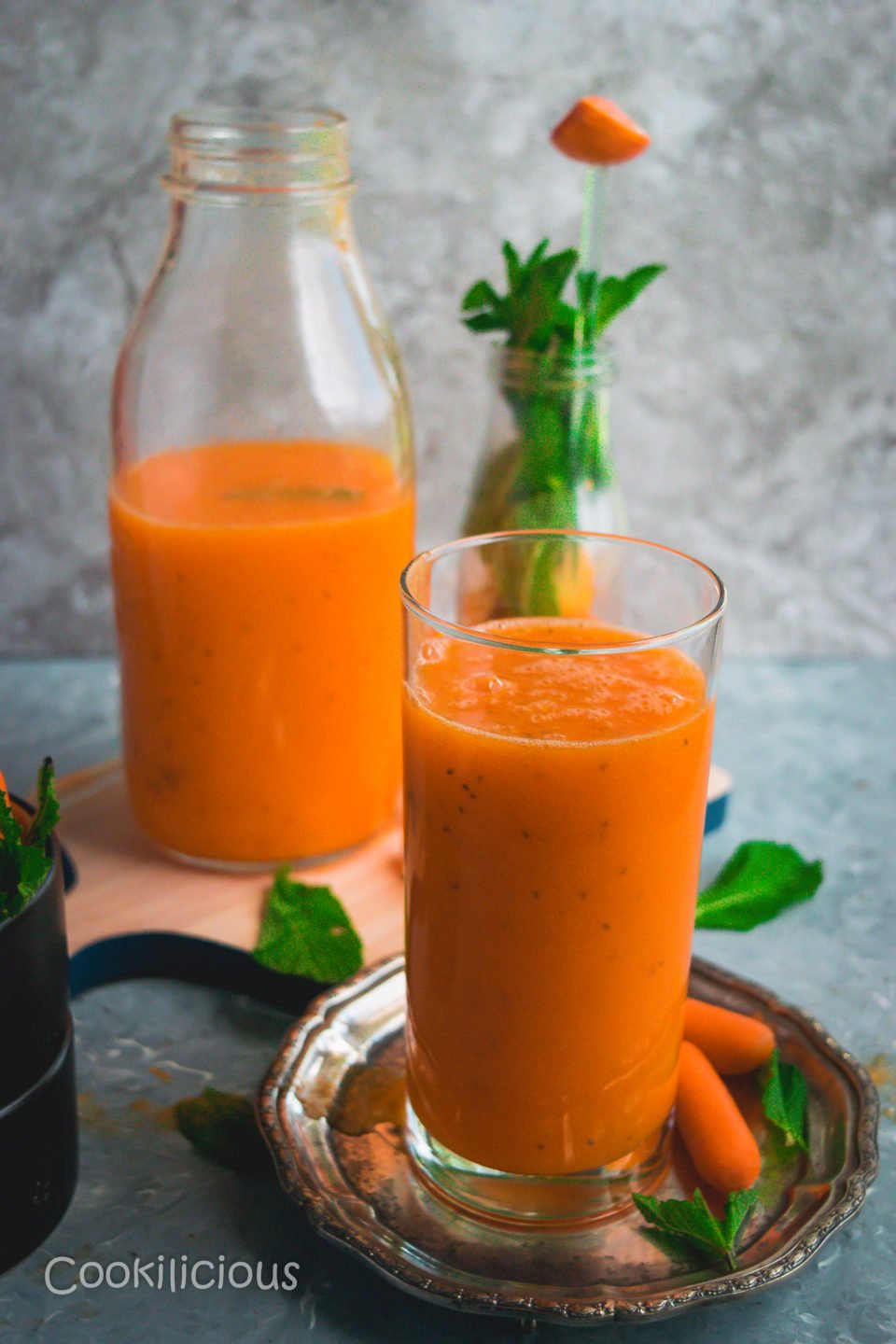 Did you try this recipe? Please let me know how it turned out by leaving a comment below or sharing a picture on Instagram @cookilicious with the hashtag #cookiliciousveg. I love hearing your feedback!
Like this recipe? Please show your love by leaving a 5-star 🌟🌟🌟🌟🌟rating below!
You can also follow me on Facebook, Twitter, Instagram, and Pinterest to see more delicious vegetarian and vegan recipes and what I'm getting up to.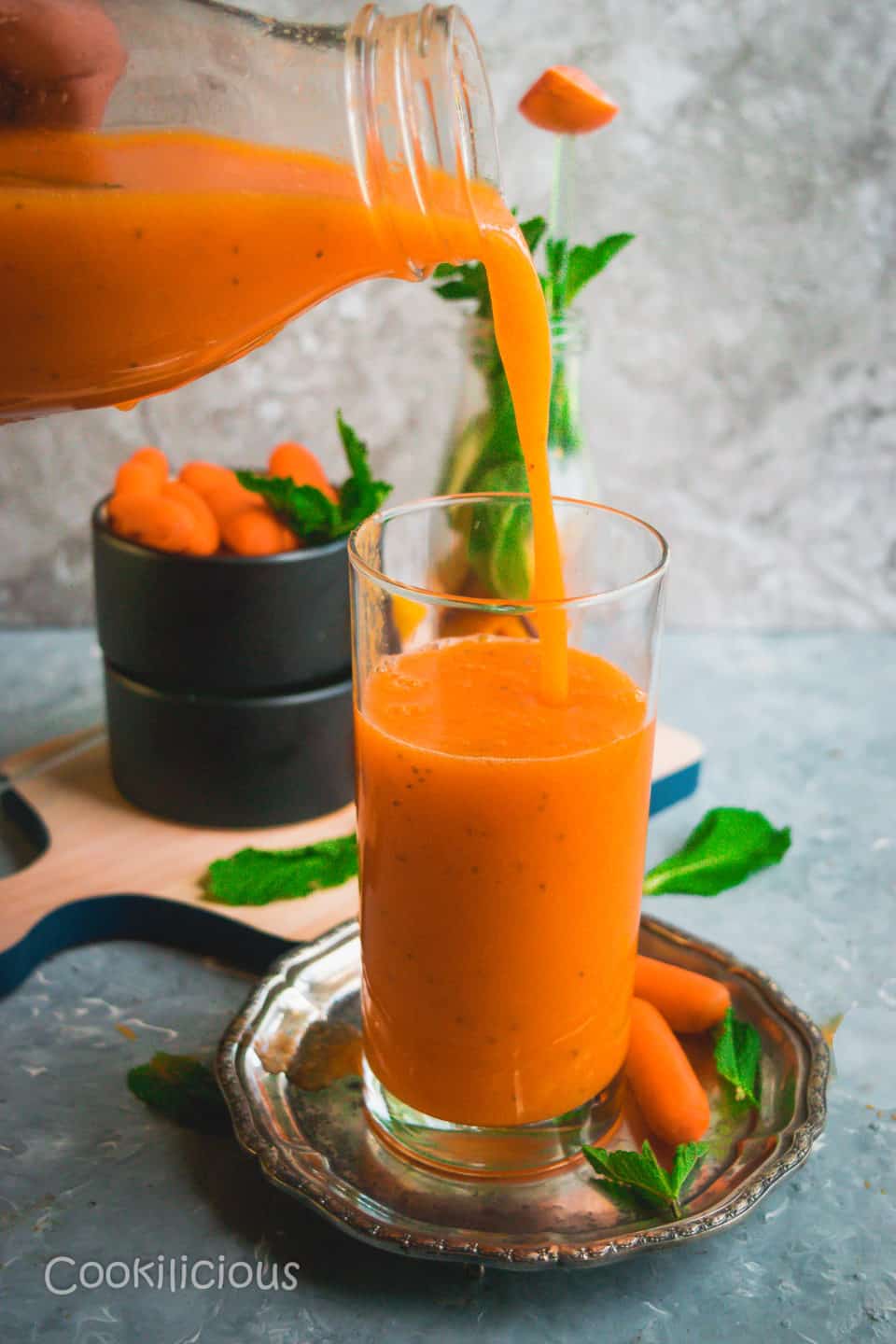 Immune Boosting Sunshine Smoothie
The only smoothie you want to drink this winter! Stay healthy this flu season with this delicious immunity boosting drink with Vitamin C & antioxidants!
Print
Pin
Rate
Equipment
Ingredients
1

cup

water

½

cup

mango

slices

⅓

cup

pineapple

chopped

4

baby carrots

1

orange

1

teaspoon

turmeric powder
Instructions
Add oranges, mango, pineapple, carrots and turmeric powder in the blender. Blend to make a thick juice. You can add ice cubes or water as well if you want. Now, I don't like to sieve the juice but if you wish to then you can sieve it and then consume it. 
Notes
If you don't want to combine oranges and carrots, skip one of them and add green apples instead. 
Or just skip adding one of them.

You can add ice cubes or water while making this smoothie if you want to thin down the drink.

Sieving is an optional and personal choice. 
Add a pinch of cinnamon for an extra boost.
Do not skip adding turmeric.
Can add ginger powder or a small piece of ginger to this drink while blending. But if adding a piece of ginger, sieve the drink before consuming.
Can also add half a cup of spinach to this smoothie. It will not impact the taste but make it even more nourishing. 
As with all smoothies, feel free to play around with the ratio of ingredients based on availability and preferance. 
Serve smoothies immediately. 
You can freeze them too. To freeze, put all the fruits in a ziplock or glass container and freeze. Make into a smoothie as and when needed. 
Can use mango pulp as well. 
No extra sugar or sweetener needs to be added.
Nutrition
Calories:
159.65
kcal
|
Carbohydrates:
39.57
g
|
Protein:
2.63
g
|
Fat:
0.79
g
|
Saturated Fat:
0.17
g
|
Sodium:
45.84
mg
|
Potassium:
580.96
mg
|
Fiber:
6.81
g
|
Sugar:
30.9
g
|
Vitamin A:
6703.4
IU
|
Vitamin C:
127.05
mg
|
Calcium:
65.2
mg
|
Iron:
1.19
mg
Love watching recipe videos?
Subscribe to my Cookilicious YouTube channel now to get your weekly recipe fix - Youtube